By Vivek i2aTech
Updated December 8th, 2022
|
Published May 9, 2022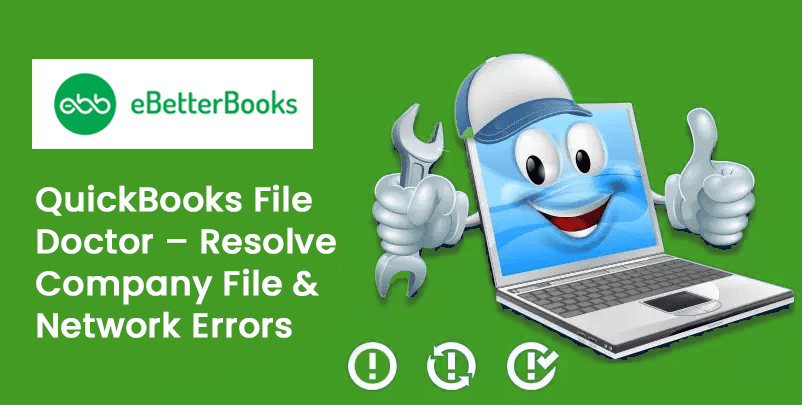 Disclaimer: Quickbooks File Doctor is now a part of Quickbooks Tool Hub! As a QuickBooks user, you can now access Quickbooks File Doctor directly by downloading the Tool Hub. 
According to Intuit Disclosure, QuickBooks is one of the leading and demanding software across the globe. At present, over 2 million users are handling their business finances via QuickBooks. QuickBooks is considered a perfect accounting software, but many users may face issues while working on it.
To deal with such technical errors, Intuit Inc. has been introduced and launched a tool in 2012. Today, our motive is to make you aware of QuickBooks File Doctor Tool. According to research, we have analyzed that many users are not familiar with amazing functionalities of QuickBooks. after knowing the advantages of the tool, it becomes essential to install the tool.
In 2012, Intuit has been introduced and released a file doctor tool specifically for resolving QuickBooks error codes. In addition to this, the tool is a blend of a Network Diagnostic tool and a Company File Diagnostic Tool.
It is basically a simple file repairing tool that you can use to fix errors persisting in QuickBooks. You can get the built-in version of the QuickBooks Desktop File doctor tool in QuickBooks 2016 or later. To update this tool, you can simply visit the QuickBooks file doctor download page on the Intuit website.
The file doctor is only compatible with the US and UK QuickBooks versions.
Many QuickBooks users are not aware of this tool that is why we have come up with this article.
Types of QuickBooks File Doctor Tool
QuickBooks File Doctor stand-alone version: The built-in file doctor tool is preinstalled in QuickBooks 2016 and later versions.
Built-in version that is preinstalled in QuickBooks 2016 and later versions.
QB File Doctor is Compatible with:
QuickBooks File Doctor 2017and later versions like QuickBooks file doctor 2022 are compatible with all windows versions of QB desktop.
Though, it doesn't work with Mac versions of QuickBooks.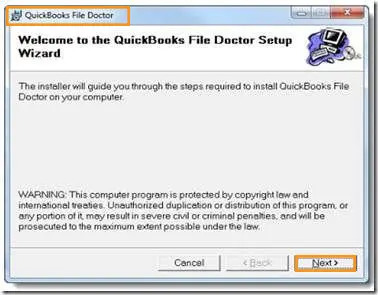 Fix List of QuickBooks Database Errors with QB File Doctor
The following is a list of all error codes that you can simply resolve by using the file doctor tool. If you face any difficulty while fixing any of them, call our experts.
| | | |
| --- | --- | --- |
| Damaged QuickBooks Company Files | QuickBooks database server manager related issues | Failed to launch QuickBooks company file |
| | QuickBooks H series error codes such as H101, H202, H303, and H505. | Blank or missing customer, vendor, or employee lists. |
| Damaged Windows registry | Malware attack hard drive | Multi-user error codes. |
| Issues related to Firewall ports | Installation Errors | QuickBooks run-time errors |
| Network Errors | Data corruption errors | QB error 6000 82 |
Some Related Facts of Intuit QuickBooks File Doctor
Before installing the latest version of QBFD, you must have to uninstall the existing one.
You can get an in-built doctor tool in all QuickBooks post versions 2015. But we recommend installing the external one to fix the issue immediately.
The doctor tool is only compatible with all windows versions of QuickBooks Desktop.
To use the tool, you just need to choose the Start and allow the tool to start resolving the issue.
The QuickBooks file doctor tool is pre-installed in QuickBooks Desktop 2016 and subsequent editions and is compatible with all Windows versions of QuickBooks Desktop. It hasn't yet been made QuickBooks for Mac consistent, though.
How to download, install and Run QuickBooks File Doctor?
Further, we have mentioned two ways to download QuickBooks File Doctor and to install the tool without interruption.
Way 1: Using the QuickBooks Tool Hub
Firstly, download QuickBooks tools hub.
After that, press the CTRL + J keys to choose downloads.
Now, you need to save the file on the desktop so that you can find it easily whenever required.
After that, tap on the QuickBooksToolsHub.exe to launch the file.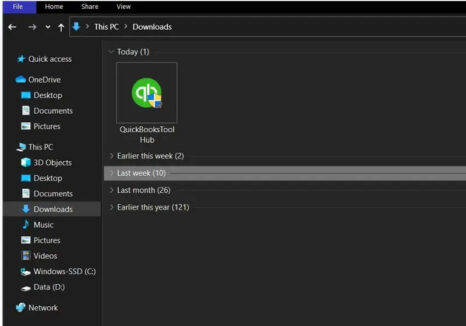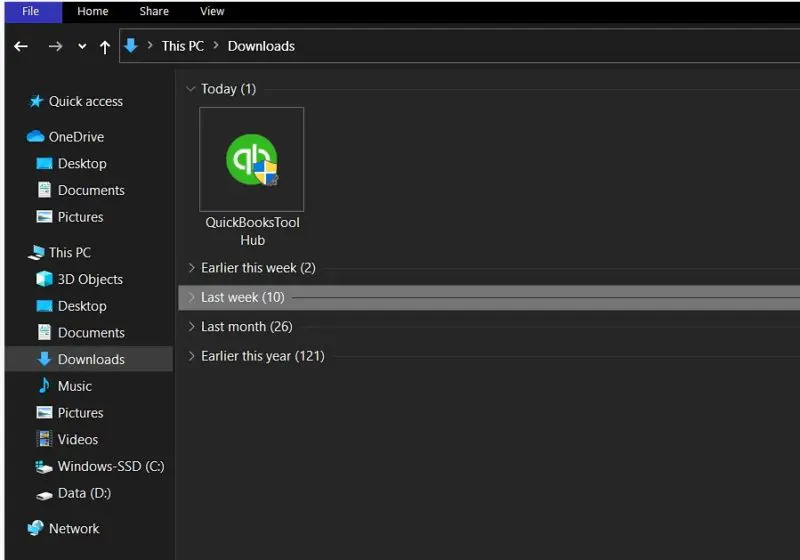 Meanwhile, choose Yes to agree & accept the license agreement.
And then, choose the Next option after selecting the Install option.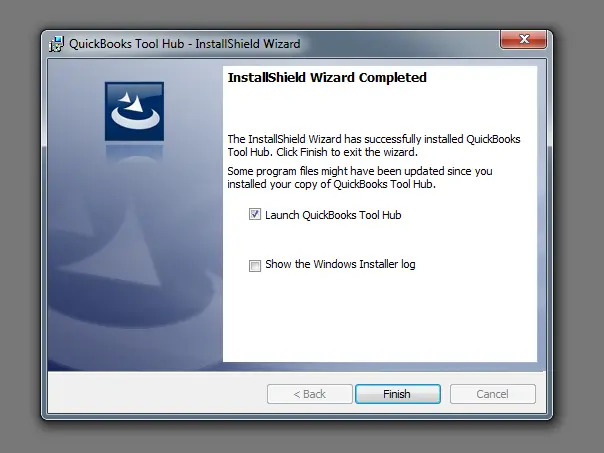 Once you are done with the installation process, click on the Finish option.
Then, tap on the icon to launch the QuickBooks Tool hub.
Note: If you are unable to find the icon, Press the Windows or Start key and look for QuickBooks Tool Hub. After that, click on the program to launch it.
Finally, after opening the tool hub, choose Company File Issues and run the tool.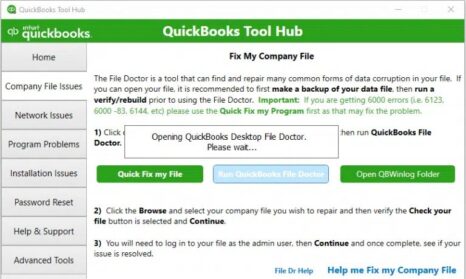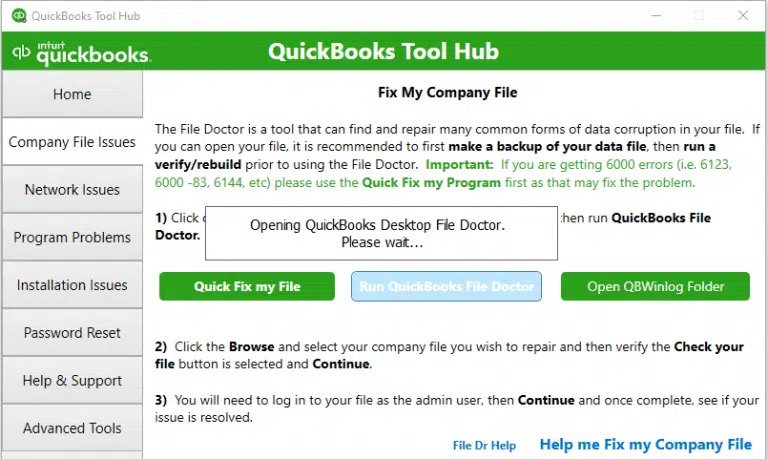 Way 2: Via Official Website of Intuit
Firstly, shut down all running applications in the background.
After that, download intuit QuickBooks file doctor by visiting the Official Website Here.
Now, you have to download the .exe file in your system.
Meanwhile, launch the .exe file and you will see an install setup window.
And then, choose the option Yes and your installation process will be started.
Go through the ongoing instructions. And then, accept the terms and conditions to complete the installation process.
Lastly, choose Finish.
How Compatible Is QuickBooks File Doctor Tool?
Here are the steps to use the external QuickBooks desktop file doctor tool.
Firstly, ensure that you are using the latest version of the QuickBooks file doctor tool.
Now, launch the Windows Taskbar and choose the browse option.
After that, search for the damaged company file. And start the diagnosing process.
Next, you will get two options from which you have to choose one to make the best decision.
After that, choose the first option if you are facing 6000 error codes or company-file issues.
And, go with the second option if you are getting network issues.
Write down the Company File Admin password and press Next.
After that, choose one of the following options to fix the error.
Workstation option: Go with this option if you are detecting and resolving issues on a client's system. It implies that the QuickBooks company file has not been hosted on that system.
Server option: Go with the second option if you are detecting and resolving issues on the QuickBooks client system. From the client system, it is meant that the QuickBooks company file has not been hosted or stored on that PC.
Choose Yes when you are using QuickBooks server/host. Otherwise, select No.
Meanwhile, the tool will automatically repair the files.
Wait till the diagnosing process gets completed. It depends on the size of the company file, internet speed.
Now, shut down the file doctor tool.
Finally, you can open the bug-free company file.
What are the steps to use the QuickBooks File Doctor Built-in version (For 2016 & later)?
Benefits of using a built-in version of QuickBooks Doctor File.
The built-in file doctor is compatible with MS Server 2003-2012, and Windows 10, 8, and 7 versions.
All Network and company file issues can be fixed via the file doctor tool.
This tool can also be used for Canada, US, and UK-supported QB desktop versions.
Issues related to Corrupted and damaged company files can be resolved using the QFD tool.
You can use the doctor tool to repair the file and data.
You can install the .NET framework 2.0 using the doctor tool.
The Built-in version of QFD has been released in 2015 by Intuit. Below, we have mentioned the complete steps to use the built-in version of the tool. Kindly, have a look at all of them one by one.
Firstly, open QuickBooks without launching the company file.
Secondly, choose the File menu and go to the Utilities option.
After that, choose the 'Repair file' to select the QuickBooks Repair tool.
Then, select the browse option > company file > Open.
Meanwhile, go to the Show advanced settings window and press the next option to resolve the required issue.
Next, enter the admin credentials and press next.
Finally, when you are done with the diagnosing process, re-open the company file.
What can be Possible Results while Using QuickBooks File Doctor Tool?
1. QBFD did not find any issue.
In this case, the QBs doctor tool did not find any issues or error codes. Here you need to re-login to the company file. In case, the error encounters, then you have to set up the Auto Data Recovery (ADR). After that, enter the transactions.
2. QBFD detects the issues and resolves them automatically.
In this case, the doctor tool detects the issue and then you need to choose the "Open new company" option. This one is the most favorable outcome that usually pops up on the screen while accessing the QBFD.
3. Error has been detected, but can't be fixed.
In this situation, set up the auto data recovery tool. After that, enter the transactions manually. It may also help you in fixing the issue persisting while running the software.
Steps to be Performed after Repairing Company File
Are you through the diagnostic and repair procedure and wondering what to do next? The process is simple; all you need to do is backup the data in your QuickBooks company file and create a copy of it on an external hard disk. You should do a data backup at the end of each month.
What if the file doctor isn't functioning, though? 
Yes, occasionally, while conducting diagnostics on a business file, it is possible that you won't be able to use the QuickBooks File Doctor Tool and will only receive an error message that says, "File doctor is not working."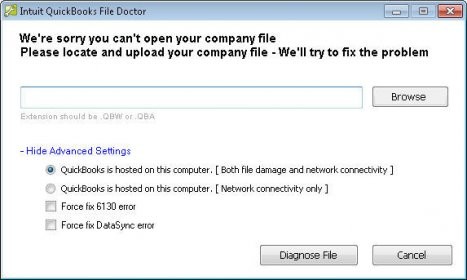 QuickBooks Desktop File Doctor is not working.
File Doctor stopped working
QuickBooks file doctor crashes
File Doctor bugs
QBs doctor tool in use, etc.
Causes behind the occurrence of QuickBooks File Doctor Tool Errors
While updating the company file, you may face such errors. This is one of the major occurrences of QuickBooks file doctor won't open.
When you forgot to install any company file at the time of installation.
If you can't restore the files, this might be a sign of 'QuickBooks File Doctor Tool not working.'
Due to damaged or corrupted files.
Solutions to troubleshoot QB File Doctor Tool Errors
Firstly,

Restore the backup of the QBW file.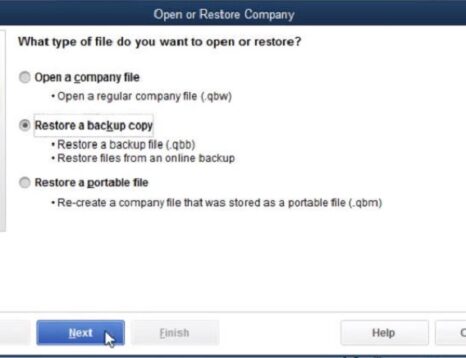 Use auto data recovery (ADR).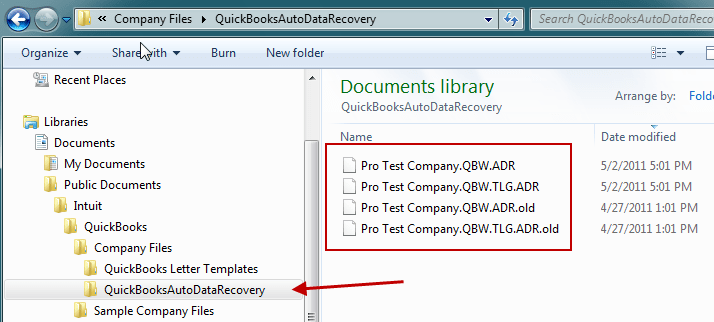 Configure the antivirus software.
Lastly, switch off QuickBooks hosting mode.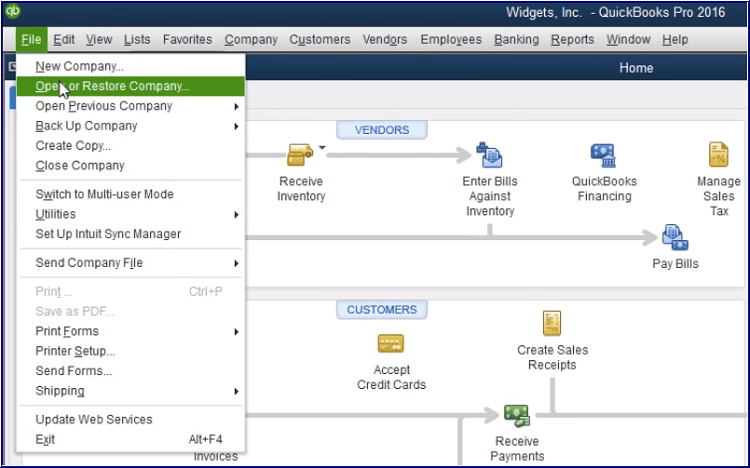 QuickBooks File Doctor is Not Working Error : How to fix?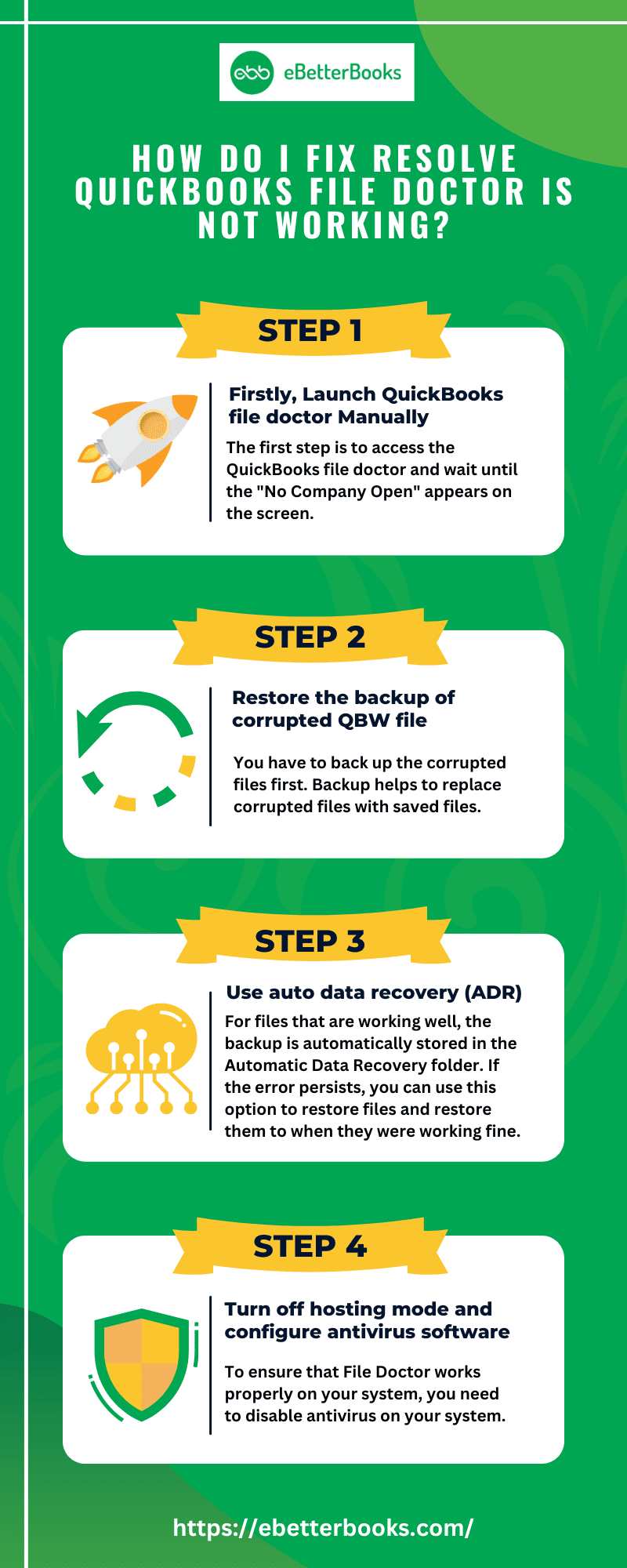 Undoubtedly, you have got familiar with the steps to download, install, and use the QuickBooks File Doctor. We assume that you have successfully installed the tool and started using it to fix QuickBooks error codes. If you are still in confusion whether the doctor tool will be fruitful or not, get in touch with our team.
We will help you in deciding by explaining the pros and cons of the QBs doctor tool. Call us right now at ebetterbooks Helpline Number 860-497-7164.
Frequently Asked Questions (FAQs) about Quickbooks Desktop File Doctor
How do I install QuickBooks doctor file?
By installing the QuickBooks tool center, you may install QuickBooks File Doctor by choosing it from the available tools once the file doctor has been downloaded to your desktop. 
How do I fix resolve QuickBooks file doctor is not working?
To fix QuickBooks File Doctor, not working issues: Open QuickBooks> Files> Utilities> Click on Repair file and Network Problems> OK> Yes. 

Click the wrench icon to open the application> continue. 

Enter Credentials to log in [In this step, QuickBooks File Doctor will work on repairing your file]. 

Go to Advanced Settings > File Diagnosis Only > Next. 

Open the file when the system prompts you and see if the problem is still present.
How do I enter an administrator password in QuickBooks?
Log in using the admin account. Select Set Up Users and Passwords under Company. Select Set Up Users next. Enter the admin password once more if asked.
When should I use QuickBooks File Doctor?
Use QuickBooks File Doctor if you cannot access your business file and get errors to fix, such as -6000 -305, -6147, -6000 -82, -6130, -6150, or -6000 -301. This tool can help recover your damaged company files and fix certain network issues.
To What Extent ought the QuickBooks File Doctor Tool?
The QuickBooks File Doctor Tool can open in as short as one second, but it takes up to 10 minutes more often. However, watch out that QuickBooks File Doctor doesn't physically send, scan for QuickBooks Desktop Doc file, and send it.
What makes a QuickBooks file Doctor necessary?
The powerful tool Intuit created QuickBooks File Doctor to address several problems (QuickBooks Error codes, crucial corporate files, or any employee data) that may arise while dealing with the company file. The application's problems are automatically found and fixed by the program.
Errors & Issues that Can be Fixed via QuickBooks File Doctor?
The QuickBooks File Doctor tool can resolve error H202, error code, 6000 305, QBs error 6150, QuickBooks not responding, and more. It also fixes problems related to corrupted, damaged files.
What does the QuickBooks File Doctor tool do?
The QuickBooks File Doctor is a tool for fixing different network issues and recovering damaged corporate data. Reviewing the File Doctor's findings can help you figure out how to fix the problem.
How do I run a DR file in QuickBooks?
Firstly, select Company File Issues in the tool hub. 
Then, click on  Run QuickBooks File Doctor. 
Lastly, If the tool doesn't open, find the QuickBooks Desktop File Doc and open it.
How do I repair QuickBooks files?
Firstly, navigate to the File menu, hover over Utilities, and click on Rebuild Data.

Then, select OK in the QuickBooks Information box.

Allow the program to fix your file.

Select OK 

Go to the File menu.

Let the tool examine your file finally for data integrity problems.
What causes data corruption in QuickBooks?
Data corruption in QuickBooks can occur at any moment due to hardware, networking, installation, and several other issues. It's possible that corruption won't become apparent until data is lost or damaged. 
Summary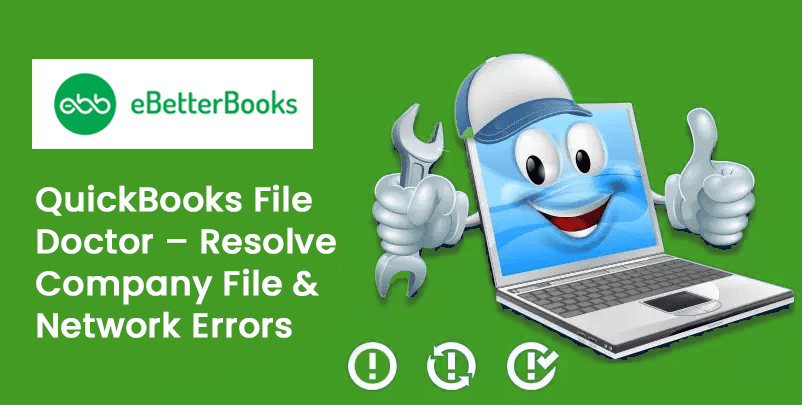 Article Name
QuickBooks File Doctor – Resolve Company File and Network Errors
Description
Download QuickBooks File Doctor tool to resolve network issues, company files and H Series Errors. Fix many QuickBooks Error codes by running this QB tool.
Author