Bookkeeping Services Nashville
Get faster, more affordable, and dedicated bookkeeping services Nashville TN.
Are you looking for a bookkeeping firm for small business Nashville TN? Why don't you try eBetterBooks and see how you get along? You may expand your company to new heights by using personalized accounting services.
Due to our approach to our customers, eBetterBooks has established itself as the Top Nashville Bookkeeping Services in the Nashville region. Our reputation is based on the success of our clients; thus, it is crucial to us that they receive the highest quality products and services. All of our clients in Nashville receive full-service accounting from us, guaranteeing that they get comprehensive support for their personal or corporate accounts.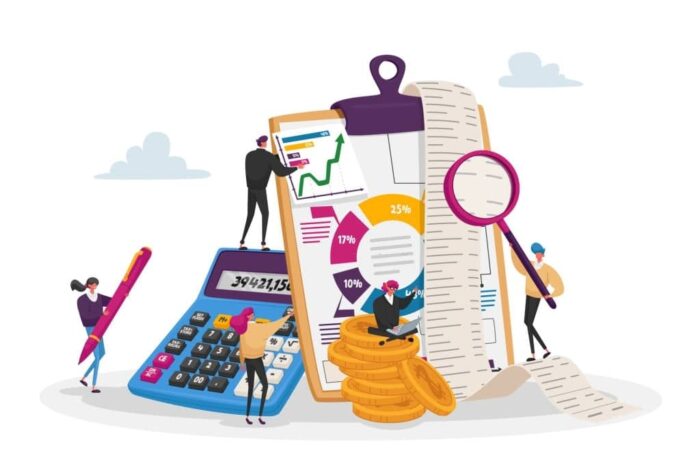 Why Choose eBetterBooks for bookkeeping services nashville TN?
It would be best if you had accurate bookkeeping to serve you well because it lays the groundwork for your company's future. A profit and loss statement, a balance sheet at the end of every month, and a dashboard that displays your company's patterns over time are all provided by accounting and quality tax services in Nashville offered by eBetterBooks. You can make judgments more rapidly by using eBetterBooks, which moves quickly.
Accuracy: With a focus on tax savings, we appropriately classify and reconcile your monthly company transactions and customized monthly reports.
Tax Savings: Expert tax returns that are compliant. Missing out on tax savings is not an option. We'll do more than prepare and submit your income tax returns.
Communication: In accordance with your schedule, our committed team of bookkeepers connects with you and responds to your requirements and your company's.
You no longer have to export your receipts to your accountant. We pull them out automatically to our database and use our tools to carry out the accounting process.
Stay caught up with our well-timed and accurate accounting services.
We assure top-grade accounting and bookkeeping provision of services in Nashville.
No matter what your business size is, we will handle your account with the same enthusiasm.
eBetterBooks: Affordable bookkeeping services in Nashville, TN
eBetterBooks is the finest choice if you're searching for the most affordable bookkeeping services in Nashville, TN, that can deliver precise tax and accounting services. Our experienced bookkeepers have a wealth of expertise and training, ensuring that our client's financial objectives are always attainable.
We can assist any customer in managing their budget substantially better than they are now by emphasizing cost-effective strategies and taking a conservative attitude to unneeded spending. Since eBetterBooks has expertise dealing with businesses of all sizes, your search for "Best small business accountant near me in Nashville, TN" ends right now.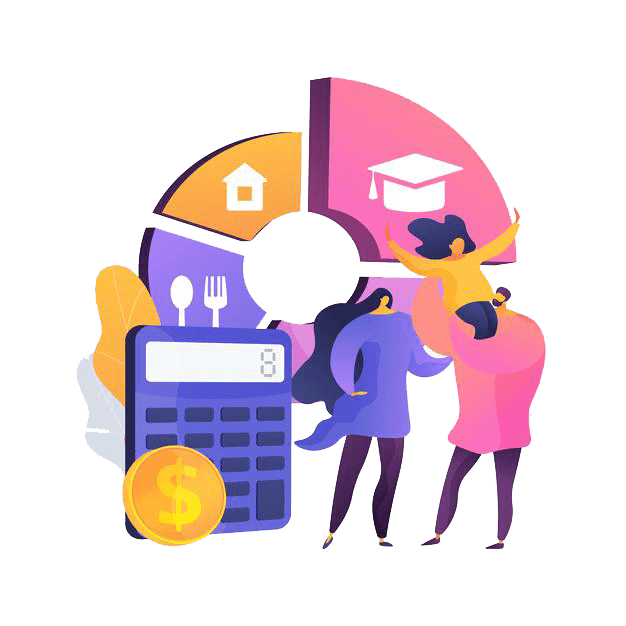 What Are Nashville Bookkeeping Services?
Unlike most of your local accountants, we provide outsourced accounting in Nashville that is quicker and more precise.
We vouch for our cutting-edge accounting software. There is almost no risk of error. In addition, you have access to your financial information whenever you choose.
Our Best bookkeepers in Nashville, Tennessee

, are now in charge of your tax filing and preparation, so you don't have to endure the discomfort. All you need to do is unwind while watching the performance.

Your company's size is of very little importance to us, and you are welcome to contact us regardless.
Call us at 860-497-7164 whenever you have questions so that we can put you in contact with a person who is accessible around the clock every day of the year.
Our timely and precise accounting services will help you catch up.
We guarantee the best monthly bookkeeping and tax preparation services for your small businesses in Nashville, TN.
Regardless of the size of your company, we will treat your account with the same passion.
What makes eBetterBooks Stand Out in Nashville?
Our flexible system will allow you to customize your plan.
You can never fall back with your books because of our prompt and precise services.
With eBetterBooks, you get a 24/7 Customer Support Service; all you have to do is dial 1-802-778-9005 and get in touch with a certified professional.
Our books are tax-ready throughout the year, so you do not have to think too much about the tax season.
You can make better business decisions with our meticulous bookkeeping, accounting, and tax reporting.
What Makes Online Bookkeeping Better Than Traditional Bookkeeping?
Cloud-based accounting is way more time-efficient and more straightforward than traditional bookkeeping; here are the reasons why:
In traditional bookkeeping, you have to deliver all your receipts and necessary documents to your accountant. However, this is not the same for eBetterBooks Bookkeeping service Nashville

. We extract out all your transactions straight from the bank and transfer them to our database. 

You may have to wait for up to several days for a call back from your accountant with the data you asked for. At the same time, our accounting professionals will respond to your queries as soon as they see your number. 
You can bypass tax season like a piece of cake with our tax preparation and quality tax services.
Affordable Monthly Bookkeeping Reports
Having accurate financial information may help your business succeed. You can make choices you otherwise wouldn't by using a monthly bookkeeping service in Nashville.
Your assets and liabilities are properly calculated by eBetterBooks, creating a profit and loss statement each month.
Knowing your assets, liabilities, and net worth all in one place will help you make better decisions.
We thoroughly compare your balance sheet with your bank transactions each month and give you an accurate report.
Dates, check numbers, and other expenses are visible in our general reports.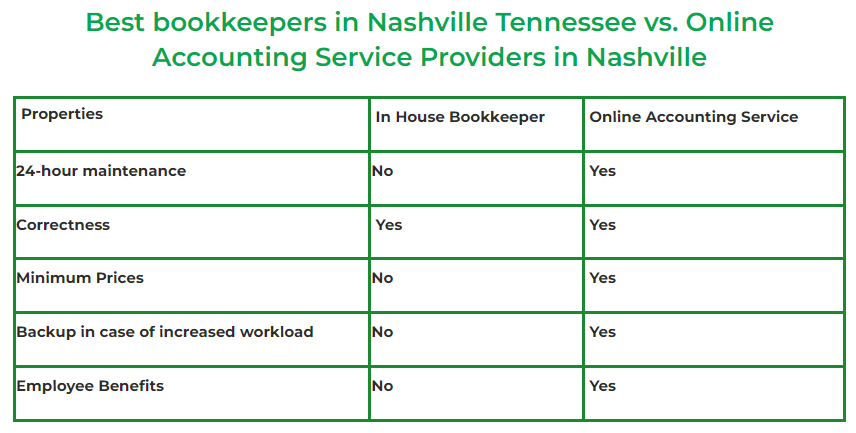 Big firms have access to a wealth of tools for accounting management. But regrettably, a small business that is brand-new to the market can only invest a little. In light of this, as the best Online Accounting Service Providers in Nashville, we offer the Best bookkeepers in Nashville, Tennessee, at a cost that a small or even mid-sized firm may afford.
Not managing your tax reports correctly may cause you to lose thousands of dollars. However, eBetterBooks prevents such scenarios with our ever-ready tax-coded reports. We guarantee precise and comprehensive tax filing and quality tax services with our expertise in federal and different state tax systems.
You might lose thousands of dollars if you don't manage your tax reports. With our constantly available tax-coded reports, eBetterBooks, however, avoids such instances. Using our knowledge of the federal and various state tax systems, we ensure accurate and thorough tax filing and high-quality tax services.
Embrace yourself for eBetterBooks tax services
Get started with eBetterBooks

accurate tax and accounting services in Nashville

  for: 

Instant Response

: eBetterBooks bookkeeping experts will respond quickly.

Real-time Bookkeeping

: Our most recent technology eliminates the need to send your paperwork to your accountant, saving you a ton of time and hassle.

No More backlogs in your books

: eBetterBooks accounting services can help you catch up.

Compatible Partner At A Reasonable Cost

: The cost of eBetterBooks is reasonable, and it is compatible with your chosen accounting program. For our convenience, you don't have to change it.

eBetterBooks best tax services in Nashville:

Since eBetterBooks keeps a tax-ready book all year long, tax season is much easier. There is no longer a need to gather data for tax filing and audits.

Relax :

 Let the experts at eBetterBooks manage your accounting so you can concentrate on other important company elements.
Best Tax Services In Nashville
For a good reason, eBetterBooks is beloved across Nashville. Come to us and take advantage of our services. We can even tailor our services to the needs of your company. Your satisfaction is the only thing we want.
Frequently Asked Questions (FAQs)