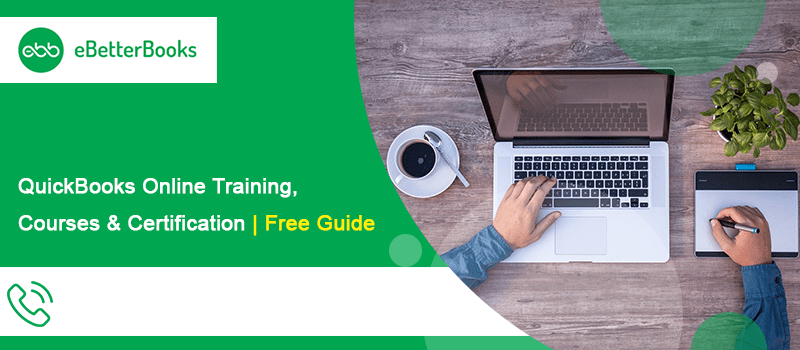 Become An Expert With QuickBooks Training & Certification
Not familiar with accounting or QuickBooks and thinking about hiring a QuickBooks Consultant for QuickBooks Setup? But what if we can say you can do it on your own?
Yes, you can become an expert!
Learning QuickBooks may be beneficial for your future and your business. Even if you have no accounting knowledge, the comprehensive program can simplify most of your company's financial operations.
Learning the fundamentals of accounting can help you understand how QuickBooks works. However, having one-on-one QuickBooks training will be helpful if accounting is not your strong suit. The entire QuickBooks Training curriculum and other information are included in this post. However, let's first understand QuickBooks and its purpose before diving deep into the Training section.
Understanding QuickBooks
The American enterprise Intuit owns the accounting program QuickBooks. For startups and small enterprises, this accounting system works brilliantly. It maintains tabs on daily transactions and tracks your income and outlays. You can discover how to get reports, input your credit card charges, enter your bills, and invoice your clients.
Master the fundamentals and start using it immediately since its' simple to understand.
What does QuickBooks do?
The accounting software package QuickBooks is accessible online or on a PC. Several of the features of QuickBooks include:
Invoicing and sales management
Inventory management
Tracking bills and expenses
Payroll management
Reporting
Who is this QuickBooks Training for?
Anyone Who :
Needs to manage their business using QuickBooks online
Want to get a good Job using QuickBooks online
Has clients that need accounting or bookkeeping services and who could use QuickBooks Online
Needs expertise in QuickBooks Online quickly
Benefits Of Taking A Quickbooks Training Course
It might take time to understand everything because QuickBooks has many excellent and helpful features. It might not be easy to operate the software on initial usage, even with a user-friendly interface.
Even if you can use QuickBooks, there are still certain aspects you might not be aware of.
A QuickBooks training course will show you how to use excellent and helpful features and give you the assurance you need to do so in a work environment.
You may use a QuickBooks training course to get the most out of the software features.
The complete feature set of QuickBooks is meant to improve the efficiency of a small business's accounting department. Knowing how to utilize them all is useful information.
It'll help you in applying your bookkeeping expertise. Even if you have a ton of expertise as a bookkeeper, it could be challenging to apply your practical knowledge to the QuickBooks program.
You may learn how to use the program's various capabilities in conjunction with your knowledge by taking a QuickBooks training course.
You'll improve your chances of landing a job. For small firms, QuickBooks is fast overtaking other accounting programs. The program's complete utilization is a useful skill to have on your CV.
Having QuickBooks experience and training may lead to employment opportunities with a range of companies, including:
Small businesses
Government agencies
Not-for-profit organizations
Note: Intuit's annual QuickBooks Connect conference is headed to Las Vegas, on December 7-9, 2022. At this conference, you will explore more about in-depth QuickBooks training sessions, unique content specially designed for accounting and bookkeeping professionals, and highly skilled and renowned instructors and knowledgeable professionals from around the world.
Need QuickBooks Online Course & Training Help?
How to get started with QuickBooks Training?
QuickBooks training is available on the Intuit website for both new and experienced users of the desktop and online versions of the program. Forbes has also awarded QuickBooks as the best payroll software (September 2022) making a strong reason to get yourself a crash course in QuickBooks payroll management.
The main elements of QuickBooks are explained in detail in QuickBooks Training, including how to create accounts, record transactions, arrange records, reconcile accounts, and other essential software skills you'll need to run a small business.
However, you can enroll in the self-paced online video course if you have a hectic schedule. The videos are yours to keep after you receive them so you can study at your own pace. Moreover, you can choose live classes at a location close to you if you would rather learn in a classroom setting. Costs for best QuickBooks online training are listed on the Intuit website.
Training videos: Course content
1. Introducing QuickBooks Accountant (3:04s)
You'll learn about QuickBooks Online Accountant in this course. The user will understand the Intuit product family and know how QuickBooks Online Accountant interfaces with client files, how to use the system's fundamental capabilities, and how to do important sales and expense chores.
2. Workpapers in QuickBooks Online Accountant (2:42s)
The Workpapers feature, which is used to evaluate your clients' books, do away with manual data input, and export GIFI files, will be covered in this session.
3. Bank Rules in QuickBooks Online Accountant (5:58s)
In this lesson, you'll understand how to automate banking in QuickBooks Online to save time.
4. Reclassify Transactions in QuickBooks Online Accountant (3:25s)
You will discover how to reclassify transactions in the Accountant Toolbox in this session.
5. Accountant Reports and Templates in QuickBooks Online Accountant (3:06s)
Moreover, you will learn about Accountant Reports and Management Reports in this session from the perspective of your Accountant Toolbox.
6. Client Dashboard in QuickBooks Online Accountant (4:41s)
This session will throughout make you understand the Client Dashboard in QuickBooks Online Accountant.
7. Create Scheduled Email Reports in QuickBooks Online Accountant (2:08s)
You will learn how to regularly deliver a customized report or a collection of statements by email in this session.
8. Accountant Tools in QuickBooks Online Accountant (4:22s)
In this session, you will learn about the most important tools utilized daily to help your customers.
QuickBooks Training Certification
By signing up for QuickBooks Online Accountant, accounting professionals may access QuickBooks training free as well with Online Certification and tests. They can automatically unlock ProAdvisor resources and obtain qualifications that will help your practice continue to expand while learning skills to provide enhanced client experience.
Why enroll for QuickBooks Online Certification?
There is more to QuickBooks Certification than just exams. A new level of training and knowledge positions you for success year after year.
Certified ProAdvisors receive a free, priority listing.
Learn the newest QuickBooks tools so your clients can always rely on you as an authority.
Advantage over Competitor
Certification badges provide your marketing credibility and substance by adding reputation.
QuickBooks Training for Career Growth
50% of new grads consider certifications and training programs for career growth.
Some organizations provide educators and students access to free QuickBooks training materials to help with classroom implementation. A good example is the QuickBooks Online Education program.
Reasons educators use QuickBooks Online Training and Certification
QuickBooks Online training for accountants: Course content
Intuit is transforming how schools may help kids become ready for the workforce. Students may develop practical business skills such as managing revenue and spending, generating reports, and more with QuickBooks training; online training. They may access their data whenever and from any location on a PC, tablet, or smartphone, further personalizing the experience with their preferred business apps.
Online QuickBooks training is more than simply a powerful accounting tool. It encourages young business owners to begin their ventures with assurance rather than feeling overburdened or worried about the financial obligations that come with company ownership and administration. Online QuickBooks training may benefit any CV due to the possibility of certification.
All sectors are undergoing a digital revolution, and accounting and bookkeeping companies are no exception.
Employers value candidates who understand QuickBooks Online because they are considered innovative and knowledgeable.
7 out of 10 educators think cloud accounting is the future.
QuickBooks Online Education Program
Introduction to QuickBooks Online for accountants
QuickBooks Online ProAdvisor certification training
Advanced certification training in QuickBooks Online ProAdvisor
QuickBooks Online Advanced fundamentals
Setting up clients in QuickBooks Payroll
QuickBooks Payroll liabilities, forms and reports.
Time fundamentals of QuickBooks
The Bottom Line
One of the popular accounting programs for small- to medium-sized enterprises is QuickBooks. Learning QuickBooks may help you land employment that demands an understanding of this software if you're looking for a management, administrative, or accounting position.
QuickBooks Online training makes it simple for accountants and others to become familiar with QuickBooks accounting tools and advance your abilities at your speed, regardless of where you are in your professional life. Access training materials and certification tests directly from QuickBooks Online Accountant's ProAdvisor tab.
Visit QuickBooks Online Accountant and choose ProAdvisor Training.
FAQs
How much time will it take to learn QuickBooks?
Certification for QuickBooks may take as few as 2-3 weeks. QuickBooks training from Intuit provides two days of live online teaching or self-paced learning. Moreover, these consist of an exam voucher, study guide, and practice test.
How do I learn QuickBooks from home?
Intuit QuickBooks training may be done in several simple, efficient ways:
QuickBooks Training.
Udemy.
QuickBooks Learning Center.
QuickBooks Tutorials.
Is QuickBooks difficult to learn?
Learning to use QuickBooks is simple for someone familiar with accounting principles and how the accounting software functions. However, it may be challenging for someone who lacks computer literacy or bookkeeping experience. It relies on the end user, even though Intuit, the firm that created QuickBooks, portrays it as ready to use.
How long does it take to learn QuickBooks desktop?
The type of certification determines how long the QuickBooks training certification process takes: Accounting software certification: Exam time for the QuickBooks Desktop training Certification is up to four hours.
Is it worth getting QuickBooks Certified?
Having the certificates shows a very high level of dedication to product knowledge. Many people claim to "know" QuickBooks, so being certified can help you stand out from the crowd and attract clients. New tax customers have also been attracted thanks to the certificates.
Can you get QuickBooks certification for free?
To become a QuickBooks Online ProAdvisor, you can use any training resources, including self-paced modules, webinars, and live course substitutes, without paying a cent. For each certification, candidates must pass the QuickBooks certification test with a score of 80% or above.
Is there a free tutorial for QuickBooks Online?
Accounting professionals have access to free training and certification exams for QuickBooks Online Accountants. Obtain certifications that will advance your career and teach you how to better serve clients.
How much does QuickBooks Online certification cost?
The cost to register for QuickBooks online is $149. The price does not include the cost of the exam center's invigilation.
What is the best way to learn QuickBooks Online?
QuickBooks training is available on this Intuit website for both novice and experienced users of the desktop and online versions of the program. You can enroll in the self-paced online video course if your schedule is hectic. You can choose live classes at a location close to you if you would rather study in a classroom setting.
Call Us: +1-802-778-9005
Related Articles:
Meenal Lohani

Meenal Lohani is a versatile writer and researcher. Her love for knowledge is well represented in her rich work experience, from international publication to digital marketing. She has worked across various knowledge domains ranging from healthcare, technology, SEO, Fintech and e-commerce, to name a few. An avid reader, explorer, and a movie buff, she is never short of imagination and still professional to the core.