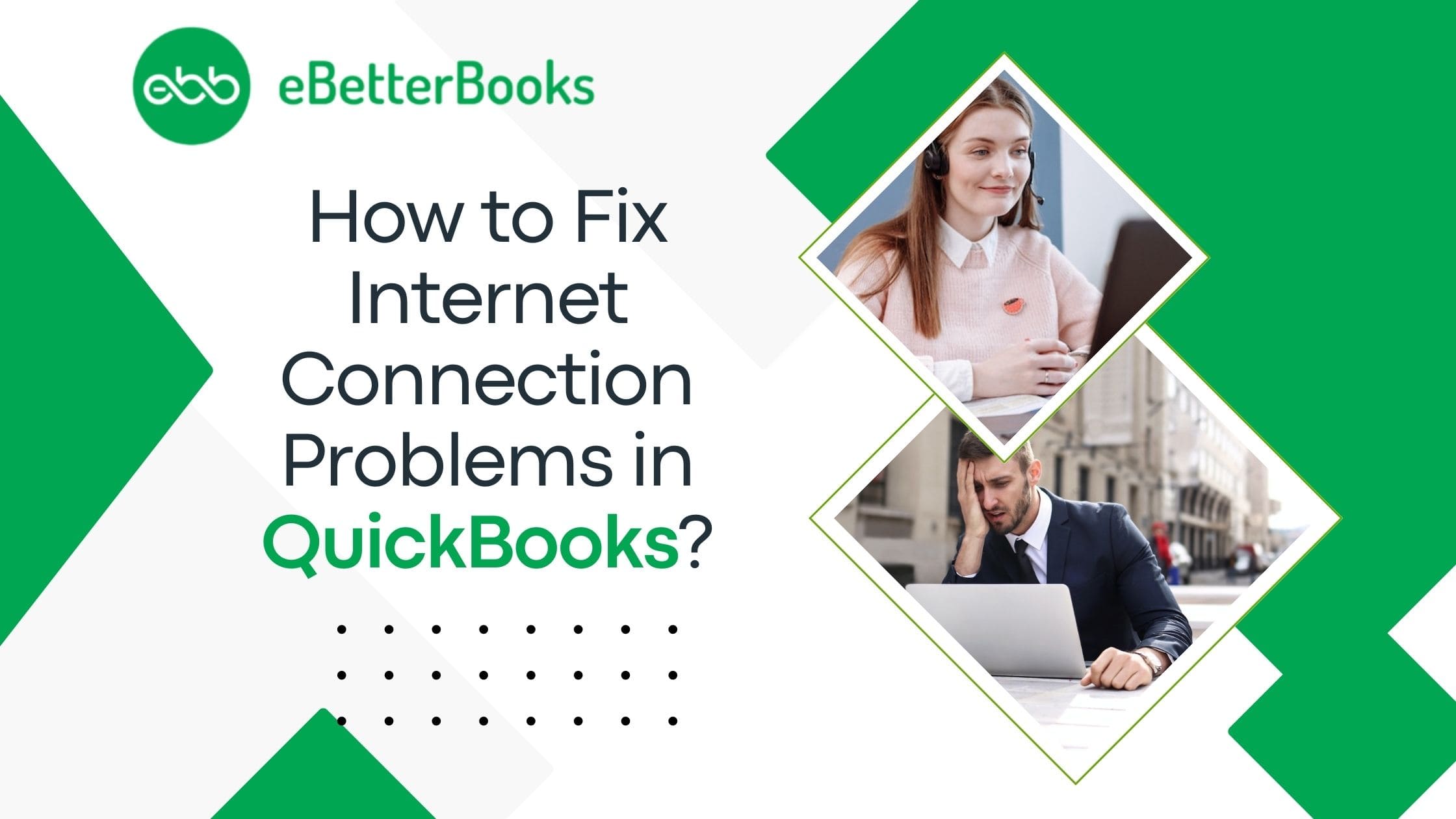 Methods to Fix QuickBooks Payroll Internet Connection Error
Internet connectivity issues that prevent Payroll from performing operations might cause QuickBooks Payroll Internet connection error. Its effects are severe regardless of whether network setup problems, firewall limitations, or erratic internet connections are to blame. Payroll processing delays or inaccurate data transfer can hinder an organization's financial workflow. 
The importance of quickly fixing this problem cannot be overstated for companies that rely significantly on QuickBooks for payroll operations. To quickly resolve this technological issue and guarantee flawless payroll performance, prevent disruptions, and enable accurate financial record-keeping, a full grasp of network protocols, security setups, and troubleshooting procedures is required.
Key Takeaways: QuickFix:
✔ Adjust firewall settings and ensure they comply with QuickBooks' specifications to allow for smooth connections.
✔ Network glitches or misconfigurations may be fixed with a quick system restart, restoring correct connectivity for QuickBooks Payroll.
✔ Verify the system's time, date, and time zone settings and make any necessary corrections to eliminate any inconsistencies that could affect internet connections and payroll procedures.
✔ To minimize disruptions to connectivity, QuickBooks and its components should be updated often to ensure compatibility and optimal operation.
✔ Internet Explorer's cookies and cache can be cleared to freshen the browser experience and enhance QuickBooks payroll access.
✔ Revalidate the service keys for QuickBooks Payroll to confirm accurate subscription information and eliminate any potential connection issues.
✔ Set up QuickBooks' internet settings properly, coordinating them with the computer's connectivity settings for effective communication.
✔ To get around any difficulties brought on by strict security measures, modify the server's certificate revocation settings.
✔ To improve the efficiency of QuickBooks Payroll and fix security and internet connection problems, clearing DNS records might be essential.

Why does the QuickBooks Payroll Connection Error Occur?
The following problems might appear while downloading a payroll update:
Errors related to internet connection, network configurations, or issues due to misconfigured firewalls could prevent the program from connecting to the Intuit Servers. These errors are broadly highlighted as:
IC 67186429
IC 6718645
IC 67186445
IC 6718407
The error codes IC 67186429, IC 67186457, IC 67186445, and IC 6718407 are similar in denoting problems with QuickBooks' internet access. These error codes typically indicate difficulty setting up a dependable internet connection or accessing the internet from within the QuickBooks program.
Another common error code related to QuickBooks payroll is often encountered during payroll processing or downloading payroll updates. Issues with the payroll service, internet connectivity, or data may cause it. This error is known as: 2079784187
Most of the time, these issues are internet connection errors, which are frequently brought on by faulty files, firewalls, or wrong internet settings and can often be fixed by restarting the system.
What are the Causes of the QuickBooks Payroll Internet Connection Error?
One or more of the causes listed below may be the cause of this payroll server error:
When the setup of the firewall and internet security settings is incorrect.
Rebooting the computer can frequently fix setup or network errors.
When the system's date and time settings are off.
Connectivity needs to be improved by missing the latest payroll updates.
Cache and cookies have built up, making browsing difficult.
Difficulties with the validity of service keys or subscriptions that affect payroll operations.
Impact of incorrect internet settings on QuickBooks' connectivity.
Revocation of server certification check causes connection issues.
DNS entries and accumulated IP addresses are interfering with internet operations.
Security Certificate is invalid.
How to Fix QuickBooks Payroll Connection Error?
To ensure the smooth operation of QuickBooks payroll, use the following methods:
1. Firewall settings should be changed
If wrong-configured or misconfigured, firewall settings do not permit the software on the system to synchronize with QuickBooks online. Firewalls are a set of rules that either "allows" or "blocks" the programs on the computer to access the internet.
Search the Firewall Settings in the Start menu.
Click Advanced Settings.
In the Advanced Settings tab, right-click the inbounds rules.
In the Port section, choose TCP and the relevant local port.
Follow the same procedures for outbound rules.
2. Restart the System and Try again
Sometimes, the computer system's temporary files, local files, cookies, etc., hinder the updated connection request. Also, any background processes or lack of processing allocation by the CPU could be an issue; such issues can be solved by restarting the PC because it resets some of the current Windows settings and frees the computer's resources.
Click the arrow key next to the Shutdown option from the Windows logo on the Taskbar or the Windows key on the keyboard.
Press the Restart button to restart the system.
Try viewing the file after logging into QuickBooks once more.
3. Check your System Date and Time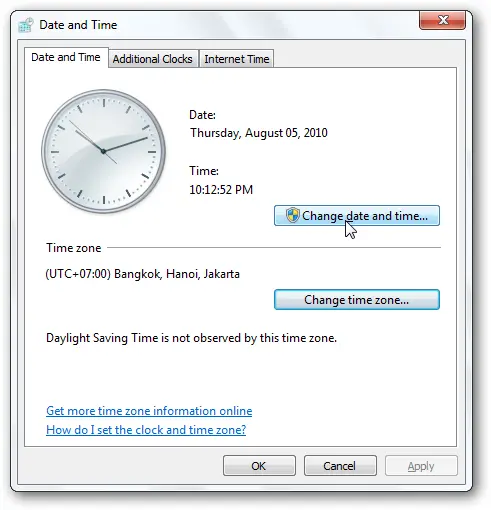 You may prevent problems in payroll processing and other crucial operations by checking and updating the system's date and time, enabling effortless and synchronized performance within the software.
Check the date and time by clicking on them in the bottom right corner and ensuring they are accurate. If not,
When you simultaneously press (Windows+R), the Run box will appear.
In a run box, type Control or Control Panel.
Then, choose Clock and Region.
Choose a date and an hour.
Then, select Change date and time.
Click OK to update the time and date to reflect your local time.
Next, select Change time zone. Ensure your time zone is accurate since it might contribute to this issue.
Recommended to Read: QuickBooks Payroll Item List Missing
4. Check to ensure you have the latest payroll update
It's crucial to update your payroll in QuickBooks. The most recent updates often include safety updates and bug fixes to guarantee maximum performance and data security. By keeping your system up to date, you increase its efficiency and access to new features, compliance updates, and enhancements that make your payroll procedures more accurate, precise, and compliant with current legal standards.
Open QuickBooks Desktop
Select the Employees tab > Get Payroll Update
Check the Download Entire Payroll Update option.
Next, choose Update.
5. Delete cookies and cache from the Internet Explorer
It is also important to clear the cookies and cache in Internet Explorer to smooth out QuickBooks Payroll operations. As a result of this simple action, data pathways are optimized, fixing any Internet connection issues that might interfere with payroll processing.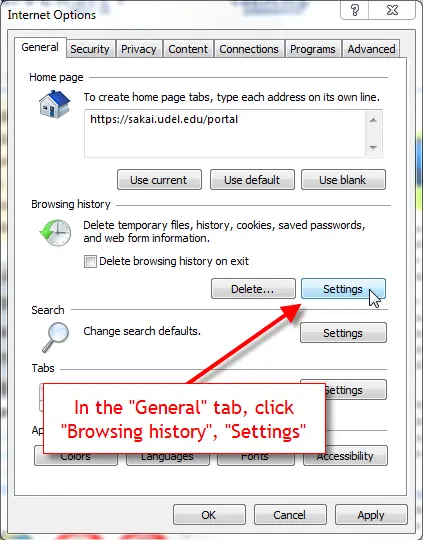 To open the Run command, press the Windows key and R simultaneously
Click OK after entering inetcpl.cpl to open the Internet Properties
Select the General tab
Click Delete under Browsing History
For deletion, pick one of the choices below
Temporary Internet files and website files
>Cookies and website data
>History
>Passwords
Click "Apply" then "OK."
Try once again processing QuickBooks payroll now
6. Revalidate your subscription to QuickBooks Payroll
Revalidating your QuickBooks Payroll subscription is a way to ensure your access credentials are current and accurate, aligning with QuickBooks' servers. It's similar to a secure login, ensuring your payroll functions remain seamless, authorized, and in sync with the service. This validation ensures the smooth operation of payroll features.
Select My Payroll Service from the Employees tab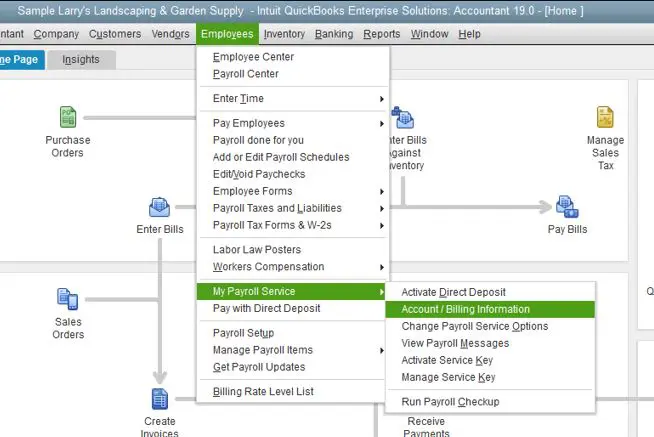 Click the Manage Service Key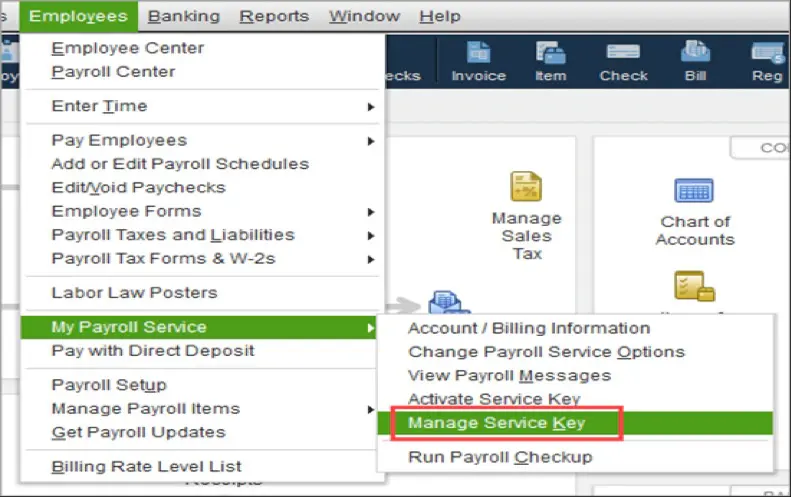 Click Edit
Now, Enter the Service Key
Click Next and Finish
Attempt to execute payroll again
7. Check QuickBooks' Internet Connection Settings.
You may ensure smooth online operations by configuring QuickBooks to use your computer's internet connection preferences. This is done by checking QuickBooks' Internet Connection Settings.
Open QuickBooks Desktop
Click on Help> Internet Connection Setup
When this program connects to the internet, choose Use my computer's Internet connection settings to establish a connection and click Next.
Select "Done," you may alter the internet settings by clicking Advanced Connection Settings.
Recommended to Read: QuickBooks Payroll Keeps Turning Off
8. Clear the Server Certification Revocation
Clearing server certification revocation entails removing a security check to avoid delays in safe connections. Like deleting a checkpoint, it ensures that no pointless stops cause your connection to be delayed. This improves QuickBooks' capacity to effectively authenticate and connect with servers, lowering the possibility of mistakes.
To use the Run command, press Windows+R simultaneously
Type inetcpl.cpl and click OK to open the Internet Properties
Click OK to open the Internet Properties
Choose the Advanced tab
Scroll down the page and choose Security
Next, uncheck Check for the revocation of server certification
Click "Apply" then "OK."
9. Delete the DNS
Clearing IP addresses and DNS entries from caches by flushing the DNS will assist in resolving connection and security concerns with the internet.
To Delete the DNS
Press Windows+R keys simultaneously to open the run command
To launch the command prompt, type CMD.
Click "OK."
Type ipconfig /flushdns
Now press Enter
Conclusion:
Internet connectivity issues leading to QuickBooks Payroll connection errors can substantially affect an organization's financial workflow. Various causes, such as firewall misconfigurations, incorrect system date and time settings, and issues with security certificates, contribute to this error.
Implementing the methods mentioned in our article can effectively resolve the Payroll service connection error in QuickBooks Desktop. If you still have any doubts, feel free to reach out to us for expert guidance and support at 1-802-778-9005.
Frequently Asked Questions (FAQs)
Are the issues with QuickBooks' internet connection caused by antivirus software?
Yes! The server and QuickBooks connection might be barred by antivirus software. Therefore, users should add QuickBooks to the Firewalls and Antivirus's list of exceptions.
How can one fix payroll errors?
There are several reasons why QuickBooks payroll issues could occur, including inadequate permissions or corrupted files. One can fix these problems by logging into the software with administrator privileges or changing the Windows permissions; one can fix these problems.
Are there any QuickBooks utilities or programs made expressly to identify and fix issues with internet connections?
The QuickBooks Connection Diagnostic Tool, provided by Intuit, is comprehensive. This utility can resolve a wide range of connectivity problems encountered by the QuickBooks accounting application.
How do I handle firewall problems in QuickBooks?
QuickBooks users may have firewall setup difficulties, or the firewall may be preventing the program from communicating with the server. One can seek help from the QuickBooks file doctor tool in these situations. Firewall difficulties can be resolved using the file doctor tool by adding firewall port exceptions.