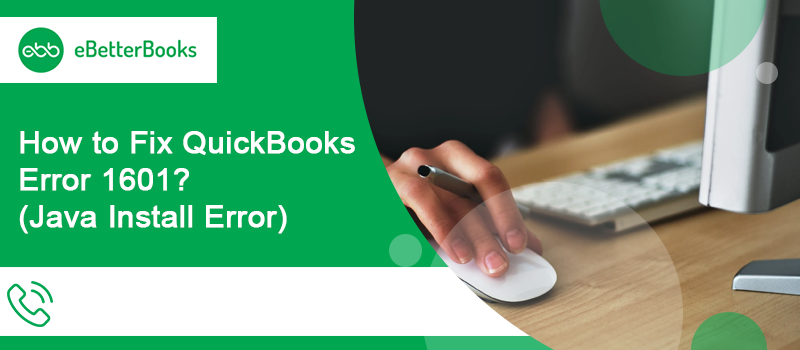 Fix QuickBooks Error 1601 – (Java Error 1601 Windows 7)
Learn the best ways to troubleshoot QuickBooks Error 1601.
QuickBooks Error 1601 happens when the updates aren't getting installed, and the error message occurs while using the application. With this error guide, we've tried to answer all possible doubts related to this error. The error 1601, 1603, and 1642 are of similar nature.
QuickBooks is a popular accounting software that helps users prepare financial statements easily. However, it also has lots of bugs, known as QuickBooks Errors. Today, we will deal with one such issue: QuickBooks update error 1601.
Causes Behind Occurrence of QuickBooks Java Install Error 1601
Several factors can contribute to the occurrence of QuickBooks Java Install Error 1601:
Java Installation Issues:- Problems with the installation or configuration of Java on your computer can lead to Error 1601.
Windows Installer Problems:- Issues with the Windows Installer service can prevent the installation of Java components, triggering the error.
Corrupted Installation Files:- Corrupted or incomplete installation files for QuickBooks or Java can lead to Error 1601.
Security Software Interference:- Overly aggressive security software or firewall settings can block the Windows Installer from accessing Java components.
User Permissions:- Insufficient user permissions to access and modify system files can result in Error 1601.
Registry Errors:- Incorrect or corrupted entries in the Windows Registry can affect the installation process and lead to the error.
Here are a few issues that business owners might come across while installing QuickBooks Desktop or applying a product update:
Error 1601: Windows Installer is not accessible
Error 1603: There was a problem installing Microsoft .NET Framework [version]
Error 1603: The update installer has encountered an internal error
Error 1642: Error installing Microsoft .NET Framework when installing QuickBooks

Fix Java 1601 Installation Error Helping Install QuickBooks?
We can fix the error through various solutions. Hence, we have listed effective methods that could troubleshoot the "Error 1601: Windows Installer is not accessible" issue.
Solution 1: Click The Service Status
Firstly, the user has to go to the start button in the search bar. After that, they have to type msc.
Click services( LOCAL). After that, right-click the windows installer and Properties option.
Now, go to the Startup tab–> verify the 'DISABLED' option. After that, select the option of MANUAL.
Now, the user has to click SERVICE STATUS and set this to START. This action will enable Windows.
If a Windows installer has caused the error, it will fix the issue. However, we have also listed other options to fix QuickBooks error 1601 windows 10.
Solution 2: Typing MSIEXEC
Go to the first button in Windows and enter 'cmd' in the search option to display the Command Prompt Window.
Then the user has to type "msiexec / unregister." Press the Enter key and close the Prompt command window.
Exit Windows and reboot the computer. The user may have installed an application that led to a Windows Installer service error.
Solution 3: Re-Register The Windows Installer
Firstly, go to the start button and press the Windows + R key.
Now, in the prompt command, type 'exe/unreg' and click OK.
When there is a pop-up dialog message requesting verification, the user can click and select OK to confirm.
Then click the START button and use the Windows + R button.
In the Prompt command, type 'exe/regserver' and click OK.
Click OK again when a confirmation message appears and confirm whether java install error 1601 QuickBooks is still there or not.
Now, let's proceed with the installation of QuickBooks Desktop and verify if the issue persists.
Solution 4: Using Diagnostic Tool
Here, we will install the diagnostic tool as it helps solve issues caused by third parties. For instance: NET Framework, MSXML, and C++.
After that, open your program as an administrator.
Look for the QuickBooks Install Diagnostic Tool from an authentic source.
Download and save the file in a local folder.
Lastly, the user may close the apps running in the background. Run the QBInstall_Tool_v2.exe file.
Alternative Methods to Fix QuickBooks Error 1601
Method 1: Disabling Antivirus Software
Press the Start key on your keyboard or click on the desktop screen.
Open Settings and then choose Update & Security.
Click on Windows Security, then choose Virus & Threat Protection.
Click on Manage Settings or Virus & Threat Protection settings.
Locate "Real Time Protection" and turn it off. This won't affect scheduled scans.
Final Words
Hopefully, the above-given information is useful for you. But if you still facing any kind of issues with your software and need professional assistance, regarding accounting, bookkeeping & accounting software-related issues then feel free to get in touch with us at +1-802-778-9005, or you can mail to us at: [email protected]
FAQs Related to QuickBooks Error 1601
What is QuickBooks error 1601 1603 and 1642 windows 10?
QB error 1601, 1603, and 1642 are belong to the family of QuickBooks Error 16xx. These errors usually occur when users attempt to update QuickBooks Desktop to the latest version. The primary reason for these errors is a corrupted Windows installer. This issue was last reported on March 30, 2023.Other Related Posts:
Fix QuickBooks Error 3371 Status Code 11118
How to Fix QuickBooks Error Code 195?