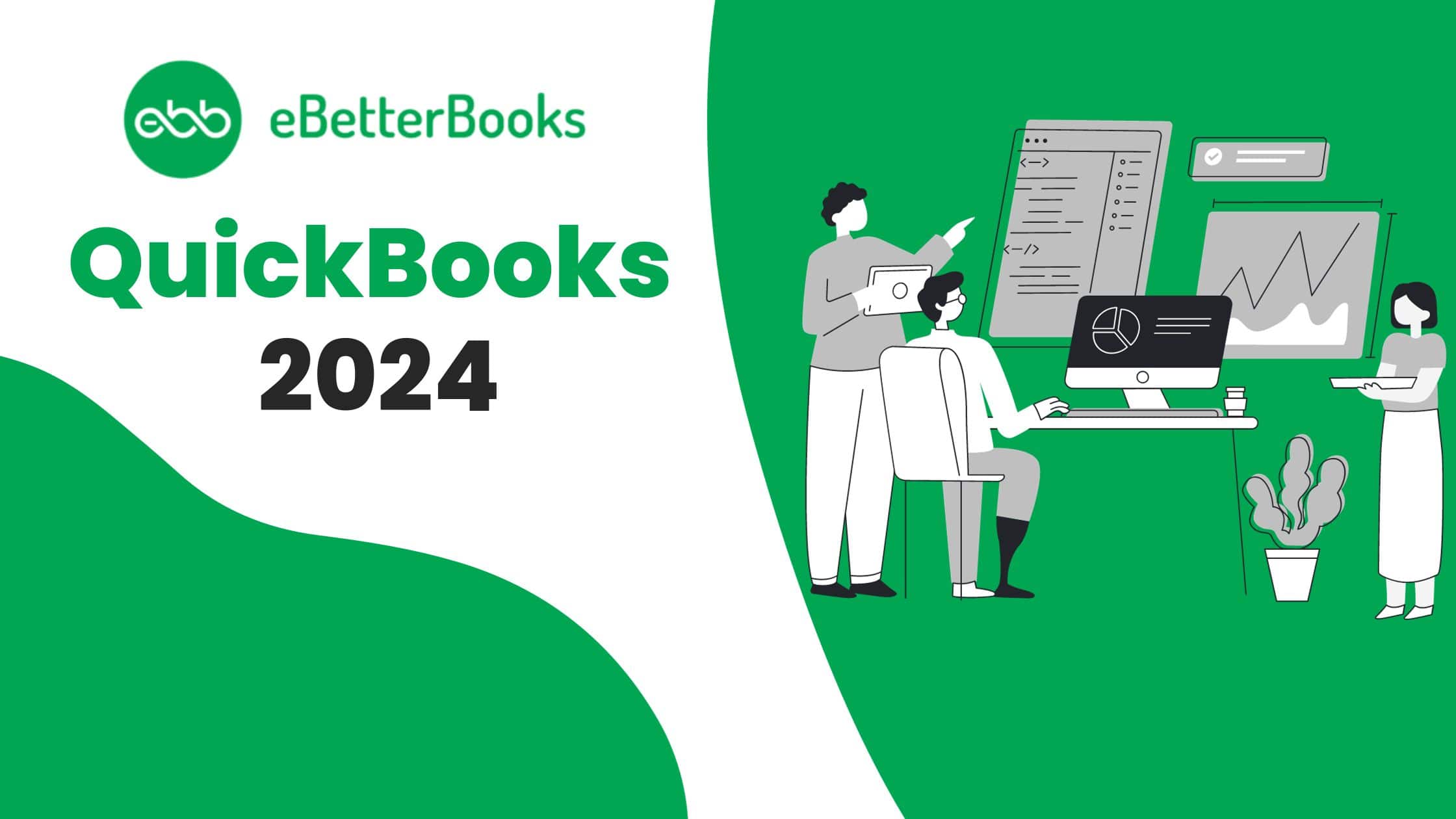 QuickBooks Desktop 2024 : New Features, Pricing, Benefits and Integration
QuickBooks 2024 has landed in the market of accounting management software with exclusive features and functionalities. It is compatible with all sizes of businesses, whether small, mid, or large. Get various plans according to your needs, regardless of the number of users.
Experience better security, higher productivity, and clearer inventory visibility with every new release. QB 2024 support services enable you to streamline your financial records, automate your daily tasks, and make informed decisions.
So, let's learn more about what QuickBooks Desktop 2024 is and how it is a seamless accounting software for its esteemed clients. To get started, make sure to download QuickBooks Desktop 2024.
| United States (US) | Canada (CA) | United Kingdom (UK) |
| --- | --- | --- |
| QuickBooks Desktop Pro | QuickBooks Desktop Pro | QuickBooks Desktop Pro |
| QuickBooks Desktop Premier | QuickBooks Desktop Premier | QuickBooks Desktop Premier |
| QuickBooks Desktop Accountant | QuickBooks Desktop Accountant | QuickBooks Desktop Accountant |
| QuickBooks Desktop Enterprise | QuickBooks Desktop Enterprise |   |
| QuickBooks Mac Desktop |   |   |
| QuickBooks Point of Sale |   |   |
QuickBooks 2024 - Release Date
QuickBooks 2024 was launched into the market on the 8th of September 2023, which was sooner than expected, as previously announced by Intuit, the release was expected somewhere around early October 2023. 
The new QB 2024 version brings home new features such as enhanced data security, a more efficient inventory viewing system, and many more. Effectively being more resilient to bugs and error, delivering an overall more efficient and productive experience to the user.
New Features of QuickBooks Desktop 2024:
QuickBooks 2024 offers enhanced capability for accountants, business owners, and entrepreneurs. In addition to the features mentioned below, you can do a lot more with the help of the 2024 release:
Better data security
More productivity
Better view of inventory levels
| | |
| --- | --- |
| Track Customer prepayments (Enterprise only) | Track customer deposits or prepayments and transfer credit when your sales order gets converted to an invoice. |
| Enhanced category management (Enterprise only) | Track and categorize your inventory items for better management—set pricing rules for each category. |
| Detailed Inventory reports (Enterprise only) | Get category-level reports, sales, or inventory, and make informed and data-driven decisions. Take inventory management to the next level by tracking batches/ lots with an Inventory Stock report and checking inventory status while in lots. |
| Security Enhancements | QuickBooks Desktop 2024 employs 256-bit encryption, which is best-in-class and keeps your data safe. |
| Search your item lists quickly | Find items quickly, with enhanced search. |
| Automate Reminders and Get Paid Faster | Send automatic reminders to your customers when payments are due. |
| Build your brand and look professional with QuickBooks 2024 | Communicate your brand and show yourself with design templates offered by QuickBooks 2024 and leverage the power of consistent style. |
| Do more, achieve more – Faster. | QuickBooks-2024 supports 64-bit processors for faster work. Generate reports, reconcile accounts, and create invoices faster than traditional accounting software. |
QuickBooks 2024: What You Can Do More?
Additional features of QuickBooks Desktop 2024 that let an accountant or any user accomplish more are: 
Generate invoices and maintain sales records: Create invoices and sales receipts quickly to track who owes you money, what they purchased, and when they paid you.


Better understanding of your business: Utilize easy analytics tools to maximize operational efficiency, enabling quick access to comprehensive financial, tax, and sales reports for in-depth business insights.
Match your banking statements: Reduce complicated data input by effectively integrating and matching your online bank transactions with QuickBooks and improve reconciliation for accurate accounting.
Monitor your expenses: To simplify financial tracking, efficiently monitor cash inflows, consolidate payments, and handle invoices that are still owed.
E File your GST/HST form and remain compliant with CRA2: E-file your GST/HST forms as per CRA2 requirements and stay compliant with tax regulations with just a few clicks.
Remove multiple transactions in one-click: Improve efficiency by quickly deleting duplicate transactions in a single batch, improving data management, and ensuring the accuracy of financial records.
QuickBooks 2024 – System Requirements
QuickBooks 2024 - Software Integrations
Microsoft Integration for QuickBooks 2024
Mail Services Integration for QuickBooks 2024
Data Transfer integrations for QuickBooks 2024
Microsoft Integration for QuickBooks 2024
Use Microsoft 365 (64-bit) or For Microsoft Word Office 2016-2021 For Microsoft Excel Office 2016-2021
Mail Services Integration for QuickBooks 2024
Data Transfer integrations for QuickBooks 2024
QuickBooks Desktop Pro 2024 Pricing
QUICKBOOKS DESKTOP PRO
QUICKBOOKS DESKTOP PRO + PAYROLL
Number of Users
1 User
3 Users
1 User
3 users
Price
$41/mo
$84/mo
$87/mo
$130/mo
Create estimates and professional invoices
Keep track of sales and expenses
Manage accounts payable
Just a click away from sales and tax-related reports
Quickly pay employees in three easy steps
Transfer payroll taxes with much more ease
Stay up to date and worry-free with automated features
The QuickBooks 2024 version update was out as of 8/09/2023, succeeding its predecessor, QuickBooks 2023, and available for everyone in the UK, US, and Canada through the official site. 
The QB 2024 version update brings a wide array of new features & optimizations, promising fewer bugs than before. Unlocking a new efficient and streamlined financial management potential for satisfying user's accounting needs. With the promise of more visibility and control, users can expect a seamless accounting experience.
What's New in QuickBooks Desktop 2024?
QuickBooks Desktop 2024 improves efficiency with automated payment reminders and increases productivity with design templates. It works with 64-bit processors for quicker processes, uses high-grade 256-bit encryption for better security, and provides improved item list search features for better usability.
How do I upgrade my current version of QuickBooks to QuickBooks 2024?
Before upgrading to QuickBooks 2024:
1. Check system requirements.
2. Make a data backup.
3. Install QuickBooks 2024 using the license you already have by downloading it.
4. During installation, migrate data.
5. For a seamless transfer, check for changes and double-check moved data.
How can I download and install QuickBooks Desktop 2024?
Visit the official QuickBooks website to download and install QuickBooks Desktop 2024. Select the model best suits your requirements, then finish the purchase process. After that, open the installation file which was downloaded.
Follow the installation type (quick or manual), your licensing information, and the on-screen instructions. Finally, open the application after installation, then configure it to meet your needs.
What are the QuickBooks Desktop 2024 pricing specifics?
For detailed information on QuickBooks desktop 2024 pricing, visit the official Intuit QuickBooks website. The price varies depending on your selected version, such as Pro, Premier, or Enterprise. For the most recent and accurate pricing information, it is recommended to visit the website since they frequently provide promos and discounts.
How many versions of QuickBooks-2024 are there?
QuickBooks 2024 offers various product versions tailored to different business needs. Typically, there are three main versions: QuickBooks Pro 2024, QuickBooks Premier 2024, and QuickBooks Enterprise 2024. Each version offers a variety of features and functions to simplify accounting and financial duties while catering to certain business sizes and requirements.
When will the prices for QuickBooks Desktop be changing?
The updated prices for QuickBooks Desktop Pro Plus, Premier Plus, and Mac Plus will be applied to both new and existing customers starting on or after October 3, 2023, as outlined below.