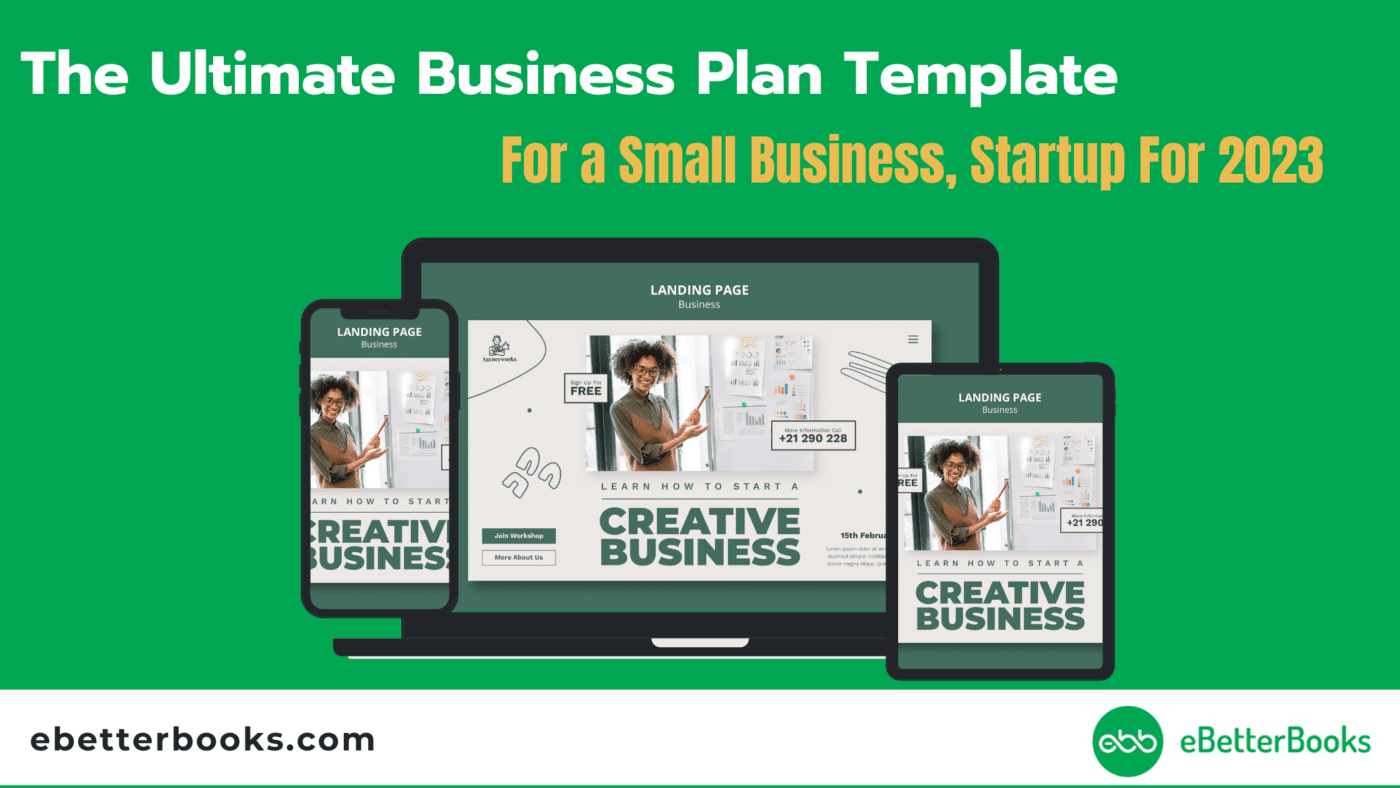 Business Plan Template for a Startup or Small Business in 2023
A business plan outlines a company's objectives and strategy for achieving them. It is the key to successfully launching a business. In this blog, you will learn what is the best business plan template, how to write a business plan, the benefits of a business plan template, and various Tips for creating a successful business plan.
Overview: – Business Plan Template (What is the best business plan template)
Business plans assist you in defining the ways through which you will accomplish your goals. When starting a side business, a single venture, or a small company, our straightforward business plan template includes all of the important details. You might even find a couple different ways to succeed if you study this properly.
Business plans are written by startups, solopreneurs, and small firms to serve as a roadmap for their ventures. As we go over each section of the business plan, feel free to copy our free simple business plan template and fill in the gaps. Need assistance getting your thoughts flowing? Below are various instances of the starting scenario.
What Does Your Business Plan Template Should Include?
Want to make your upcoming business plan more productive? Use the eBetterBooks business plan template to create a thorough business plan quickly. Our business plan template is the outcome of years of study into the business plans that assist entrepreneurs and small company owners in luring potential investors, raising funds, and developing profitable businesses.
Following our standard format, you may build a solid business plan for your startup or growing business. Our sample business plan includes the following:
Executive Summary
Company Overview
Market Analysis
Products and services
Customer segmentation
Marketing Plan
Financial Plan
The following template ensures you've considered all the crucial aspects of launching a new company or expanding an existing one. It is designed to assist aspiring small business owners in understanding the complete spectrum of operating a company, discovering functional areas they might not have thought about, and pinpointing areas where they need to advance their abilities as they advance.
Get Your Free Business Plan Template
What Are the 7 Parts of a Business Plan?
Here is a list of the seven key elements of a business plan and what it should contain, even though methods differ as much as businesses do.
💡Executive summary
A strong executive summary is one of your plan's most important sections-and one that you should create last. The report's main ideas should be summed up in an executive summary. It should restate the study's goal, emphasise its key findings, and summarise any findings, suggestions, or conclusions the research may have generated.
💡Company Overview
Two crucial questions addressed in this section are who you are and what you aim to do. A company overview gives the reader of your business plan a basic introduction to your organisation so they may understand what you do, who is on the management team, and who your target market is.
💡Market analysis
A well-researched business plan should also address the market you aim to penetrate with your business idea. Everything from the anticipated market size to your target markets and competitive advantage is covered in this section. The section will also cover the strengths and weaknesses of competitors in your industry through a competitive analysis.
💡Products and services
While most of the sections of your business plan will focus heavily on your products or services, it's crucial to have a section that provides readers with pertinent information about them. You can add information about how you'll set prices for your goods and services, handle orders, and other matters that investors need to know before you can receive money.
💡Marketing Plan
Your ideal consumer is the driving force behind your marketing strategy; therefore, your plan should detail your present choices and your long-term goals, emphasizing how well your concepts match your target audience.
Product, price, promotion, and place are the four primary themes in a company strategy's marketing section.
💡Logistics and operations plan
Even though you might not need to go into as much depth as if you were looking for funding, this is still a crucial element when developing a business plan for personal planning purposes.
You should thoroughly describe your company's objectives, goals, processes, and schedule in the operations section of your business plan. Investors benefit from an operations plan, but you and your team also benefit since it forces you to consider strategies and timetables.
💡Financial plan
No matter how good your business idea is, its ability to make money will determine whether it succeeds or fails. Your audience and your objectives will determine the degree of information needed in your financial plan. Still, you should normally include an income statement, a balance sheet, and a cash-flow statement as the three primary viewpoints of your finances. Financial forecasts are also appropriate to mention.
Start Your Business Plan
How Can You Write a Simple Business Plan?
A basic business plan is a streamlined, lighter version of the larger, more traditional model. A basic business plan can be more than one page, in contrast to a one-page business plan, which conveys high-level information for short overviews.
The template below reflects the processes for drafting a general simple business plan.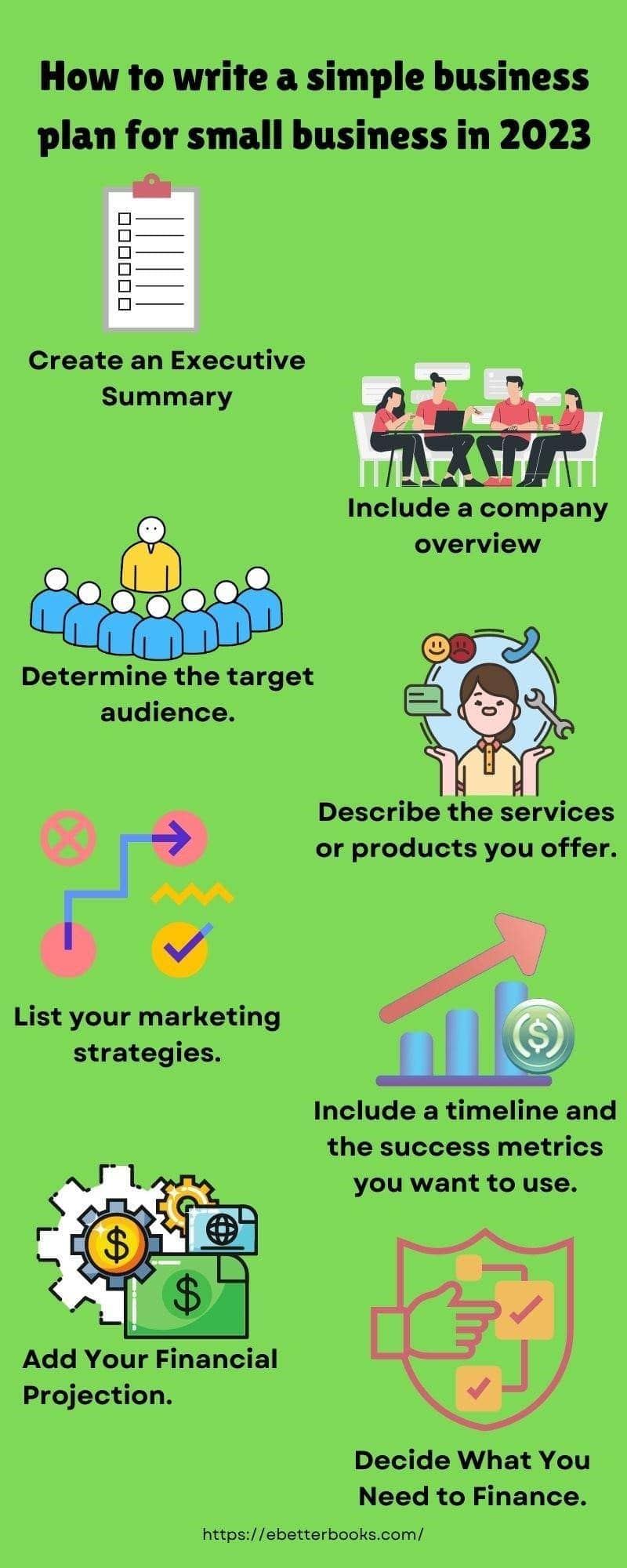 Types of Business Plan Templates
Business Plan Templates Types

Traditional Business Plan

Business Model Canvas

One-Page Business plan

Lean Plan

This plan is typically required when requesting funds or making an investment pitch. It may also be used when hiring or training staff, interacting with vendors, or when someone else needs to comprehend your company's specifics.

A business model canvas is a graphic highlighting all of a company's important strategic components. In other words, it provides a comprehensive, all-encompassing, and broad overview of the business' operations, clients, sources of income, and more.

A firm's strategy and objectives are described in a one-page business plan template. By using a one-page business plan template, you may decide which elements are most important to include and how you'll structure them so that they make the most sense to the audience.

Small milestones, constant tracking, and regular course adjustments are key components of the lean business planning approach. The lean strategy itself only covers things that benefit management and eliminates waste. The actual plan is slim, compact, and streamlined for internal usage only. It is just large enough to optimise the firm.
Tip: Follow this step-by-step guide on how to write A Business plan cover Page and what details it should include.
Click Here
Benefits of Business Plan Template
A business plan is a crucial tool to help direct your decisions, whether starting a small company or looking at ways to grow an existing one. A business plan aims to clarify your strategy for beginning or to expand your company. It outlines how you'll accomplish your main professional goals.
Here are the benefits of business plan templates:
Assist you in identifying any flaws in your company plan so you may fix them before going into action.
Decide how to take advantage of any business prospects you may have yet to consider.
To strengthen your concept, examine the market and the competitors.
Offer you the opportunity to prepare plans for addressing probable difficulties, so they don't cause your startup to fail.
Persuade important workers, clients, and possible partners that you are serious about your project and that they should collaborate with you.
Make you determine when and how much money your company needs to turn a profit so you can plan with enough initial capital.
Determine the target market segment and how to approach them.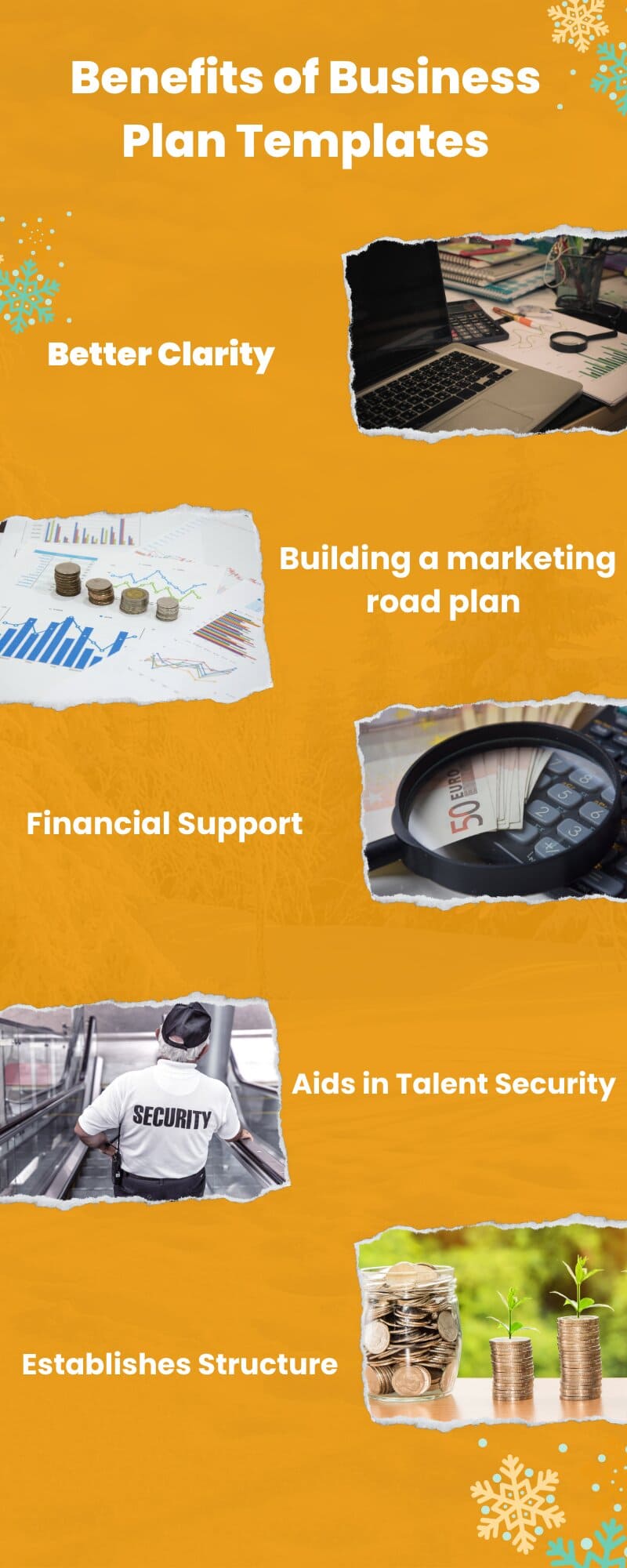 Tips for creating a successful business plan
💡Don't be too wordy
Use plain, concise language to get your stakeholders' attention and avoid jargon.
💡Provide supporting documents
Remember to include supporting documents. Common items are resumes, credit histories, product pictures, licenses, letters of reference, permits, legal documents, patents, and other contracts.
💡Be creative
Include a creative component in your business plan to stand out and attract attention.
💡Be aware of your plan's goal.
Only once you have determined the goal of your strategy should you begin your research and writing.
💡Demonstrate what makes you unique
It's critical to demonstrate how your product or service distinguishes you from the competition and helps your target audience solve a problem.
💡Describe your financial projections
Write a financial strategy summary showing you've done the necessary modeling and research.
💡Identify your audience
Your intended audience should be identified. Potential collaborators, present or prospective workers, or shareholders.
💡Change it as needed.
As your business develops, adapt your plan. As necessary, go back and revise your company strategy.
Why should you use a template for a business plan?
Take a moment to picture yourself writing your business plan while staring at a blank screen. Well, templates eliminate this pointless step; all you have to do is an open one and start making changes.
Business templates are preformatted documents that require only minor changes each time they are used. It reduces the burden, giving you more time to concentrate on your task. The template is saved on your computer or online, and you may use it whenever you need to write a similar kind of material rather than starting from scratch.
The prime purpose of using a template for a business plan is to outline the company's business strategy, marketing strategy, financial projections, possible suppliers, and other details.
The following are other perks of having a business plan template:
Simplify document creation.
Reduce workload, reduce stress, and boost productivity at the same time.
Draw the audience's focus.
Assist in time and money savings.
Enhance clarity and client satisfaction.
Templates make your business appear more professional since they improve uniformity and reduce mistakes.
What are some examples of a business plan?
Looking for some examples of a business plan? Our example will make it easier for you to picture what a comprehensive, conventional strategy looks like so that you are aware of your goals before you start.
Simply going through the process of drafting a business plan is one of its main advantages. You'll naturally consider crucial factors when writing, such as your target market, your startup expenses, and any market analysis you'll need to conduct to be successful.
Download Example of A Business Plan
The following sample is structured to make it easier for you to acquire a feel for each area and comprehend how it relates to a business plan's planning and review phases.
Bottom Line
Keep in mind that business ideas might change over time. Your objectives and methods for accomplishing them will vary as markets, audiences, and technology do. Consider your business plan a live document that you should often review, expand, and reorganize in response to changing market conditions and company expansion.
FAQs
What are the 5 elements of a business plan?
The 5 main elements of a business plan include:
A statement of mission.
A concise history of your company.
Product or service description
Highlights of the expansion of your organization.
A list of plans.
What are the 4 types of business plans?
Financial Plan – Financial plan gives you insight into the state of your company and enables you to allocate resources more wisely.
Marketing Plan – A marketing plan is used by businesses as a strategic blueprint to plan, implement, and track their marketing strategy over a certain period of time.
Operations Plan – An operational plan defines an organization's main aims and objectives together with a strategy for achieving them.
Strategic Plan- A strategic plan outlines a company's objectives and specifies its steps to achieve them.
What are the 3 types of business plans?
Start-Up Business Plans – This document normally has parts explaining the business, the goods or services your firm will offer, market analyses, and your anticipated management team.Internal Business Plans – Plans for internal company operations are directed towards a certain group of people.Growth Business Plans – Plans for intended growth, also known as expansion plans, are thoroughly described in writing and can be used for internal or external objectives.
How can I create a free business plan template?
The easiest method to write a polished, comprehensive business plan is to use one of eBetterbook's free business plan templates. The templates include instructions and all the information required to launch your business.
Related Posts:
Top 8 Payroll Tips For Small Business Owners
Important Steps To Start A Bookkeeping Business in 2021
Startup Cash Flow: What All You Need to Know About
Meenal Lohani

Meenal Lohani is a versatile writer and researcher. Her love for knowledge is well represented in her rich work experience, from international publication to digital marketing. She has worked across various knowledge domains ranging from healthcare, technology, SEO, Fintech and e-commerce, to name a few. An avid reader, explorer, and a movie buff, she is never short of imagination and still professional to the core.