Updated November 23rd, 2022
|
Published April 19, 2021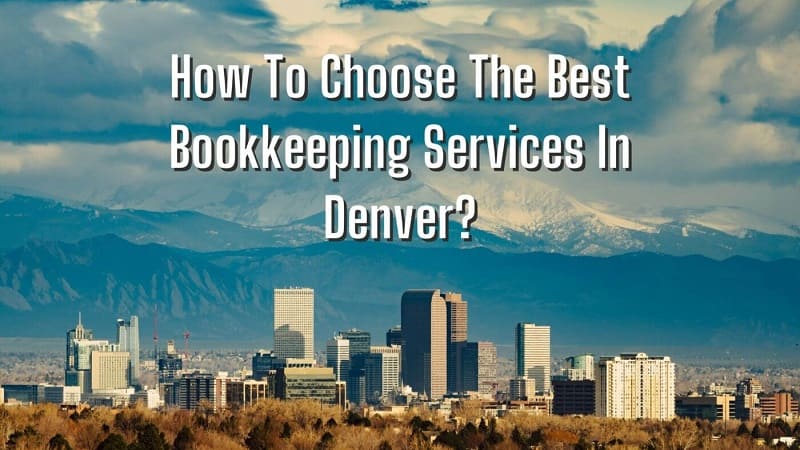 Best Bookkeeping Services In Denver
Are you looking for bookkeeping services in Denver? Bookkeeping can be a pain for people who are not into accounts. However, no matter what your business size is, you would need to maintain your books anyway, primarily dealing with the tax season. Improper tax filing can land you in some real trouble.
Bookkeeping is responsible for keeping your daily financial records and providing you an insight into your business. You have various bookkeeping options available in the market.
People these days are more inclined towards the idea of outsourced bookkeeping services Denver. Let us dig this topic a little more.
Why Is Outsourced Bookkeeping Better Than An In-House Bookkeeper?
Outsourced bookkeeping is believed to be better than In-house Bookkeeping because of the following reasons:
Hiring and training: It may take some effort to hire and train a new accountant whereas, you will get someone already trained if you opt for an outsourced bookkeeping service.
Cost Efficiency: Outsourcing a certified bookkeeper is more cost-efficient than hiring an in-house one. You do not have to pay for their overhead expenses like insurance, holiday pay, office space rent, training costs, office equipment, etc.
Better Output: An in-House accountant is expected to dedicate their whole day towards the Output. However, you can not stop them from taking breaks, gossiping, and doing chit-chats. However, outsourcing companies provide you with Output oriented teams who are there for your service 24/7.
Workload Distribution: Outsourced accounting and bookkeeping services Denver tends to work in a team and distribute their works, therefore offering you accurate financial reports. However, this is not the case with an In-bookkeeper; they can not distribute their workload as there is no team.
Security: Studies have shown that your in-house accountants are more likely to commit fraud. On the other hand, outsourced bookkeepers are bound to maintain your data security.
Importance Of Bookkeeping Services For Your Denver Business?
You may not understand the importance of Bookkeeping services at the start. Still, you will gradually know when you will notice how easy bookkeeping has become and how much effort you are saving, which you wouldn't otherwise. These are the reasons how they help your firm:
Allows one to set a budget
You can not set an ideal business budget unless you have your financial records intact. Having your revenue and expenditure well-orchestrated, you can get a better insight into your business and beef up your budget structure.
Your budget directly impacts your business's future: a proper budget can make your business thrive and vice versa. Improper books cloud your understanding and compel you to make inappropriate decisions.
It gives you an insight into your business.
Properly conducted books can help you recognize where you stand in the market and how to alter your business for the better. The better you understand your business, the better decisions you make.
It eases your tax time.
People start getting chills down their spines when tax season arrives. Every person in business has to file their taxes by the end of the tax year. You need Bookkeeping services Denver to properly prepare tax reports. Having your financial reports ready at your hand can save you from some legal issues as well.
Sustain a Well Structured Financial report
You will no longer miss your deadlines if you have your books maintained. That last-minute struggle to find the needed financial information can bend your ear.
An excellent outsourced bookkeeper will maintain your records daily and will also provide you with the bits of information you suddenly need.
Regulatory Compliance
The federation comes up with new compliances to make things easier for everyone. Just their recent initiative "Making Tax Digital" or MTD.
Therefore, your business is now required to do its tax digitally with the help of an application or software. A bookkeeper can help you with this.
Better Decision Making
To set business goals and make further decisions, you need accurate information about your business finances.
You can not make business-friendly decisions with a poor bookkeeping record. Hence, you need to conduct a healthy financial record of your business. A professional Bookkeeper in Denver will do this job on your behalf. No matter how hard-working a businessman is, poor books can cause him improper judgments and eventually downfalls.
Choosing The Best Bookkeeping Services For Your Denver Business
After understanding the importance of outsourced bookkeeping, another central question arises; how to choose the best outsource bookkeeping services?
Check out the factors mentioned below, and you can set them as a guideline for selecting the best bookkeeping services in Denver for your business:
Your budget 
This is one of the most prominent factors that will directly impact your final decision. You would probably look for an affordable option. However, all the bookkeeping services Denver who offer an exceptionally cheap rate, are not necessarily the one. Contradictory, a company imposing their high demands may not stand up to their words.
Nevertheless, sometimes paying a little more for extra services can become a great advantage to you.
Stable track record
Make sure you check your candidate company's track record. See if the company has a stable track record throughout a certain time? How many experienced service providers do they have, and also their success rates.
Some bookkeeping service providers might not have a more extended experience, but the quality of service seems suitable to you. It's worth it.
Key Performance Indicators
You can monitor an accounting firm's efficiency with the help of your outlined Key Performance Indicators. It depends on the accounting product you are willing to outsource.
Workflow and processes 
Outsourcing bookkeeping services in Denver involves an internal and external workforce. Therefore, check for the established communication channels and if together they can provide a smooth service as they claim. Any break-off can result in an unsatisfactory result.
Proficiency of the team
It is one of the significant factors that decided whether you should opt for a detailed accounting and bookkeeping service or not. Suppose the team is proficient enough and can provide you services beyond the basics like bookkeeping. It may as well benefit you over your rivals. Thus, it is the value of money.
Safety of your data
Sharing your data with a team can expose them to some sensitive data. Make sure the company you are opting for is confirmed to ISO 27001 standards (it narrates the strict guidelines on sustaining the data security by the service providers). Make sure the company keeps its words on your data safety.
Customer's testimonials
It is one of the easiest ways to identify if a particular company is right for you or not. You can go through its customer's testimonials and reviews on google if you can manage to communicate with the customers, even better.
Your Business Requirements
Make a list of your business accounting requirements and look for a company that offers them. For instance, You do not have to outsource a full-fledged accounting service if you only require bookkeeping services or tax filing services.
Final Words
eBetterBooks is an accounting and bookkeeping service provider with an experience of over ten years in finance and accounting outsourcing.
We have a dedicated team of professional accountants who are experts in bookkeeping, tax filing, covering daily accounting activities, month-end, and year-end account finalization processes and financial analysis.
For further information, you can dial +1-860-497-7164 and communicate with one of our accounting representatives.
Try eBetterBooks, and we have brought you excellent Denver bookkeeping services.