QuickBooks Online to Desktop Conversion
Switch from QuickBooks Online to Desktop with eBetterBooks Data Conversion Services. Get a dedicated expert with industry knowledge, training services, regular follow-ups and much more.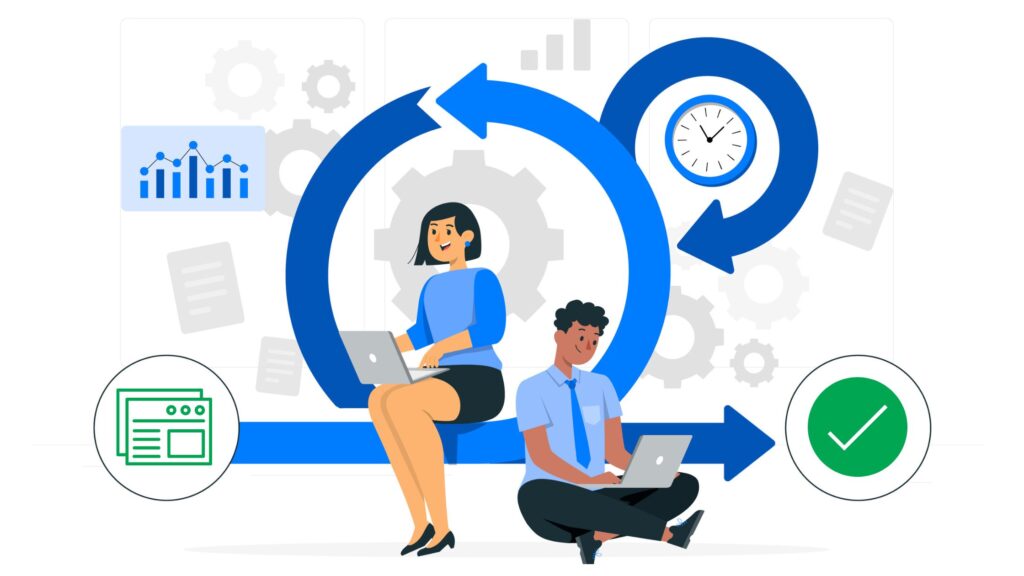 Are you using QuickBooks and looking for simple method to switch your QuickBooks Online data files to the Desktop version? Then you are on the right page. Here, we've gone into great detail on how to convert QuickBooks Online to Desktop easily.
A frequent question from customers looking to use the desktop application is how to convert a QuickBooks Online file to QuickBooks Desktop. Thankfully, we have an easy solution for you. In this article, we'll walk you through the process of migrating your QuickBooks Online files to QuickBooks Desktop for Pro and Premier editions. We will also discuss other file conversion methods that may be necessary for different QuickBooks versions.
A Step-by-Step Guide to Converting QuickBooks Online to Desktop
You are effectively relocating your files from QuickBooks Online to Desktop when you export QuickBooks Online to Desktop. The functions of QuickBooks Online and Desktop differ from one another. Therefore, individuals may cancel one membership and purchase another if their needs change.
The primary distinction between QuickBooks Online and Desktop is the latter's focus on the cloud. It implies that users can register and access files on any device, any place. However, QuickBooks Desktop can be connected to a network and is only installed on specific devices.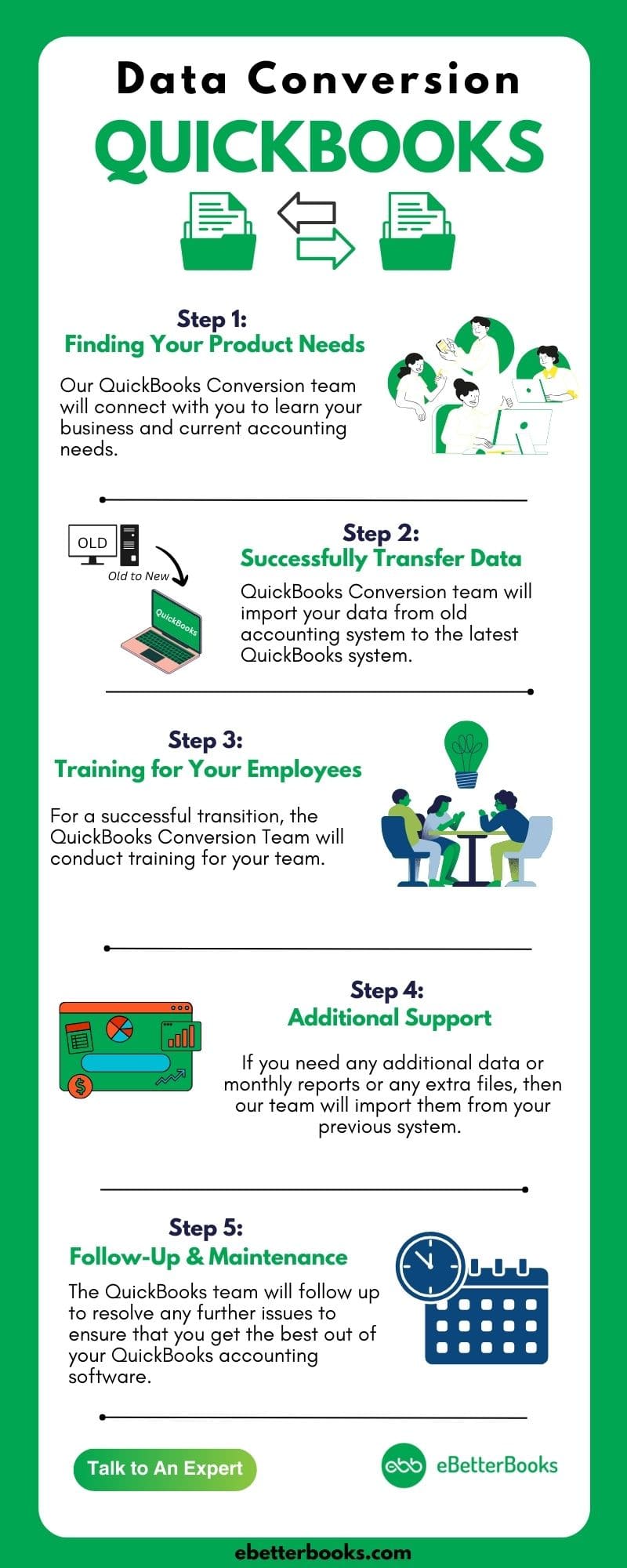 QuickBooks File Conversion : Points to Consider
Take into account these points before you switch from QuickBooks Online to Desktop:
If you use the US version, QuickBooks Online files can only be converted to Desktop files.
Your user account must have access to the export file from the online app at an admin level.
For file conversion, you must have Internet Explorer 10 or later.
A supported version of QB Desktop must be used on a computer with Windows, and it must not be a 64-bit version of Windows as this is not currently supported for using the file export feature.
You will require installing ActiveX on your PC.
Benefits of Converting From QuickBooks Online to Desktop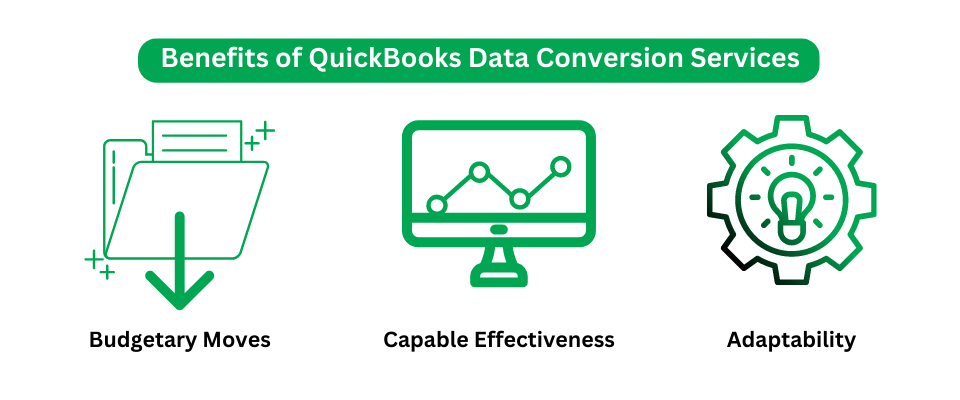 What version of QuickBooks is better for a business and why they should switch from QuickBooks Online to QuickBooks Desktop entirely depend on their needs. Here are a few advantages of QuickBooks Desktop that you will love:
For many tasks, QuickBooks Desktop enables you to employ tailored programs.
Large-scale companies are adept at managing inventory and job costing.
Data is stored on your computer rather than in the cloud, making it safer.
It is possible to forego monthly fees for QuickBooks Online.
Unlike QB online, customers can create several accounts and manage multiple company files using QB Desktop.
Recommended To Read – How to Link a Bank Account to QuickBooks?
How to Transfer Data Files from QuickBooks Online to Desktop?
Now that you know the benefits of switching and have listed important factors, let's explore you can move your files from QuickBooks Online to Desktop through QuickBooks data conversion.
Begin with Internet Explorer to Export the file:
Open Internet Explorer on your desktop.
Click Tools from the top right corner and select Internet Options.
Select Trusted Sites under the Security tab and click the Sites button.
Type *.intuit.com in the Add field box and click Add.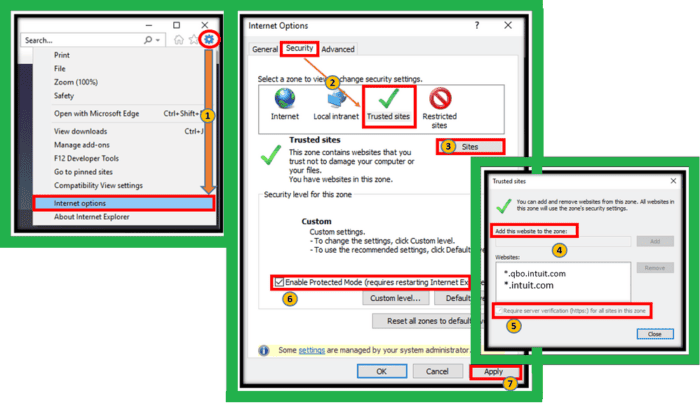 Unselect Require server verification for all sites in this zone check box.
Select the Close button and uncheck the Enable Protect Mode.
Then click Apply, choose Okay, and close Internet Explorer.
Select Run as Administrator by clicking a right-click on the QuickBooks Desktop icon.
Repeat step 8 for Internet Explorer and run it as an administrator.
Prepare to Export QuickBooks Online Data.
Open the QuickBooks version in which you plan to convert the company file. Keep in mind that it's advisable not to proceed through the "No Company Open" window and also avoid opening any company file at this point.
Then, click the Gear icon at the top of the QuickBooks Online dashboard, then choose Export Data from the Tools list.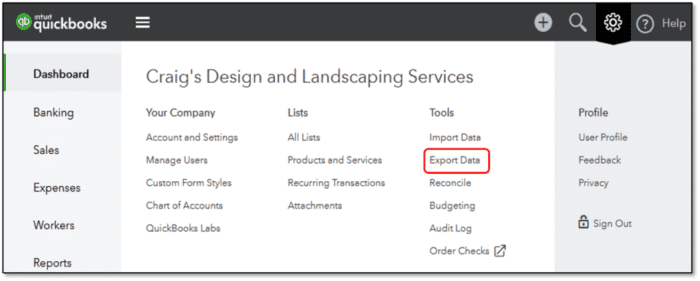 Click Get Started In the Export Overview
To start the installation procedure, click the button Install on the Step 1: Get Ready to Export window. The installation will then begin after you click the Install ActiveX Control button.
Click Continue once the installation completes.
Click Continue after choosing the data type you want to export.
Click Continue under Step 3: Request Your Data Window.
Now that you have entered your contact information into the app, Intuit® will send you an email with instructions on exporting a file within the next one to two hours.
How to Export Data from QuickBooks Online
Click the Gear icon after opening the QuickBooks Online application.
Now click Export Data under the Tools list.
Hit Continue after selecting Get Started.
Next, select the data you wish to export and then click Continue.
When the next window appears, select the Continue to Download button.
After clicking Download, select a location on your computer to save the file.
After downloading the file, select Convert Now.
Give this file a name under the Create New QuickBooks File pop-up window and save it to your desktop.
After the export procedure is finished, click Finished.
Convert QuickBooks Online to Desktop
Before starting the export process, the user must complete a few additional steps to access the export page:
Select the Export Data in QB Online option under the Settings tab.
Choose "Prepare to export the QuickBooks Online Data" and repeat steps 2 to 5 from the "Export Data from QuickBooks Online" step above.
Download the file from the QBO page at this time. Then click Next.
Launch QuickBooks Desktop afterward, ensuring you land on the screen with no companies open.
Review the opened file if you've opened the Company, then choose to close it.
Download it back to QuickBooks Online after ensuring the no company page is open.
After that, adjust the location of the company file and save it.
Ensure that the location differs from your Windows desktop.
Continue to the Convert Now tab after the Download is complete.
Save the downloaded file by selecting the "Create a new QuickBooks File" option.
 Give the file a name and select a location to save it in the next window. Choose a local system location rather than an external drive or network.
Activate the Finish button to convert QuickBooks Online to QuickBooks Pro.
It is essential to understand that the QuickBooks Online Export to Desktop involves a laborious extraction process. Sometimes, it could even appear to have frozen. But generally speaking, that is not the case. Do not, therefore, shut the window or stop the process in the middle. Allow enough time for the hardware and software to resume the extraction bar.
However, take the following actions if the extraction bar truly freezes and remains motionless for an extended period:
Launch the window at the taskbar by selecting the QB Desktop icon.
Click Yes > Continue to continue after that.
You will then arrive at the confirmation box, selecting Done to start the extraction.
Read Also – QuickBooks Experts & Business Hours
Check the exported file for any issues after converting QuickBooks Online to Desktop. Make sure the books match by checking the profit and loss statement. To verify the accuracy of the export, open the source file online and export data to your desktop.
Take the following actions if an export restriction occurs when switching from QuickBooks Online to Desktop and results in a mismatch:
Select the option labeled Close Company from the File menu.
Once more, attempt to convert the QB Online file to the desktop version. The mismatch problem can occasionally be fixed by extracting a file twice.
Review the profit and loss file once everything is finished to check that the data has been transformed correctly.
As you switch from QuickBooks Online to Desktop, enjoy your seamless experience.
QuickBooks Migration Tool for Conversion to Desktop from Online
If you're looking for any alternative method to move your data from QuickBooks Online to the Desktop version, you might want to try out the migration tool. Even though the process might seem a bit complicated, it's actually just a set of easy and simple steps that you need to follow:
Step 1: Download QuickBooks Desktop
To start, download and install QuickBooks Desktop on your device so you can transfer your QuickBooks Online data. After that, follow these steps:
Open QuickBooks Desktop.
Select the "File" option.
Click on the "Close Company" button.
Allow QuickBooks Desktop to remain open as you complete the rest of the steps.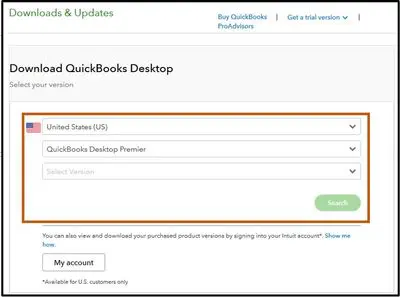 Step 2: Log Into QB Online and Download the Migration Tool
Now, you'll need to follow these steps for a seamless switch to QuickBooks Online:
Log in to your QuickBooks Online account.
Use a web browser that's supported by Intuit.
Enter your Intuit account credentials.
Input the URL: https://app.qbo.intuit.com/app/exportqbodatatoqbdt in the browser's address bar.
Press Enter.
Review and read through the Export Overview that appears.
Print it out if necessary and then click "Get Started."
Click the "Download" button to get the migration tool for converting QuickBooks Online to QuickBooks Desktop.
Run the downloaded tool to start the installation.
Click "Next."
Review and accept the terms in the license agreement.
Click "Next."
Select "Complete" as the Setup Type.
Click "Next."
Click "Install."
Once installation is complete, click "Finish.
Step 3: Prepare the Export File & QuickBooks Online for Exporting
Next, it's time to get everything ready and set up for exporting. Here are the steps to convert your data from QuickBooks Online to QuickBooks Desktop 2023:
Go back to QuickBooks Online.
You might see the "Prepare to Export" page.
Click on "Continue."
Choose the data you want to export (you can export all data including lists and transactions).
Click "Continue."
Click on the "Learn about the limitations of converting data for the QuickBooks Desktop" button to understand potential challenges in the migration process.
Once you've reviewed the challenges, click "Continue."
Provide the name and email address where you want to receive the confirmation email message.
Click "Continue."
Click "Close."
The QuickBooks Online (QBO) file will reopen.
Wait for the confirmation email.
Go back to the export screen in QBO.
Click "Get Started."
Continue on the "Prepare to Export" page.
You'll reach the "Select Data" page.
Choose the same options you selected earlier.
Click "Continue."
The "Exporting from QuickBooks Online" page will appear.
A message will indicate that you already have a file to download.
Click "Continue to Download."
Select the "Download QBXML File" button.
If prompted by QuickBooks, choose a location (like your desktop) to save the file as you export from QBO to Desktop.
Click "Continue."
Make sure you're on the "No Company Open" screen.
If a company is open, click "File."
Choose "Close Company."
Review your reports to compare the results before and after the export.
These steps will guide you through the process of transferring your data from QuickBooks Online to QuickBooks Desktop 2023.
Step 4: Use the QuickBooks Desktop Migration Tool
Finally, we've reached the point where you'll be using the migration tool to transfer your data from QuickBooks Online to QuickBooks Desktop. Follow these below steps:
Make sure you have QuickBooks Desktop launched and are on the "No Company Open" screen.
Open the QuickBooks Migration Tool that you recently downloaded.
Enter the path to the QBXML file or use the "Browse" option to locate it.
Click on "Import."
Choose a name and a location for the new QuickBooks file.
Locate the QuickBooks Application Certificate. Note that it might be hidden behind other screens if QuickBooks Desktop is running in the background.
If you want to grant access to personal data during the migration from QuickBooks Online to Desktop, select the appropriate read/modify rights.
Click "Continue."
After successfully importing your data, click "Done" on the confirmation screen.
If you find that the status bar isn't moving during the migration process, follow these steps:
Open the Windows Taskbar.
Click on the QuickBooks Desktop icon.
The Application Certificate will appear.
Whenever prompted by the Application Certificate during the QuickBooks Online to Desktop migration, click "Yes."
Click "Continue."
Click "Done" each time.
By following these steps, you'll be able to smoothly migrate your data from QuickBooks Online to QuickBooks Desktop 2021.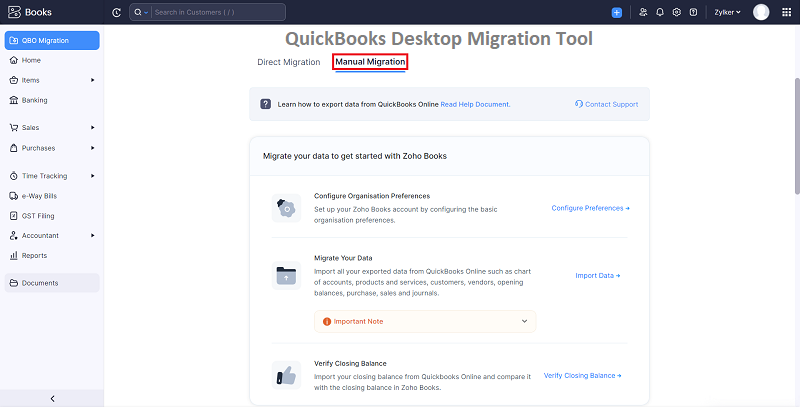 Step 5: Ensure the Info Exported Correctly
Lastly, make sure to double-check the accuracy of all the details you've exported from QuickBooks Online to Desktop. You can use the Profit and Loss reports to ensure everything lines up correctly. Running this report in both QuickBooks Online and QuickBooks Desktop will help you compare the data for accuracy.
In cases where the reports don't match, here's what you should do:
Open QuickBooks Desktop.
Go to the "File" menu.
Click on "Close Company."
Retry the process by returning to QuickBooks Online and converting the data again.
After completing the conversion for the second time, re-examine the Profit and Loss report.
If the data still doesn't match, you might need to manually make adjustments and fixes to address the issue.
By following these steps, you can ensure that your data is accurately transferred from QuickBooks Online to QuickBooks Desktop.
Launch the QuickBooks Desktop program after successfully converting and exporting a QuickBooks Online file to your computer's hard drive. Select Open or Restore Company on the File tab and click Open a Company File. Then, choose the company file from your computer's hard drive and click Next to import it into the Desktop program.
QuickBooks Data Conversion from Various Accounting Software

✔️Acumatica to QuickBooks
✔️Acumatica to QuickBooks
✔️Accpac to QuickBooks
✔️Adagio to QuickBooks
✔️Business Works to QuickBooks
✔️Cougar Mountain to QuickBooks
✔️DacEasy to QuickBooks
✔️Exact Macola to QuickBooks
✔️Epicor to QuickBooks
✔️Excel to QuickBooks
✔️Foundation to QuickBooks
✔️FreshAgent to QuickBooks
✔️FinancialForce to QuickBooks
✔️GNU Cash to QuickBooks
✔️Great Plains to QuickBooks
✔️Intacct to QuickBooks
✔️Infor to QuickBooks
✔️Master Builder to QuickBooks
✔️Maxwell to QuickBooks
MAS 90 to QuickBooks
MAS 200 to QuickBooks
MAS 500 to QuickBooks
MS Dynamics to QuickBooks
Microsoft Access to QuickBooks
MYOB to QuickBooks
NetSuite to QuickBooks
Navision to QuickBooks
Oracle to QuickBooks
Omega to QuickBooks
Peachtree to QuickBooks
QuickBooks Desktop to Online
QuickBooks Online to Desktop
QuickBooks Pro to Enterprise
QuickBooks Premier to Enterprise
Sage Intacct to QuickBooks
Sage 50 to QuickBooks
Sage 100 to QuickBooks
Sage 200 to QuickBooks
Simply Accounting to QuickBooks
Xero to QuickBooks
eBetterBooks for Faster QuickBooks online to a Desktop Data Migration
You can speed up the time for QuickBooks Online to a Desktop Data conversion, reduce time spent working on two systems at once.
Get you staff trained, including the leadership. Know how to use the 150+ out-of-the-box reports and generate custom reports.
We have an ongoing support team to troubleshoot issues and confirm your business growth with QuickBooks.
Keep your Historical Data
Comfortably and accurately migrate your historical data to the QuickBooks system.
Extend and Customize QuickBooks
We employ experienced programmers who can leverage the QuickBooks API to build modules and add-ons.
Better System Configuration
We ensure that your system is configured properly, all tables and databases are working, and your bank accounts are linked with one another.
System Requirements for a Successful Data Migration
Minimum System Requirements for Migrating QuickBooks Online to QuickBooks Desktop : Online to Desktop Data Conversion
QuickBooks or ERP, get Customized Solution from eBetterBooks
Experts at eBetterBooks specialize in tailoring QuickBooks and ERP systems to meet the specific requirements of each industry, whether you own a small retail store, manage an international manufacturing business, a residential construction company, a law firm, etc. Our several years of experience helps to adapt the software to your needs. We provide the assistance in following sectors:
✔️Accounting & Finance
✔️Agriculture
✔️Advertising & Marketing
✔️Biotech & Pharmaceuticals
✔️Computer Software
✔️Construction & Contracting
✔️Computer / IT Services
✔️Distribution & Wholesale
✔️Education
✔️eCommerce
✔️Engineering
✔️Energy / Utilities
✔️Government
✔️General Business
✔️Healthcare / Medical
✔️Health & Beauty
✔️Insurance
✔️Logistics / Transportation
✔️Legal
✔️Media / Publishing
✔️Manufacturing
✔️Nonprofit
✔️Professional Services
✔️Restaurant / Hospitality
✔️Retail
✔️Real Estate
✔️Telecommunications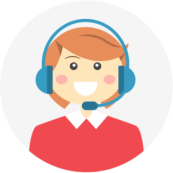 Online to Desktop Data Conversion services must be flawless and exceptionally secure to ensure a trouble-free experience for users. If you encounter any difficulties during this process, get in touch with the QB experts at 1-802-778-9005 for prompt assistance and resolution.
Frequently Asked Questions (FAQs)
If you are looking for affordable accounting services in USA, just get in touch with us at +1-802-778-9005 or drop us an email at [email protected] to connect with our accounting experts.