By Vivek i2aTech
Updated November 22nd, 2022
|
Published April 8, 2021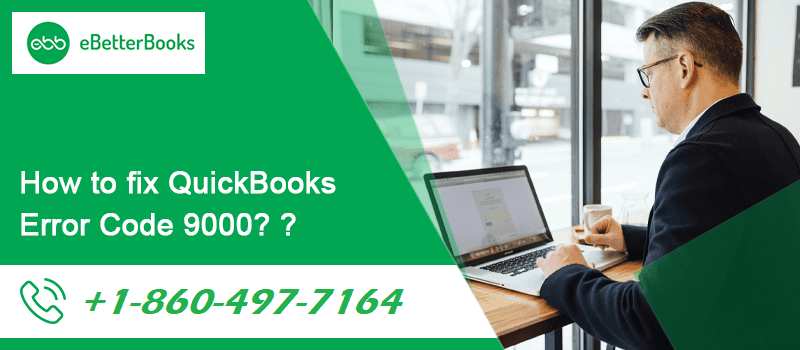 QuickBooks Error 9000 is also known as payroll error. It occurs when the user sends direct-payroll information or when the user deposits paychecks directly.
QuickBooks is efficient accounting software. However, it has numerous errors. One of them is the QuickBooks Error code 9000. Error 9000 are often caused by connectivity issues between the computer and server.
It is how it shows up on the screen:

Error message 1: QuickBooks has encountered a problem and needs to close. We are sorry for the inconvenience.
Error message 2: QuickBooks Error code 9000- There is a payroll connection server error. Try again later.
Payroll Connection Server Error 9000: Symptoms
There are various symptoms by which you can figure out this error:
Error message pops up, and the system freezes.
The application hangs/ stops responding.
After the pop-up error box, the window crashes.
The system responds slowly to any inputs / Commands
Causes behind error 9000 in QuickBooks:
Unstable internet connection (Network issues).
Incorrect system date and time properties.
Invalid security certificate.
When sending the payrolls or paying in multi-user mode.
When the internet connection setup, security, and firewall settings are against QuickBooks software.
Things to note before you try to rectify error code 9000
You may not need to go through the long process of rectifying the QuickBooks payroll error in case you have taken care of these points:
Check whether your system has the updated version of  QuickBooks Desktop application. If not, first get the updated version of the software.
To prevent losing valuable data, take a backup copy of your QuickBooks files before proceeding with the troubleshooting steps.
Check whether all window drivers are up-to-date and not corrupted.
Resetting the router or shifting to a wired connection will usually resolve problems involving internet connections in QuickBooks or you can connect your ISP for help.
If you still don't get effective results, resolve QuickBooks Error 9000 with the troubleshooting methods mentioned below.
Error 9000 in QuickBooks: Solutions
Below we have mentioned 4 effective methods to fix QuickBooks Payroll Connection Server Error 9000.
Method 1: Check internet connection in QuickBooks Desktop
Open QuickBooks Account. Go to the Help menu.

Click Internet Connection settings.
Now choose: "Use my computer internet connection settings to establish a connection when this application accesses the internet."
After that, click next, then go to--> Advance Connection Settings -> LAN Settings.
Then, check Automatically Detect Settings.
You need not to select Proxy Server Checkbox
Click Ok--> then done Button.
At the end, send the payroll again.
Method 2: Remove system junk with the help of disk clean-up
Checking your system is necessary as it may have junk files. Junk files in a system affect the programs already running in it. The same goes with QuickBooks, and due to this, the users may encounter QuickBooks Error code 9000. Resolve this issue with disk cleanup:
On your keyboard, press Windows key + R to open a Run box.
A run box will appear.
Type cleanmgr command.
After disk cleanup utility appears. select C: drive, and click OK.
Now you will see a new window that asks for your permission to clean up certain junk files.
Click the OK button on that window.This will make the system more efficient.
Method 3: Using the Pre-install tool
A pre-install tool is a self-performing tool. It goes through all required processes itself. Then, it fixes whichever issues it recognizes. After this tool has completed its function, restart the computer, and check if QuickBooks Error 9000 is resolved, or not.
Method 4- Publisher's Certificate Revocation
Using an unauthorized version of QuickBooks software may have lots of errors, one of them being code 9000. Hence, it is advised to only use the subscription version. Do not use downloads from third-party websites that are not a part of QuickBooks. To confirm if you have the authentic version, follow these steps.
Go to browser--> Tools Menu--> Click on Internet Options.
Go to the advanced section.
In the security, uncheck Publisher certificate revocation Box
Lastly, reboot the system & start using your program and check whether it worked or not.
We hope this article can assist you to resolve QuickBooks error 9000. If the above-shown solution does not fix your problems effectively, it's best to get technical assistance from a professional. Get in contact with eBetterBooks Error Support at 1-860-497-7164 for technical help and they will help you to troubleshoot your issues efficiently.