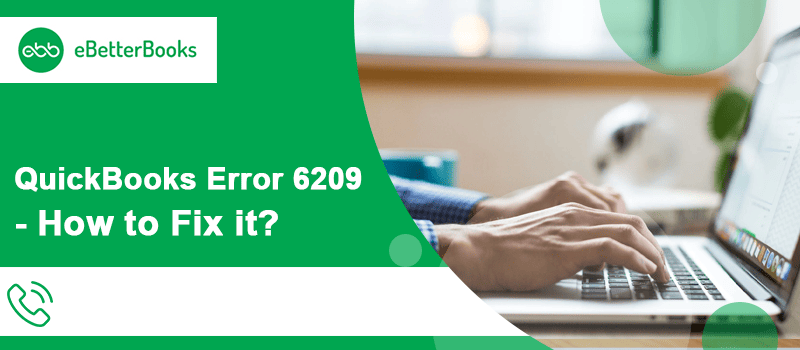 How to Fix QuickBooks Error 6209
Learn the updated solutions to resolve QuickBooks Error 6209 by reading this post.
QuickBooks users might face QuickBooks Error 6209 when they are installing QuickBooks, updating or running Windows, or opening the company file. This article will help you learn how to fix QuickBooks Error 6209. Also, it will list down all possible causes that might lead to this error.
QuickBooks is a product released by Intuit. Like its name, it has quickened the process of making and managing financial statements and data for SMEs. Now users can generate invoices, profit and loss statements, reconciliation data, tax reports and other such necessary documents. However, it also has a lot of bugs, also known as Error 6209.
What is QuickBooks Error Code 6209?
Whenever users are trying to move company files from one system to another, they might face QuickBooks Error Code 6209. The outdated NET framework can also cause this error. Users will find this error message on the screen:
Error code -6209, 0 unable to open the company file.
Stay tuned to this article to learn more about intuit QuickBooks errors like these. Also, you can contact our QuickBooks error support if you want an instant solution.
Indications of QuickBooks Error 6209, 0
Here are some of the things you might notice before QB Error Code 6209 pops up:
While running the program, window will crash.
QuickBooks Error code 6209 0 will itself appear on screen with a dialogue box.
Windows will respond slowly to inputs.
Your system might freeze several times while working.
The user is unable to access the company file.
Probable Reasons Behind QuickBooks Error 6209, 0
The QuickBooks Error 6209 can occur due to various reasons:
Corrupt/ damaged QuickBooks files or applications.
The system is under malware/ virus attack.
The accounting software is partially installed.
When the user is trying to move a company file from one system to another.
The NET framework is damaged.
Corrupt windows installation.
The current QuickBooks desktop is outdated.
Users or other programs have mistakenly deleted QuickBooks-related files, leading to QuickBooks Error 6209.
There is an issue with the Windows registry.
Troubleshooting QuickBooks Error Code 6209 0
There are multiple ways to resolve QuickBooks Error 6209, 0 available across the web. Hence, we have listed the most effective ways to fix the error.
Solution 1: Repairing the QuickBooks Software
Go to the control panel–> Program and Features–> Choose to Uninstall a Program.
After that, choose QuickBooks, and click the uninstall button. (During the process, the user will get the option to repair QuickBooks, click this option).
After that, reboot the system and look for the error by opening QuickBooks again.
Hopefully, it will resolve the error 6209.
Solution 2: Repairing and Reinstalling the Net Framework
Go to start–> Control Panel–> Program and Features–> Microsoft.net framework.
Click the Uninstall button. However, the option to repair the microsoft.net framework will also appear. Click that option.
At last, restart the system to check if QuickBooks Error 6209, 0 persists or not.
You May Also Read: Fix QuickBooks Error 1601
Solution 3: Using the Install Diagnostic Tool
The QuickBooks Install Diagnostic Tool fixes problems with NET framework, MSXML, and C++. Here is how you can use the tool:
Firstly, download and save the QuickBooks Install Diagnostic Tool File.
Close QuickBooks and other running applications.
After that, run the QBInstall_Tool_v2.exe file.
At last, restart the system and check if the issue is resolved or not.
Note: You can also access Install Diagnostic Tool by this method:
Download and install QB Tool Hub from the official website of Intuit.
Open the QB Tool Hub icon–> Installation Issues–> Install Diagnostic Tool.
Solution 4: Manually Fix Error 6209, 0
If you are a user of the Windows 8/ 8.1/ 10 version, then you can try these steps to manually repair the QuickBooks Error code 6209.
Press Windows+R–> Type Control Panel in the Run box–> Press OK.
Click Uninstall a Program–> Turn Windows showcases On/Off–> Press OK (To close Windows Feature option).
Restart the system and re-enable .net Framework 4.5.
Again, restart the system and enable net framework 3.5 SP1. Click OK and restart the Windows Feature Window.
Restart the system again and re-enable the .net framework 3.5 SP1.
Again, restart the system and open QuickBooks to check if it is working fine.
Solution 5: Installing Latest Version of QuickBooks
Firstly, run QuickBooks Desktop with administrator rights.
After that, go to help→ click Update QuickBooks Desktop→ open Update QuickBooks window.
Check the Update Now tab→ checkmark all updates.
Finally, click Get Updates→ restart the QuickBooks application.
Lastly, click Install Now when the update service screen appears.
Solution 6: Getting Latest Windows Updates
Sometimes, the Windows OS of your system may not be compatible with your existing QuickBooks version. Hence, we suggest you update both the application and the Operating System. It can fix the error.
Firstly, go to the start→ type updates in the search bar.
Also, you can type control panel→ select Windows Update option.
After that, look for this option: Check for Updates. If you see the updates available for installation, click Download and Install.
Finally, restart the computer. With a fresh start, all updates will be applied to the system.
Conclusion
QuickBooks has lots of bugs, but our comprehensive guide on many such errors will help resolve Error 6209 easily. With this blog, we tried to inform you all possible and effective solutions to fix the same issue.
Also, we listed in details all possible signs and symptoms & causes that a user might face while working on the application. It will prepare all the users on how to deal with the issue and avoid the same in the future.
If you still have constant issues even after following the given steps, dial our eBetterBooks Error Support telephone number +1-802-778-9005. Connect with our team for better technical assistance.