Regular updates are essential for QuickBooks and its associated components, just like any other Windows application. However, users may encounter errors while updating QuickBooks, which involves downloading and installing external files on the system. The Windows operating system needs to verify external files for security reasons, which can lead to errors in QuickBooks. For example, QuickBooks Error 12029 is a payroll-related error, generally occurs when users try to download updates for QuickBooks Desktop and payroll. This article will explore the reasons behind the occurrence of the 12029 error and outline some highly effective troubleshooting methods to fix it.
What Is QuickBooks Error Code 12029?
QuickBooks Error 12029 belongs to the 12000 series of QB errors, also known as a network time-out error. Users encounter this error while attempting to update the payroll application or QuickBooks desktop. It can also occur when servers are connected to a weak network and the users will receive an error message stating "QuickBooks Update Error 12029."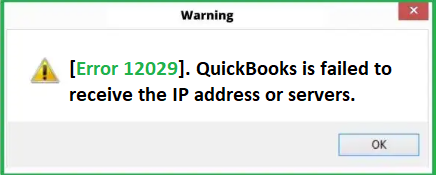 What are the Causes of Error 12029 in QuickBooks Payroll Update?
QuickBooks error 12029 is a common problem users may encounter when trying to update or download payroll updates, software updates, or when trying to access QuickBooks in a multi-user environment. This error is often related to network connectivity issues and can be caused by various external and internal factors.
Some possible external and internal causes of QuickBooks error 12029 include:
External Causes of QuickBooks Error 12029
Internet Connectivity Issues: The error can occur if your computer has trouble connecting to the internet. Slow or unstable internet connections, network timeouts, or intermittent disruptions can trigger this error.
Firewall or Security Software: Firewalls, antivirus, or security software on your computer might block QuickBooks from accessing the internet. These security programs may interpret QuickBooks' network activity as a potential threat and prevent the connection.
Internet Explorer Settings: QuickBooks relies on the settings of Internet Explorer, even if it's not your default browser. Incorrect or outdated settings in Internet Explorer can lead to error 12029.
Network Configuration: Incorrect network configuration, such as misconfigured routers, proxies, or other network components, can prevent QuickBooks from establishing a proper connection to the internet.
Incorrect SSL Settings: QuickBooks requires secure connections (SSL) to communicate with Intuit servers. If your computer's SSL settings are outdated or misconfigured, it can lead to error 12029.
Proxy Server Issues: If your network uses a proxy server, misconfigurations in proxy settings can prevent QuickBooks from accessing the internet and cause the error.
Blocked Ports: Certain ports required for QuickBooks communication might be blocked by your network administrator, ISP, or firewall, leading to connectivity problems.
Software Conflicts: Other software running on your computer that uses internet connections could potentially interfere with QuickBooks' ability to establish a stable connection.
Incorrect Time and Date Settings: Incorrect system time and date settings can disrupt SSL connections, which are required for secure communication between QuickBooks and Intuit's servers.
Operating System Issues: Outdated or incompatible operating system components can sometimes cause network-related errors, including QuickBooks Error 12029.
Server Maintenance or Outages: Sometimes, the Intuit servers that QuickBooks connects to might be undergoing maintenance or experiencing temporary outages, leading to connectivity problems.
Internal Causes of QuickBooks Error 12029
Corrupted QuickBooks Files: Damaged or corrupted QuickBooks installation files can lead to communication errors between the software and the servers, resulting in error 12029.
Outdated QuickBooks Version: Using an outdated version of QuickBooks might cause compatibility issues with the servers, leading to connection problems and error 12029.
Incomplete QuickBooks Update: If a previous update installation was interrupted or incomplete, it can cause inconsistencies in the software's functionality and result in error 12029.
Damaged Windows Registry: Issues with the Windows registry, such as invalid entries or corruption, can impact the proper functioning of QuickBooks and lead to connectivity errors.
Software Conflicts: Other software or background processes running on your system might conflict with QuickBooks' network communication, leading to error 12029.
User Account Control (UAC) Settings: Insufficient permissions due to User Account Control settings can prevent QuickBooks from accessing required resources and result in connectivity problems.
Server Timeouts: QuickBooks communicates with external servers, and if there are issues with server responsiveness or timeouts, it can trigger error 12029.
Incorrect Network Configuration in QuickBooks: If QuickBooks' network settings are configured improperly, it can lead to errors in establishing connections with the servers.
Problematic Network Adapters: Network adapters or drivers on your system that are not functioning correctly can impede QuickBooks' ability to connect to the internet and cause the error.
QuickBooks Database Issues: Problems within the QuickBooks company file or database can disrupt the software's functionality, including its ability to connect to external servers.
System Resources: Inadequate system resources, such as low memory or CPU issues, can affect QuickBooks' performance and its ability to establish network connections.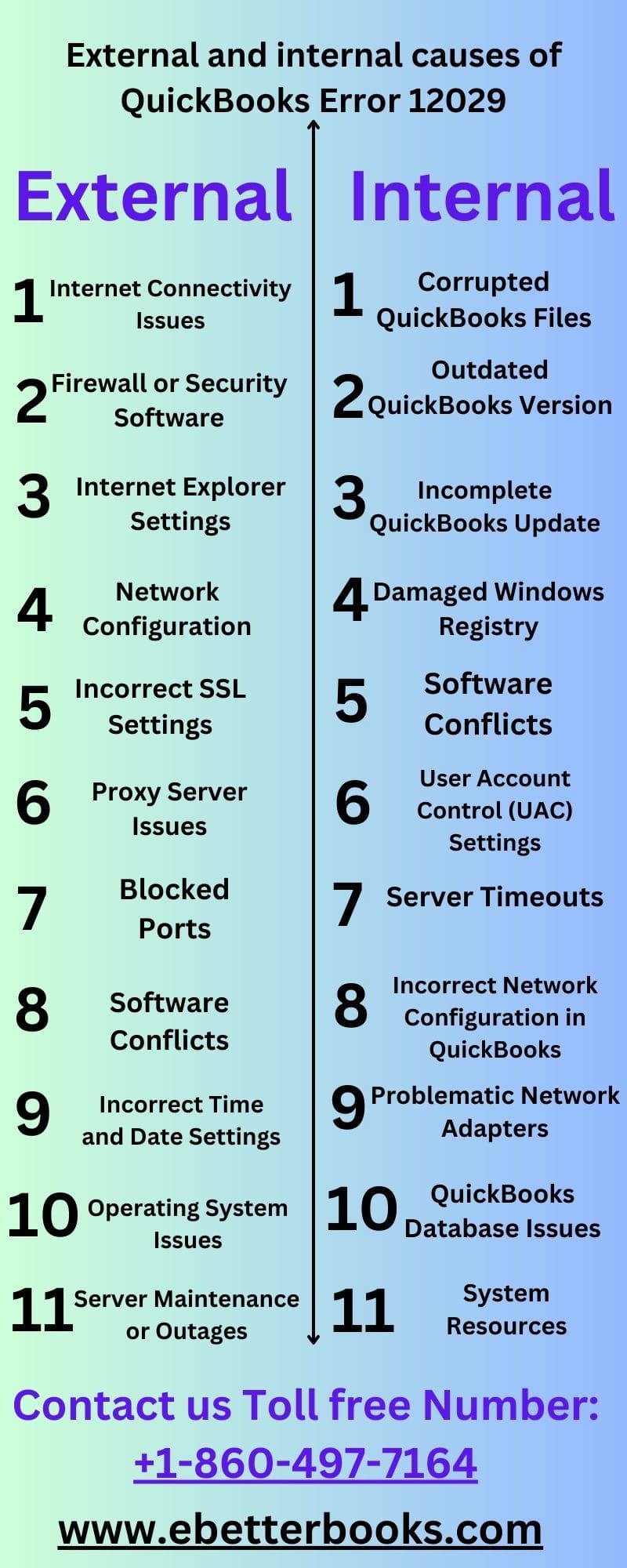 Symptoms that Shows up When You Get Error 12029?
To avoid any confusion about what the QuickBooks 12000 series error means, different words have been used. So, here's a list of easier-to-understand terms that are synonyms for Payroll Error 12029.
QuickBooks Payroll update error 12029
QuickBooks Desktop update Error 12029
QuickBooks Service messages Error 12029
Payroll Error 12029 in QuickBooks
Network time-out error in QuickBooks
How to Troubleshoot QuickBooks Error Code 12029?
There is no single method to fix Error Code 12029. Hence, we have listed down all possible troubleshooting methods that may resolve Error 12029.
Method 1: Check the Internet Connection Settings
Having a stable internet connection is essential for a smooth update process. The steps provided below will help you check your internet connection settings to make sure that any misconfiguration isn't leading to the causing of Payroll error error 12029.
Go to Internet Explorer, then visit any safe site. You can also try www.google.com to check the accessibility.
If the user can access the website without any issue, then follow these further steps:
First, make sure your your computer is connected to the internet and there are no issues with it.
Next, make sure that the date and time on your computer are accurate.
Now, open Internet Explorer and look at the top for a menu called "Tools." Click on that.
After that, click on "Internet Options".


Go to advanced –> Reset/ Restore Defaults option.
Afterward, click on the "Apply" button and then the "OK" button.


At last, apply the changes and update QuickBooks Desktop and Payroll by running their respective updates.
Method 2: Configure SSL Settings for Internet Explorer
QuickBooks uses Internet Explorer to access the internet. Hence, we need to ensure that the system has Internet Explorer as the default browser.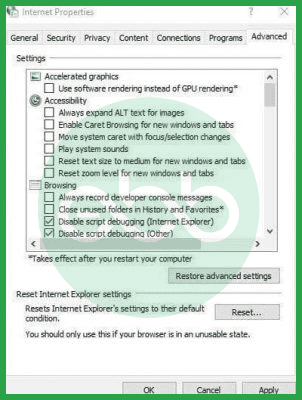 Close QuickBooks. Go to Internet Explorer –> Tools –> Internet Options. (If you can't find Tools, press ALT)
After that, go to security tab and select the Globe symbol. Also, ensure the security level is kept Medium-high.


Now, go to connections tab and click on "LAN Settings." Make sure the box that says "Automatically Detect Settings" has a checkmark in it.

After selecting Automatically Detect Settings –>Also, ensure that the Proxy Server box is unchecked.

Go to advanced tab –> Select Restore Advanced Settings.
Also in advance tab make sure SSL 2.0 & SSL 3.0 is check marked.
Now scroll down and make sure that the checkbox next to "TLS 1.2" has a checkmark, while the checkboxes next to "TLS 1.0" and "TLS 1.1" are empty.
After that, close the Internet Explorer and restart the system to check if QuickBooks Error 12029 is resolved or not.
Method 3: Install/Update Security Certificate to Get Rid of QuickBooks Error Code 12029
If any software has its security certification, it states that the application is legal and legit. Hence, it can download and Install QuickBooks updates only from the update server if it has the security certificate
Right-click the QB Desktop icon, and go to Properties.


After that, go to the Shortcut tab –> Open File Location and hit OK.


Right-click the QuickBooks.exe file and go to its properties.
Then, go to Digital Signature –> QuickBooks –> Details.


Click the View Certificate option and go to General tab and then click Install certificate.
Finally, go to the window of Certificate Import Wizard. Here, the user needs to set Current User as Store Location and click Next.
Click Next and Finish.
Then, click OK on the import successful window.
Finally, It will resolve the QuickBooks Error code 12029.
Method 4: Excluding QuickBooks from Firewall
Sometimes, a windows firewall can block an application if it assumes the software is a threat. By following the steps below, we'll make sure QuickBooks is allowed to send and receive data from the internet. This will help QuickBooks smoothly download updates without any problems.
Go to Start button and in the search bar –>Type Windows Firewall

Visit the Advanced Settings, right-click on the Inbound Rules option. Then, click New Rule.


Go to Programs –> Next –> This Program Path.
After that, click the QuickBooks File Location –> Allow the connection.

A list of checkboxes will appear. Make sure checkmark all of them and give this rule a name.
Finally, follow the process of Inbound rules for outbound rules as well. However, do change the setting to outbound from Inbound.
At last, confirm the settings and check if QuickBooks payroll update error 12029 is resolved or not.
For more detailed information, follow the article (How to Add Exclusion to Windows Security Firewall)
Method 5: Verify System Time and Date
If the solutions mentioned before didn't work, try fixing the date and time on your computer:
Find the time in the bottom-right corner of your screen, then right-click on it.
Choose "Adjust Date/Time."
Check if the Time zone is right. If not, click "Change Time Zone."
Make sure the time and date are correct, and then save your changes.
Finally, open QuickBooks again and see if the Error 12029 is resolved.
Method 6: Open the Windows in a Safe mode then Attempt to Update
If you're still facing QuickBooks Error 12029, you might find it helpful to start your Windows computer in Safe Mode. This can potentially fix the issue just by following these below steps:
Press the Windows key and the letter "I" at the same time on your keyboard.
Go to "Update & Security."
Click on the "Recovery" tab, then choose "Advanced Startup."
Follow the instructions on the screen and choose the option to restart your computer.
During the restart, you'll see a choice to open your system in Safe Mode with networking.
Once your computer starts in Safe Mode, check if the error is gone.
Method 7: Clean Install of QuickBooks (Alternate Solution)
Reset the QuickBooks updates. After restarting your computer, try to download and install the QuickBooks update. Make sure to open the company file in single-user mode.
Reset Internet Explorer.
In Selective startup mode, perform a clean install of QuickBooks.
You can try these methods when none of the above steps have successfully resolved the issue.
Conclusion
FAQs
What error message display with Quickbooks Error 12029?
"Error 12029: QuickBooks failed to receive the IP address or servers."In this error message, QuickBooks indicates that it encountered an issue while trying to obtain the IP address or connect to the servers.
What are the factors that cause QuickBooks Error 12029?
There are several reasons that can trigger the Qb error 12029:
First, using an outdated version of QuickBooks application can lead to compatibility issues with current Windows versions. To avoid this, ensure you have the latest version of the software installed in your system.
Another possible cause is a firewall blocking QuickBooks' internet access. To resolve this, add QuickBooks to the list of exceptions in your firewall settings, granting it necessary access.
Lastly, incorrect configuration of a proxy server can also result the payroll update error 12029. Verify your proxy settings and ensure QuickBooks is configured to connect directly to the internet.
How do I Run TLS 1.2 in QuickBooks?
First open QuickBooks Tool Hub and Select Installation Issues.
Then, select QuickBooks TLS 1.2 Tool from the bottom right corner.
Select OK to open the TLS Tool and then select Yes to the EULA Agreement.
Select Run.
Once the tool competes, select Exit.
Find Solutions to Your Other Quickbook Errors Today!
Related Posts