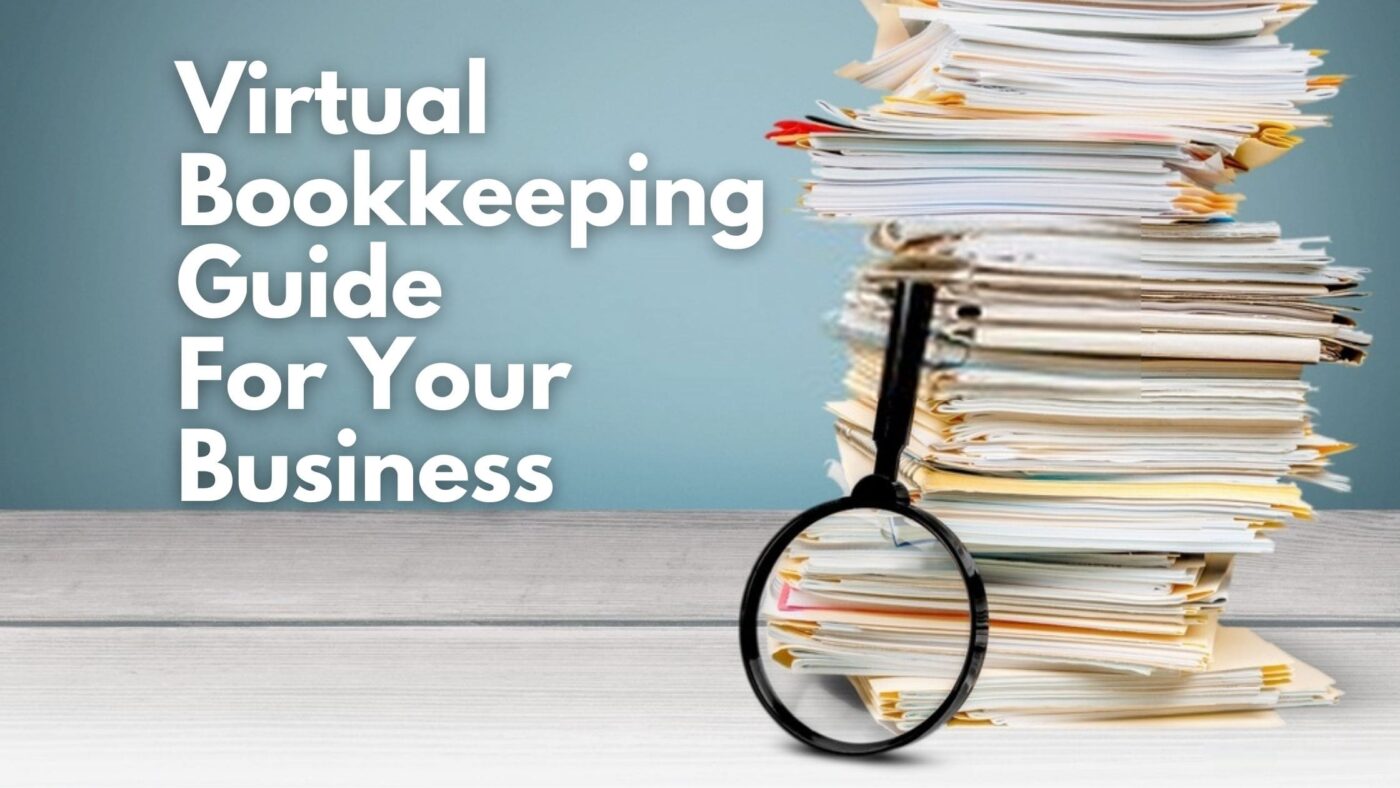 A Complete Virtual Bookkeeping Guide For Your Business
In today's virtual world, you can access anything online. Hungry? Order a burger online. Need peace? Take meditation lessons from the online gurus. Interested in Quantum physics? Access multiple assignments via online teachers. Need a bookkeeper? You bet it is there.
If you have uncountable data entries to make every day and it's hard to hold track of all of them alone, you need help; hire a virtual bookkeeper. Being an expert, he will organize and administer your daily financial data in the best possible way.
The Ultimate Guide To Virtual Bookkeeping
Before jumping off to the main content, we would like to ask:
What do you understand about virtual bookkeeping?
Why should you hire a virtual bookkeeper?
Do you know the difference between virtual bookkeeping and local bookkeeping?
How many types of virtual bookkeepers are you aware of?
Are you aware of the ways to pick the appropriate virtual bookkeeping?
What are the primary virtual bookkeeping services?
And lastly, what is your budget for a virtual bookkeeper?
What Do You Understand About Virtual Bookkeeping?
A virtual bookkeeper is capable of handling your books from afar. You can communicate your financial data via the software you two are using, and he will organize them as per the best of your interest.
Why Bookkeeping Has Become A Vital Part Of Your Business?
You need the updated and accurate data to make individual decisions in your business's best interest, such as tax deductions, prompt tax filing, etc.
Why Should You Hire A Virtual Bookkeeper?
The virtual bookkeeper will benefit you:
When you are taking too long to do your bookkeeping and eventually causing you stress.
When you are lagging your bookkeeping and require extra assistance.
If it was hard to face the previous tax season but need ease this year.
If you want to save on taxes by spotting your expenses and omitting the unnecessary ones.
If you are unaware of your business's monthly revenue and cash on hand.
You can benefit from virtual bookkeeping if your business does not deal with cash very often but mostly digitally. Even Though the virtual bookkeeper does not fall back when it comes to managing cash transactions, it is quicker for them to administer the digitals like debit cards, credit cards, PayPal, etc.
These are the most appropriate business types for virtual bookkeeping:
Ecommerce stores
Application developers.
Software designers and engineers (freelancers)
Writers and illustrators (freelancers)
Health professionals who prefer online bookings and payments.
Comparison Between Virtual & Local Bookkeeping
Back in the previous days, be it a small business or a larger enterprise, all would opt for a local bookkeeper in their community. The companies would send them their monthly transactions, and the bookkeeper would send them back well arranged and categorized.
But nowadays, even most of the local bookkeepers are shifting towards digitalization. They synchronize your financial accounts to the software and automatically record and categorize your data, creating a financial report.
Virtualization diminishes the need to see the bookkeeper regularly in person. Both the bookkeepers, i.e., virtual and local, are offering similar bookkeeping services at present, yet there are some discrepancies:
Local bookkeeper: you can disperse the hardcopy of records, receipts, and invoices to the local bookkeeper by hand.
Virtual bookkeeper: you can scan the hardcopy of documents and email them to the bookkeeper.
Local bookkeepers: they prefer off-the-shelf accounting systems; you have to buy it and get used to it to evaluate your books.
Virtual bookkeepers: freelancers prefer off-the-shelf accounting systems like QuickBooks, Akounto, Sage. Business people can effortlessly check their books due to their customized features.
Local bookkeeper: not all the software that the local bookkeepers prefer is accessible to the phone.
Virtual bookkeepers prefer software like QuickBooks, Akounto, Quicken, Sage or Xero which are accessible to the phones.
Experience In Online Business
Local bookkeepers: they may not have experienced eCommerce or other services such as PayPal.
Virtual bookkeepers: they are familiar with online businesses.
Local bookkeeper: the local bookkeeper will forward your data to an accountant, who will then file your Tax.
Virtual accountant: online bookkeeping services like eBetterBooks will take care of your tax filing, though not everyone provides this service.
Local bookkeepers: local bookkeepers charge hourly and generally have minimum monthly fees.
Virtual bookkeepers charge hourly, just like the locals, yet they have a flat monthly bookkeeping fee.
Local bookkeepers: you have a certain number of local bookkeepers. Hence they are pricey.
Virtual bookkeepers: virtual bookkeeping services are generally less pricey than the locals.
Types Of Virtual Bookkeeping
There are mainly two types of virtual bookkeeping services
Freelancers
Services
Let us dive deeper into both:
Freelancers: You can recruit a freelancer via online platforms like Upwork. It is a pool of diversely experienced freelancers with different qualifications (there is no need for a specific qualification to be a freelance bookkeeper)
You may need to install an off-the-shelf accounting software to review your books and guide your bookkeeper in certain ways of categorization. You can communicate straight through the emails or messaging applications.
Services: You get a team of bookkeeping experts to take care of your books under this category. You can rely on these virtual bookkeeping services for accuracy even when you are on vacation or sick leave. They prefer using more substantial applications such as QuickBooks.
At eBetterBooks, we automatically link up straight to your financial accounts and access the transactions. Then comes the categorizing part, where we organize them under specific categories, hence presenting them as a lustrous financial report. We offer an easy to use app that you can access on your phones too.
The app allows direct messages between the users, and you can also upload the required documents from the same.
If your books are lagging, do not worry; all you have to do is dial 1-802-778-9005 and let eBetterBooks take care of your worries, including those related to tax filing.
How To Pick The Suitable Virtual Bookkeeper?
Be it a freelancer or services like eBetterBooks, the method to pick the most suitable one for your business is the same.
Prepare a list of your bookkeeping requirements and choose accordingly.
You can also refer to the questionnaire mentioned below and choose consequently:
#Q1 how many transactions are there each month?
Freelancers charge hourly; the more transactions, the more expensive the services are. They would ask you about your monthly number of transactions.
#Q2 Do you prefer accrual or cash basis accounting?
Some freelancers may prefer working with either one of them.
#Q3 Do you have an accountant hired for tax filing?
It would be best if you considered a virtual bookkeeper who could either cope with your accountant or connect you to a qualified accountant to file your taxes.
#Q4 Do you know about certain accounting software?
You could have to pick an off-the-shelf software you are familiar with.
#Q5 What is your availability demand?
You may not access an online freelance bookkeeper during the holidays or busy seasons of the year, such as tax season. You are less likely to face this issue in online services.
#Q6 What is your monthly budget?
This segment helps you filter your options and not waste time consulting a bookkeeper out of your budget.
How Can You Approach A Virtual Bookkeeper?
# How do virtual bookkeepers present themselves?
There is no chance that a virtual bookkeeper won't have an online platform such as a website, online profile, or social media.
# How do I know if the online bookkeeper has a useful review?
You can access the bookkeeper's review online; if you can not find any, ask the bookkeeper for their present clients' testimonies.
# Are they experienced in your industry?
It is easier to work with an online bookkeeper who is well versed in your industry. Being more familiar with your industry, they can easily spot the deductible expenses as per your business.
Top Five Online Bookkeeping Services
Starting with: $49/ month (billed annually), check out pricing here.
Characteristics:
You get a professional team of bookkeeping experts.
Cash flow tracking
Comprehensive tax filing services with eBetterBooks Tax.
Payroll, sales tax addons, and billing.
Overview:
You get a team of certified bookkeeping experts who are eager to help you with your books with their skills. They automatically pull your business financial transaction, organize them and generate financial reports each month.
eBetterBooks is a business person friendly software for controlling transactions, tracking cash flow, and checking visual financial reporting via either your phone or desktop.
eBetterBooks goes hand in hand with your accountant and ensures they get every information they need and assist you in getting as many tax deductions as feasible. If you do not have an accountant, you can consider eBetterBooks.
Who is it suitable for?
eBetterBooks is suitable for any business in the United States of America, who wishes to shift to online bookkeeping.
Have you decided to pass your bookkeeping burden to an online platform? Try eBetterBooks, one of the most renowned online bookkeeping service providers.
Suggest Article To Read: Best Online Bookkeeping Services for Your Business
Starting with: $129/ month (billed annually)
Characteristics:
It is an app used by proprietors.
You can avail of the accounting-related coaching for extra charges.
Access the payroll processing for a supplementary cost.
Overview:
Wave is capable of handling your invoices, payroll, and bookkeeping for small proprietors. It is a free cloud-based accounting tool.
Wave advisors offer their bookkeeping services starting at $129/ month and free cloud-based accounting software. However, according to your business, there is no specific piece of information available in the public domain regarding wave pricing. You have to appoint a call with their representatives to get the best deals.
Who is it suitable for?
It is suitable for those who are already utilizing the wave app from the Wave suite of tools. For those on a tight budget, probably wave is not the right choice for you as there is not stable information available in the public domain regarding its costs. It could turn out to be out of your budget.
Starting from: $159 / month (billed annually)
Characteristics:
You will get an expert bookkeeping squad
You can get your cash flow tracked via Pulse.
Full tax filing facilities via Bench Tax
Get your payroll, invoices, and sales tax-managed.
Overview:
You can avail of a comprehensive bookkeeping service from Bench provided by an entire team generated for the same purpose. They will import your business transactions automatically and categorize them accordingly, eventually producing monthly and yearly reports.
Our application is specially customized for business people in various industries and not for accountants. Our experts go hand in hand with your accountant, forming a strong professional bond to benefit your business. Our application allows the client to track their cash flow via our dashboard.
Bench is the most widespread bookkeeping service provider in complete North America; Bench has been rated highest among all of its competition.
Who is it suitable for?
Bench serves all the business organizations situated in the U.S.A
Starting from: $185/ month
Characteristics:
Equivity handles invoices and accounts receivable.
It manages payroll
It also manages your inventory.
Overview
Equivity provides multiple services for your business, starting from administrative assistance to paralegals and bookkeeping.
It provides well-organized and robust accounting services. They do not own software; they prefer using QuickBooks and similar off-the-shelf accounting software. The client needs to get versed with this software to guide the online service provider in categorizing their transactions or enter the trades yourself.
Who is it suitable for?
Suppose you are looking for an excellent virtual payroll or inventory tracking. The users who have a history with QuickBooks are also suitable suitors for this service. Otherwise, you can consider learning the software.
Suppose you are comfortable with QuickBooks and wish to stick to it. In that case, there are various professional bookkeeping service providers in the online platform like eBetterBooks, Pilot, ScaleFactor, and so on, ready to take care of your books with QuickBooks as a medium.
Is Virtual Bookkeeping Affordable For You?
If you are still confused about whether you should hire a professional online bookkeeper or not, crunch some participants and get to a particular decision.
Suppose you spend six hours a month on your books. Think of yourself as a freelancer and multiply your hourly rates by the time you spend on bookkeeping.
You can apply the same method to your employees and contractors if you have any. Then visualize that time using more productive tasks that would eventually enhance your business, such as – attracting new clients, new product development, etc.
In scenarios like these, availing of the virtual bookkeeping services would be a better option, and bookkeeping will cost you something anyway, be it your productive hours or money.