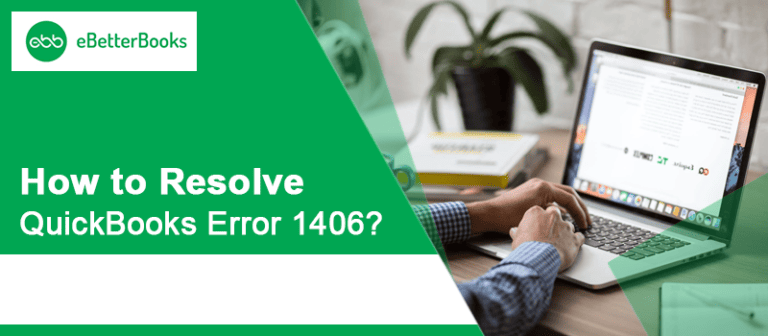 How to Fix QuickBooks Error Code 1406 (An Installation Issue)?
Are you facing QuickBooks Error 1406 while using Quickbooks? If this is the case, then we would suggest you look for reasons that aren't allowing you to use QuickBooks. While using the accounting software, the user might encounter QuickBooks error 1406. It is often a software error that occurs while executing operations in an application. Also, it arises due to third-party interference in QuickBooks.
Causes of Error 1406
At first, error 1406 occurred because of another third-party software. For instance: Microsoft .NET Framework, MSXML, and C++.
The issue may appear if the download location is inaccessible. At the same time, the shared download of the company file is on.
When there aren't any login credentials needed to run Windows Vista / Windows Administrator on your computer.
Improper removal of the bookkeeping software on your computer results in QuickBooks Error 1406.
The broken Windows registry Key is not permitting you to use the installer program.
If multiple users decide to transfer the QuickBooks application on the operating computer simultaneously.
Also Read: QuickBooks error code 6176 0
By going through effective solutions, you can surely fix the QuickBooks Error 1406. This guide can assist you in getting access without an error to your accounting software and streamlining your workflow.

Troubleshoot QuickBooks Error 1406: Solution
There are many solutions to repair your QuickBooks error 1406. The various methods can assist in fixing the error. As a result, your application will stop hanging during operations.
Solution 1: Switch off your antivirus or security software
The latest updates of antivirus or security software might lead to QB error code 1406.
You must ensure that you have switched off the security software.
Turning off the antivirus, as it helps in fixing your QuickBooks error 1406.
Solution 2: Use QuickBooks Install Diagnostic Tool
Firstly, you would have to download the Diagnostic tool from the Intuit website.
Now, save the file. After that, operate the "QuickBooks Installation Diagnostic Tool" on your computer.
Lastly, restart your system to check if the QuickBooks Error 1406 is resolved or not.
It needs you to run the Install Diagnostic Tool on your computer. This can do the job of fixing this error.
Solution 3: Try Repairing The Registry Damage
To repair the registry, it's recommended that your System and Administration groups are allowed to control the QuickBooks users.
Allow access to all the functions, so you'll see how it precisely works.
You must verify the owner of the registry. Also, make sure that permission to complete the repository is granted.
Solution 4: Check for Windows Updates
It is compulsory to verify if you have the latest Windows updates available or not. It will help deal with QuickBooks error 1406.
Being a QuickBooks user, you must verify the operating software's updates. For instance: .NET Framework, MSXML, C++.
You have to update the Windows if your Windows is outdated/ obsolete.
If the user has already revised their computer with new updates, then they are required to restart their operating system.
Also Read: QuickBooks Payroll Update Error 15241
Final Words
We hope this article can assist you to resolve QuickBooks error 1406. If the above-shown solution does not fix your problems effectively, it's best to get technical assistance from a professional. Get in contact with eBetterBooks Error Support at +1-802-778-9005 for technical help and they will help you to troubleshoot your issues efficiently.