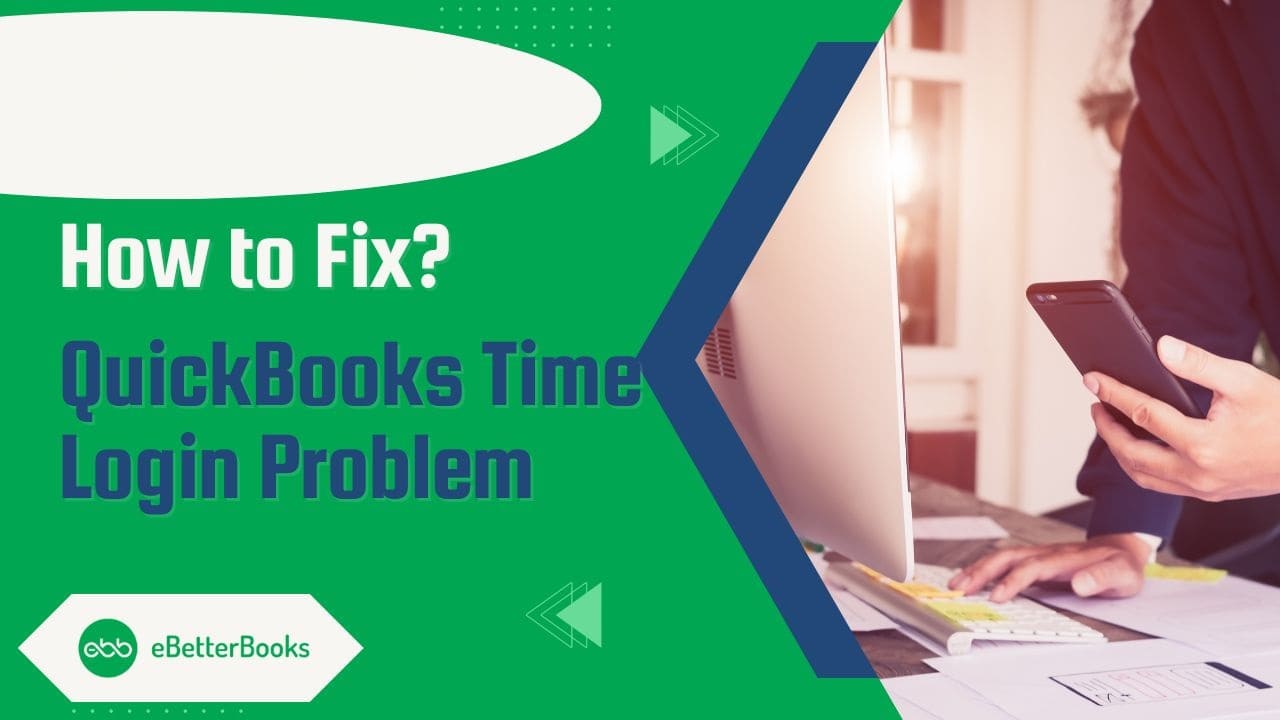 How To Fix QuickBooks Time Login Issue?
Want to track the real-time report of your employees? If you answer Yes, then QuickBooks time login is specifically designed for you. To get better insight into the same, stay tuned with us until you get the solution that best fits your needs. However, if you're encountering any QuickBooks time login issue, we've got you covered. Stay tuned with us to discover not only the advantages but also the solutions to any login problems, ensuring you get the most out of this valuable tool.
QuickBooks Time Login: A Brief Overview
QuickBooks Time is the most integrated part of the QuickBooks Family. It is a cloud-based time tracking and employee scheduling software that allows business owners to track and manage the timesheets of their employees. It works along with other leading tools such as QuickBooks Online, Xero, etc. With the help of QuickBooks Time, monitoring staff time and attendance, creating real-time reports or accurate invoices, and handling different projects all can be done in one place.
This allows users to view and manage their account settings, billing information, and other account-related details. QuickBooks Time Login can be used from any device, including laptops, computers, smartphones, and tablets depending on your preferences and device compatibility. Entering the wrong login credentials can be the most apparent reason behind this login issue.
In this blog, we will make you understand why the QuickBooks Time Login issue occurs and how to eradicate it from your system.
What Provokes QuickBooks Time Login Issue?
Like other software, users come across several errors while using QuickBooks Time.
There are a couple of factors that may give rise to this login error; all are described below:
Wrong Login Credentials.
Browser or Network-associated Issues.
Old or outdated QuickBooks Time version.
List of Errors You May Encounter When Logging into QuickBooks Time!
If you're using QuickBooks Time to manage the time and attendance of your employee, you may probably end up with login issues that prevent you from accessing your account. Such problems can be annoying, especially if you must run the payroll on time. Here's what type of errors you may notice at the time of login.
Working with Chrome isn't supported by QuickBooks.
The loading message pops up on your screen, but it fails to load.
When you try to log in and choose My Company, it will direct you to the same login screen.
You may get a notification that the services you need are not available anymore.
After logging into the account, QuickBooks is no longer accountable for any actions you perform.
This error message can be seen if the firewall or antivirus program restricts access.
The users on another system have logged into your account.
Struggling with QuickBooks Login Issues? Don't panic here are some common methods listed that will surely help you to fix the issue without any hassle.
Let's carry out each one:
Method 1: Login from the Official QuickBooks Time Website
Ensure that you log in from the relevant website to avoid login issues.
Rather than using tsheets.com, enter your login credentials at tsheets.intuit.com.
However, if you're signing in using a mobile device, verify that your mobile application is up-to-date having the latest updated version.
Method 2: Make Sure You're Using the Correct Credentials to Login
Check that the users are using the right login details, like username and password, to log in to QuickBooks Time.
If you enter the wrong login credentials, then Intuit can't access your account, and you won't be able to log into QuickBooks Time.
Thus, review that you use the correct username and password for accounts.intuit.com. However, in case you forget the password for your account, then you have the option to Reset your QuickBooks Time Password.
Recommended to Read: Fix QuickBooks License Error After Clone
Here's How to Reset Your Password in QuickBooks Time!
Sign in Using a One-time Code
Did you forget your password or need help while logging in? Just relax; we can send a code to your registered mobile number or email so you can log in without any hassle. Below we've explained how to reset your password using computer and mobile devices.
On a Computer
Firstly, navigate to the QuickBooks Time sign-in page.
Now, choose Text a code to [phone number], or click Sign differently.
After this, select to have a code texted or emailed on your registered mobile number.
Lastly, enter the code to sign in.
On a Mobile Device
You need to type your Email or User ID and press Continue.
Click Sign in a different way.
After that, write down the phone number, email address, or user ID, then hit the Continue tab.
You must choose to have a code texted or emailed to your registered contact number.
To finish, type the code to log in.
Update your Credentials once signed in
If you have already signed in but wish to change or edit your sign-in info, including your password, here are the steps to do so.
On a Computer
Open your Profile drop-down in QuickBooks Time and then choose Profile.
Now, click on Manage User ID / Password.
You need to select Sign in & Security.
Afterward, hover over the User ID, Email address, Password, or Phone section.
Make the changes you want.
Once you're done, press Save.
On a Mobile Device
In the app, go to your Profile.
Next, hit on your name and then Manage your Intuit Account.
If you're prompted, review your account with your password or a one-time code.
Press Sign in & Security.
After this, select the User ID, Email address, Password, or Phone section.
Make the changes you need.
When you're ready, click Save.
Method 3: Use a Private Window for QuickBooks Time login
Usually, the browsers store data, cache, cookies, and history, which sometimes creates QuickBooks login issues. But when you use a Private window, your data is never saved, and it helps identify such login issues. To open a Private window, you can use the following shortcut keys that vary depending on your browser.
Hold and press Ctrl + Shift + N keys to open the Google Chrome browser.
You must click Ctrl + Shift + P shortcut keys for Mozilla Firefox and Microsoft Edge Browsers.
For the Safari browser, you must hit Command + Shift + N tabs on your keyboard.
Method 4: Try Signing in with a Different Web Browser
QuickBooks Time comes up with various features, and its compatibility with multiple browsers makes it more efficient among users. The names of such browsers are Internet Explorer, Firefox, Safari, and others. So if you're having trouble when accessing QuickBooks Time using your current browser, you can try another one. Once you switch to a different browser, check whether the issue still stands on its ground or not.

Method 5: Clear the Cache and History of Your Browser
If you find that your browser is full of cache data and cookies, then it can slow down your performance and prevent you from accessing different websites in your system. Hence, deleting the browser's history may resolve your issue. Below are the steps that need to be followed.
On Google Chrome:
To begin with, you must open the Google Chrome browser and select the Customize and Control icon from your browser.
Now, hit on the Settings option to open and edit them.
Go further and choose Privacy and Security from the drop-down menu under the Security category.
After this, select Clear browsing data from the list.
Click on the Advanced tab on the browser data screen.
At last, open the list in the Advanced tab and then choose the boxes to delete data and cookies associated with different sites, images, and files.
On Safari:
Firstly, start Safari and hover over History.
Now, select Clear History and then click on the pop-up menu.
Once done, choose the time frame in which you'd like to clear your history according to your preferences.
On Microsoft Edge:
Navigate to Settings and More, and then hit on Settings.
Afterward, select the Privacy, search, and Services option.
You must hover over Under browsing data and click Choose What to clear.
From the Time drop-down menu, select a time range.
Moving ahead, opt for the data type you wish to delete.
Finally, press the Clear Now button.
Method 6: Uninstall and Reinstall the QuickBooks Software
At times, the issue lies in the QuickBooks software, which may lead to QuickBooks login issues. Therefore, you must uninstall the application and try logging in from scratch to tackle the problem. Below are the steps to perform uninstallation and reinstallation of the software.
QuickBooks Uninstallation
In the starting, click on the Start button, then look for the Control Panel and open it.
Now, choose Program and Features or Uninstall a Program.
Under the List of Programs, select the QuickBooks Version you wish to remove.
Hit on Uninstall/Change Remove option and then press the Next button.
QuickBooks Reinstallation
You need to download the latest QuickBooks version from the official website.
After this, save the file on your device.
Open the QuickBooks.exe file to start the Installation process.
Perform the on-screen instructions and accept the software license agreement, then click Next.
In the end, enter your product and license numbers. Then press Next once again, and now you will be able to access QuickBooks software on your device.

Method 7: Get in Touch with QuickBooks Time Customer Service
If not any solution works out, you can speak up with accounting experts to get your login-related queries answered.
Here's how:
The first step is to log in to QuickBooks using the right admin privileges.
Now, hit the Help tab.
You have to write down the issue you're facing and select I still need a Human option.
Once you have made your selection, click Contact Us.
As soon as you connect with the experts, they give their best to provide you with the most possible solution so you no longer need to deal with the issue.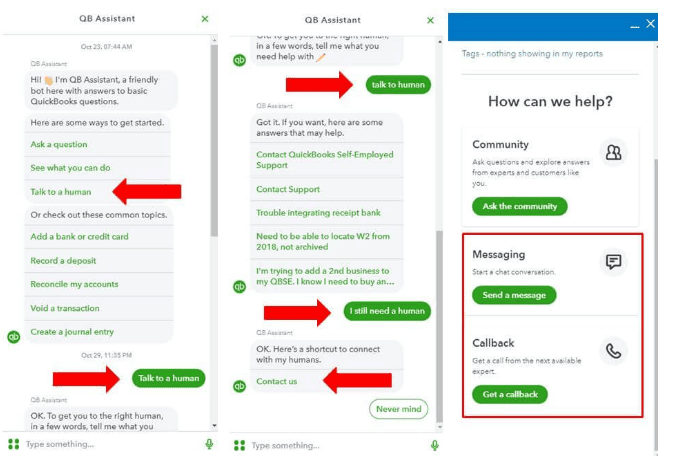 Wrapping it Up!
We believe you can now efficiently tackle QuickBooks time login issues and access your account without facing any trouble. But if you are still facing any kind of issues with your software and need professional assistance, regarding accounting, bookkeeping & accounting software-related issues then feel free to get in touch with us at +1-802-778-9005, or you can mail to us at: [email protected]
You may also read: Download & Install QuickBooks Connection Diagnostic Tool
A Frequently Asked Questions!
How to Enter/Add Time in QuickBooks Online?
Below are the steps to manually add time in QuickBooks Online; let's see how:
Initially, log in to QuickBooks Online using a mobile or web browser.
Now, click on Add time.
Choose a day you want to enter time on. If required, you can select This Week to change your week view; also, hit on which week you'd like to view from the drop-down or click custom dates.
After this, type total hours, or choose Start/end times to add start and end times.
Click on Add work details to track specific items for that timesheet, like customers and service items. Then, press Done.
You must select Add to add another timesheet for the day.
Once you're done adding time, hit Save or Save and Close tabs.
Can I Use QuickBooks Time Without Payroll?
Obviously, you can definitely use QuickBooks Time alone without signing up for our payroll program. This tool has all the features an employer needs to manage their mobile workforce. It provides flexible punching options so employees can clock in and out from any location they wish, whether from home or on a job site.
What are the Key Benefits & Features of Running QuickBooks Time?
The software is full of exclusive features and functionalities that allow you to track the timesheet of your employees.
Let's have a look at the below-listed section:
QuickBooks Time comes with a GPS location tracker that helps to track the real-time report of team members.
Managers can easily track the job activity feed of the employees on a regular basis.
Get Easy access and a free trial without credit card requirements.
Overtime monitoring.
With the Digital clock in QuickBooks, employees can easily clock in and out using a smartphone, computer, time clock kiosk, web dashboard, and other mobile apps.
Customizable alerts.
Free unlimited customer support service via call and chat.
Affordable and Scalable.
The QuickBooks Workforce mobile app puts employee time data at your fingertips.
Paper timesheets can't show you who is working, but QuickBooks Time can.
Does QuickBooks Time Track Your Location?
QuickBooks Time only tracks the location when the employee is on the clock. However, once the employee clocks out, you won't be able to get any location-related information.