The users may experience QuickBooks Online Error 101 when they are restricted to access web-based applications like Java, Flash, and Microsoft .Net framework. Moreover, the same error code displays on the screen due to the issues with Windows components. This may lead to hamper business activities and affect the QuickBooks desktop.
If your system is also displaying the same error code and restrict you from accessing the QuickBooks desktop, go through the following post. We have included all the related aspects to QuickBooks online error 101 in this instructive post.
What is QuickBooks Online Error Code 101?
QuickBooks Online error 101 is typically associated with connectivity or communication issues between the QuickBooks Online application and the Intuit servers. This error may prevent you from accessing or using QuickBooks Online as expected. It's often caused by issues such as network problems, browser settings, or server-related glitches. Call Now for Quick Solutions
Causes Behind QuickBooks Error 101 in Online Banking
QuickBooks error code 101 can occasionally occur due to unresponsive banking servers and there are various factors that hinder the connection between QuickBooks Online and your bank account.
The following factors contribute to the occurrence of QuickBooks Error 101 in Online Banking:
Incorrect or Outdated Bank Credentials: The login credentials (username and password) you input to connect QuickBooks Online with your bank might be incorrect or outdated. This results in failed authentication and triggers Error 101.
Bank Server Issues: Technical glitches, maintenance activities, or server downtime on the bank's side can disrupt the connection between QuickBooks Online and the bank, leading to Error 101.
Enhanced Security Measures: Some banks implement advanced security measures like CAPTCHA challenges or multifactor authentication. While these are intended to enhance security, they can hinder QuickBooks Online's ability to establish a connection.
Changes to Bank Account: Modifications such as bank closures, mergers, or alterations to your account can interrupt the synchronization process and prompt the appearance of Error 101.
Unsupported Banks: QuickBooks Online doesn't support all banks for direct connection. If your bank isn't supported, you're likely to encounter Error 101.
Network or Connectivity Issues: Unstable internet connections, network restrictions, or firewalls can interfere with the seamless communication between QuickBooks Online and the bank's servers.
Browser Cache and Cookies: Cached data and cookies stored in your web browser might conflict with real-time data exchange, triggering Error 101 during synchronization attempts.
QuickBooks Online Software Issues: Software glitches, bugs, or outdated versions of QuickBooks Online can contribute to connectivity problems and the emergence of Error 101.
Bank API Limitations: QuickBooks Online uses APIs (Application Programming Interfaces) to communicate with banks. If your bank's API has limitations or restrictions, it can result in syncing errors, including Error 101 in Online Banking.
Bank's Technical Changes: Updates to the bank's online banking platform or changes in security protocols can impact QuickBooks Online's ability to establish a connection, leading to Error 101.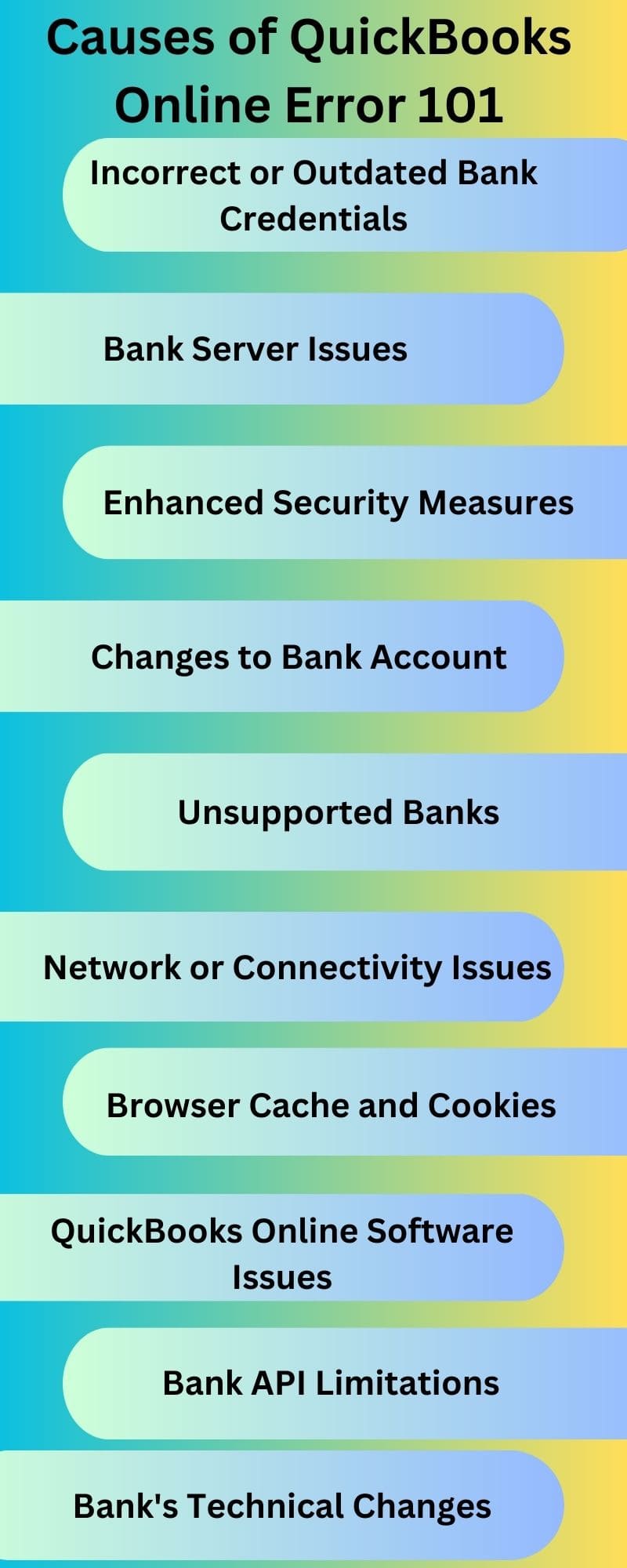 Note: The process to fix this error code may be complex, you can speak with our experts for a quick resolution. Dial Toll Free +1-802-778-9005 or leave us your message and we'll contact us eBetterBooks.com
Methods to Fix QuickBooks Error Code 101:
One of the following methods will surely help you in resolving QuickBooks error 101. To get additional information, you may contact our QuickBooks experts. Now, you may proceed to apply the following methods one after another.
Method 1: Check the Internet Connection on your PC
Initially, you need to launch the browser along with the website.
After that, check whether the internet connection is stable or not. If not, you will get to know about it.
After checking the internet connection, you have to update Internet Explorer.
Make sure that the Internet Explorer has been set as the default browser.
After checking the internet connection, you are required to reconfigure it. Here are the steps to do the same.
Modify Your Internet Connection Settings
Firstly, choose the Help menu and click the Internet Connection Setup tab.
And then, select the "Use my Computer's Internet Connect Setting" option.
Click Next and then choose Done to initiate the procedure.
At last, you need to reset QuickBooks updates.
Method 2: Turn on TLS 1.2 and Modify Encrypted Page Settings
The first step is to choose the Advanced tab and go to the TLS 1.2 box.
After that, you need to mark TLS 1.2.
Search for the 'Do not save encrypted pages' option and unmark it.
Finally, choose the Apply option and then click Ok to save the recent changes.
Method 3: Add Intuit as a Trusted Site
To enable a seamless connection between QuickBooks and the server by adding Intuit and QuickBooks URLs to your internet settings, follow these steps:
Launch Internet Explorer.
Click on the Gear icon.
Select "Internet Options."
Navigate to the "Security" tab.
Choose "Trusted Sites."
Click on the "Sites" button.
Add the following URL: "https://*.intuit.com."
Click "Add," and then add another URL: "https://*.QuickBooks.com."
After adding both URLs, click "Close."
Go to the "Custom Level" option and search for "Miscellaneous."
Click on the option to "Allow Cross-Domain Requests."
Click "OK."
Hit "Apply" and then click "OK" again.
Method 4: Verify your Financial Institution
First of all, choose the "Banking" tab.
After that, you need to select the Add Account option.
Make sure that the financial institution's name is connected to the bank account.
And then, choose the respective bank.
Lastly, click on the link to the associated bank's website option.
Method 5: Add and Connect your Bank Account
The first step is to choose Transaction.
Next, click on the Banking option.
Click the "Add Account" option.
Select your respective bank and then follow the ongoing instructions to connect the account.
Finally, check whether QuickBooks Banking Connection Error 101 is occurring or not.
Method 6: Update the Date and Transaction
Initially, click on the Banking tab and then unmark the unnecessary accounts.
After that, select the update option and enter the Multi-Factor Authentication (MFA) credentials.
Now, choose the Continue Update option.
After completing the update process, a notification will pop up on the screen.
At last, ensure that you have successfully updated the date & transaction.
Method 7: Reset Internet Explorer's Pop up Settings
To modify your pop-up settings more easily, do the following:
Go to the Privacy tab.
Select "Advanced."
Tick the box that says "Override Automatic Cookie Handling."
Make sure "Accept" is selected for both First Party and Third Party Cookies.
Check the box that says "Always Allow Session Cookies."
Click "OK" to save the changes.
Method 8: Update .Net Framework, Java, and Adobe Flash Player on Windows
To resolve the issue, update outdated apps, components, and programs using the following steps:
Visit the Java Download Center and install the latest Java release.
Follow the provided link to download the latest updates for Flash Player.
Download the most recent updates for .Net from here – Microsoft .NET Framework 4.5.
Get Expert's Help!
FAQs:
How to ensure stable internet connection to fix error 101?
To resolve QuickBooks error 101, first, ensure you have a stable internet connection. Here's how:
Open your Internet Explorer.
Try to access a safe website like google.com.
If you can't connect to the website, it indicates a connectivity issue.
If you can access the website, proceed to explore other troubleshooting solutions.
How do you change your internet settings to fix error 101?
Open the QB application and go to the Help menu.
Select "Use my Computer's Internet Connection Settings" in the Help menu and click Next.
Finally, click Finish to apply the changes.
Now, attempt to update the bank feeds and check if QB Online Banking Error 101 is resolved.
How to update banking manually in QBO online?
To manually update your banking transactions:
Click on "Banking."
Choose "Update."
If asked, enter your Multi-Factor Authentication (MFA) credentials and click "Continue update." Make sure to enter these credentials within 2 minutes of the prompt. Multi-Factor Authentication is an extra security measure that requires more than just a username and password.
Read Also: QuickBooks Unable To Connect With HSBC Bank