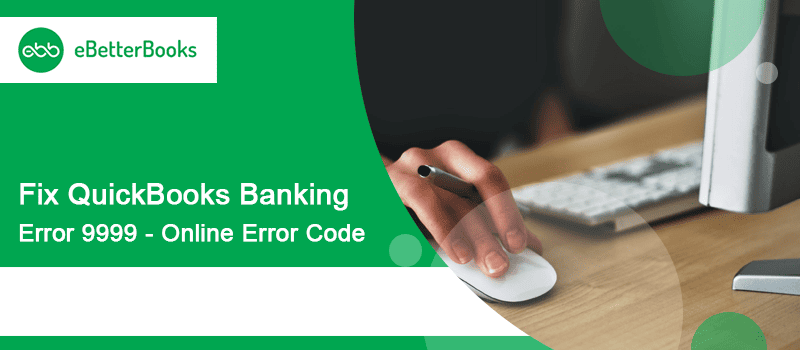 Fix QuickBooks Banking Error 9999 – Online Error Code
QuickBooks is considered one of the trustworthy accounting software all over the world. However, many business owners encounter different error codes during accessing the company file or updating bank information. At the moment, we will be discussing one such error "QuickBooks Banking Error 9999" that occurs while updating the bank information.
Let's go ahead and get all the required information related to QuickBooks Error Code 9999.
What is QuickBooks Banking Error 9999?
Intuit QuickBooks Error 9999 is known as a script error or cross-origin that may block your Internet Connection and QuickBooks Online. It mostly appears when you are trying to update bank information or when the browser fails to execute a script from a website. It shows the following error message.
"Error 9999: "Sorry, we can't update your account. Please try updating again later.
Or.
"Error Code 9999: Can't update."
After understanding all about error 9999, you need to move on to its root causes.
Also Read: Fix QuickBooks Error Code -6150, -1006?
What may cause QuickBooks Banking Error 9999?
Here, we have listed the leading factors affecting banking Error 9999. You have to check out all of them respectively and apply the solutions accordingly.
A corrupted or an incomplete installation may cause Banking error 9999.
You may come across the error because of a poor internet connection.
If there is a blockage to the bank access and the Intuit server, this may lead to an error.
Sometimes, error 9999 may pop up because of browser cache and cookies.
Important Points To Consider Before Resolving Quickbooks Banking Error 9999
Choose the Report Issue on the banking transaction screen.
Type in the Registered name along with your Email address.
Select Submit.
How To Fix Quickbooks Banking Error 9999?
QuickBooks Online Error 9999 can be resolved by applying one of the below-mentioned solutions. In case, you are new to handling such technical errors, get connected with our professionals. Now, have a look at the following solutions one by one to fix 9999 in QuickBooks.
Solution 1: Disconnect And Reconnect Your Bank Account
Steps of disconnecting bank account from QBO
Firstly, go to the left side panel to choose Banking.
After that, click on the Edit icon that you need to disconnect.
Mark the "Disconnect this account on the save" box in the Account window.
Finally, click Save > Close.
Steps to reconnecting bank account
You first need to choose Add Account from the Banking tab.
Now, type in the bank login information and then choose Continue.
After that, go through the security verification instructions.
Choose Securely connect and select the bank that you want to reconnect.
Go to the Account Type drop-down list to choose your account.
Click Bank Account or Credit Card Account.
Lastly, choose +Add new if you don't have an account and tap Connect.
Solution 2: Update Your Bank Account
Launch QuickBooks Online.
Choose the Banking tab and then click Update.
Follow the above-mentioned steps (4 times).
At last, if you are experiencing the same error, move on to the next solution.
Solution 3: Log in to the Bank Account from the Web Browser
Firstly, launch a web browser and open your banking website.
After that, log in to your account using Admin Credentials.
Enter OTP sent to your email for verification.
Once you have logged into your account, update bank feeds in QBO.
Solution 4: Clear Browser's Cache Files
Below, we have mentioned steps for each browsing website. Go through the steps respectively to fix QuickBooks error 9999.
For Internet Explorer
Press and hold the Ctrl + shift + Delete keys.
Mark the 'Temporary Website and Internet Files' box on the Delete Browsing History page.
Click Delete.
For Google Chrome
Type chrome://settings/clearBrowserData and choose the Enter key.
Mark the Cached images and files box.
Tap on the Clear Data option.
For Firefox
Type about: preferences#privacy and choose Enter.
Select clear your recent history.
Mark Cache and select the Clear now option.
For Safari
Choose the Develop tab.
Select the Empty Caches.
Solution 5: Importing Transactions in QBO
If none of the aforementioned solutions worked for you in fixing the error code 9999, download the transactions in (.QBO) format. After that, import them into QuickBooks Online.
Firstly, choose the Banking enter and click the File Uploading option.
After that, select a file that you want to upload.
Choose your QuickBooks Account and map it to the Bank fields.
Click the Bank Transactions that you want to import.
Finally, review the imported transactions.
Also Read: QuickBooks Error Code 404? (Page Not Found Error)
Winding up!
Undoubtedly, QuickBooks Banking Error 9999 has been resolved with the assistance of the aforementioned article. If you are still facing the same issues again and again while launching the QuickBooks software, get in touch with our team.
We are all set to assist you 24/7. Give us a call at our toll-free ebetterbooks Error Support Number +1-802-778-9005. One of our experts will pick up your call and suggest you some quick solutions to resolve error code 9999.