Fix QuickBooks Event ID Log Error 4 (Solved)
Learn the best ways to resolve the QuickBooks Error Event ID 4 like a Pro.
QuickBooks Event ID 4 is related to the Microsoft NET Framework in Windows 7. Therefore, we will learn how to deal with the framework. Also, we will understand other ways to fix the event ID 4 error.
As everybody knows, QuickBooks is a widely used accounting and bookkeeping software. It has supported many small and medium businesses by automating many time-consuming tasks, including generating reports. However, users also face lots of bugs, also known as QuickBooks Errors. Today, we will learn how to deal with QuickBooks Event ID 4.
What is QuickBooks Error Event ID 4, an unexpected issue?
The QuickBooks error Event ID 4 pop-up when you're trying to access the QuickBooks Integration Manager. This error appears if the important parts of Windows that QuickBooks needs get damaged. When these Windows pieces are damaged, the error message with Event ID 4 shows up on your screen. It is a Windows-specific error that stops QuickBooks functioning on the server. Due to this error, the user also might lose its company files.
When QuickBooks Event ID 4 Error occurs, you'll see the following message on your computer screen:
An unexpected error has occurred in "QuickBooks: Premier Accountant Edition 2020": WPR: validation failed
OR
An unexpected error has occurred in "QuickBooks: Premier Edition 2020":

WPR: SetNameDriverAndPort call failed
OR
An unexpected error has occurred in "QuickBooks: Desktop Pro 2020":

WPR: calling ABORT_CLOSE
OR
An unexpected error has occurred in "QuickBooks: Point of Sale 2020":

WPR: OpenPrinter call failed
Or
An unexpected error has occurred in "Intuit QuickBooks Enterprise Solutions: Manufacturing and Wholesale 19.0":
DMError Information:-6123 Additional Info: The server we are attempting to attach to can't be found
Or
An unexpected error has occurred in "Intuit QuickBooks Enterprise Solutions: Manufacturing and Wholesale 19.0":
DB error -210 ErrorMessage:'User '456964656e' has the row in 'LOCKS' locked' from file:'srcsadbsess.cpp' at line 4727 from function:'SADBSession::AcquireLock'
Or
An unexpected error has occurred in "QuickBooks": mainframe must be already created by now as this dll is demand loaded
Hence, we have mentioned its early signs, so you can detect the bug before it occurs.

What are the Initial Indications of QuickBooks Error Event ID 4?
Your QuickBooks Desktop will hang a lot.
The system will respond slowly to inputs.
QuickBooks software will crash repeatedly.
Also, the window might crash repeatedly.


Why Does QuickBooks Event Log Error 4 Occur?
In QuickBooks, an error code 4 can refer to 5 different types of issues, and in order to properly diagnose and fix it is important to understand the context in which you encounter the error. Error 4 can be related to network connectivity, data corruption, or problems with the QuickBooks software.
Here are some possible causes of QuickBooks error 4:
Network Problems: Error 4 may be related to network connectivity issues. If communication between the QuickBooks Database Server Manager and QuickBooks Desktop is disrupted, it can trigger this error.
Data Corruption: Corrupted data files can lead to various errors including error 4. If there is corruption in your QuickBooks company file, you may encounter this error when trying to access or manipulate data.
Software Issues: Bugs or glitches in the QuickBooks software itself could trigger error 4. This could be due to problems with the installation, updates, or conflicts with other software on your computer.
User Account Control (UAC): On some systems, the User Account Control settings can interfere with QuickBooks operations, leading to errors like error 4.
Outdated Software: Using an outdated version of QuickBooks can result in compatibility issues and errors.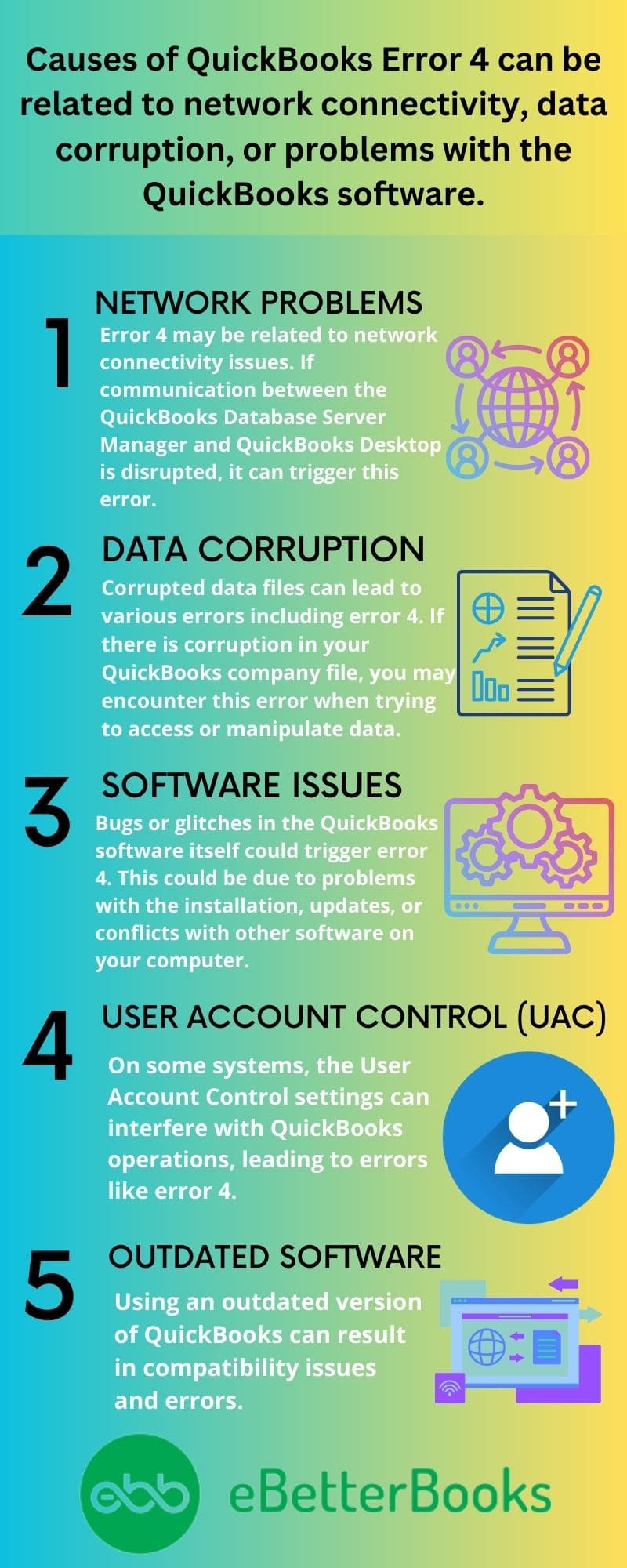 Ways to Resolve QuickBooks Error Event ID 4
The Event error id 4 in QuickBooks is a persistent issue. Hence, make sure you try any of the methods mentioned below very carefully.
Solution 1: Reinstalling the .NET Framework on Windows
Resolve the QuickBooks event id 4 unexpected error with the help of this most popular solution.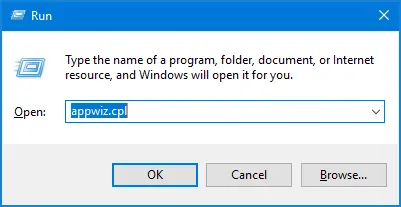 First, Open the Run Window using the 'Win + R' short key.
Then, type appwiz.cpl. After that, press Enter Key.
When a new screen pops up, go to Program and Features–> choose Add/ Remove option.
After that, locate Microsoft .NET framework 3.5 and click on it. If a new release is available, find the latest version.
Now, press uninstall. Once you successfully uninstalled, restart the PC.
Thereafter, open the Run search box again–> type control panel.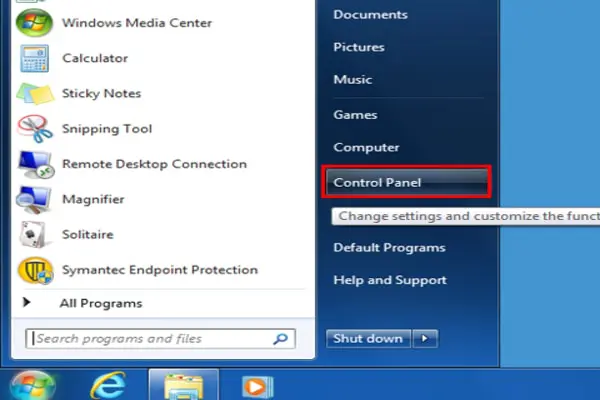 Again check the left side of windows–> click Add/ Remove Windows Features.
In that list, you will see Microsoft .Net Framework.
Then, check the first and second boxes, and finish the process.
Finally, restart the system and open the QuickBooks Integration Manager.
Solution 2: Run QuickBooks Install Diagnostic Tool
With the help of QuickBooks Tool Hub, you can use the tool called QuickBooks Install Diagnostic Tool that can fix QuickBooks event log error 4. Follow these steps to guide you through the process: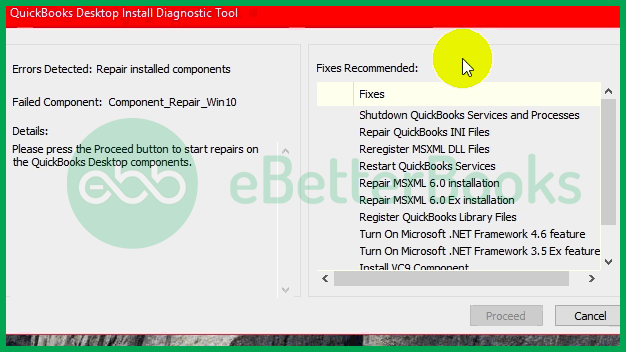 Download and install the QuickBooks Install Diagnostic Tool.
Then, follow the prompted instructions to complete the installation.
While installation, close all the background applications for the successful removal of the bug.
Finally, run the install diagnostic tool and restart the system to fix all issues. Now, you will see that the Event ID 4 Error in QuickBooks has been resolved. You can also try the QuickBooks file doctor tool to fix the issue.
Solution 3: Use "Quick Fix My Program" From Tool Hub Application
Intuit officially released a bug repairing application called Tool Hub. As the name suggests, it has multiple tools that repair different kinds of errors in QuickBooks. One such error is QuickBooks Event ID 4 Error.
First, close all QuickBooks Desktop tabs and the application.
Download QB Tool Hub from the official website.
After that, run the downloaded QuickBooksToolHub.exe file, and give all needed permissions for it to get installed on your PC.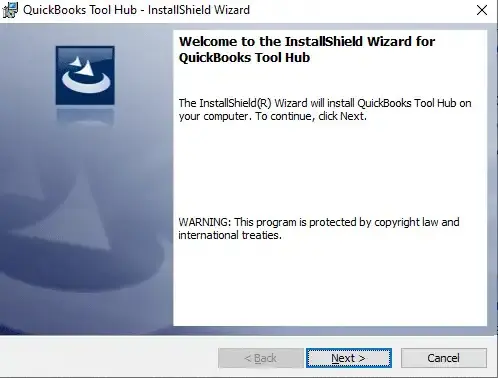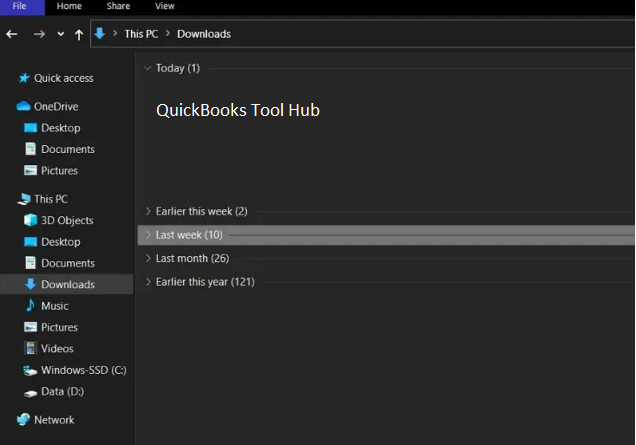 Select the folder where you want to install the Tool Hub. Then, click the Next button once more.
After that, click the Install button to start the installation process.
Once you've followed the steps above and successfully installed the tool, double-click the tool hub icon to open the Tool Hub program.
After that, open the QB Tool Hub–> visit Program Problems tab–> Choose "Quick Fix My Program".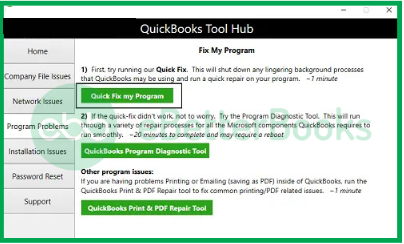 Solution 4: Try Using The Clean Install Tool
As mentioned earlier, there are many tools in the tool hub. Hence, we will use the most effective tool from the hub: The clean install tool. It will help get rid of Event ID 4 Error in QuickBooks.
Firstly, the user may open QuickBooks Tool Hub.
After that, follow this path: Installation Issues tab–> Clean Install Tool.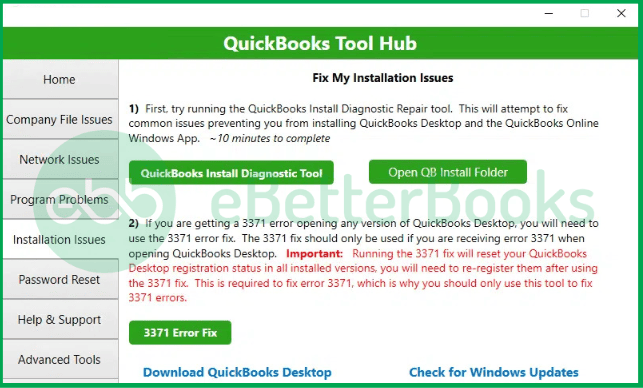 ● Once the process completes, verify if the bug is resolved or not.
Wrapping Up!
Hopefully, the above-given information is helpful for you to get rid of this problem. But if you are still facing any kind of issues with your software and need professional assistance, regarding accounting, bookkeeping & accounting software-related issues then feel free to get in touch with us at +1-802-778-9005, or you can mail to us at: [email protected]
FAQ
What is Event Log Error 4 in QuickBooks ?
The QuickBooks Log 4 error is a technical issue that occurs in QuickBooks because of a damaged .NET Framework. How to Identify the Release Patch Version in QuickBooks to Resolve QuickBooks Error.
To check the release patch version in QuickBooks and address the QuickBooks Error Event Id 4, follow these steps:
Open QuickBooks.
Press the F2 key to open the Product Information window.
In the Product Information window, you can find and verify the current version of QuickBooks you are using.
How would I fix the QuickBooks Error Event Id 4 instantly?
To quickly resolve the Error Event Id 4 in QuickBooks, consider the following steps:
Reinstall QuickBooks using the Clean Install Tool: This tool ensures a clean and fresh installation of QuickBooks, potentially resolving the error.
Utilize QuickBooks Install Diagnostic Tool: Running this tool can help identify and fix installation-related issues that might be causing the error.
Check and Reinstall .NET Framework on Windows: Verify the .NET Framework installation on your system and reinstall it if necessary. This action can also help in resolving the error.
How to Permit Windows Firewall for Port Exceptions?
To resolve the QuickBooks Event Id 4 error caused by Windows Firewall restrictions, you can allow the program through the firewall using the following steps:
Go to the start menu and search for "Windows Firewall." Open the search results.
Click on "Advanced settings" in the Windows Firewall window.
Right-click on "Inbound Rules" and select "New Rule."
Choose "Port" and click "Next."
Ensure that you select "TCP."
Enter the specific ports required for your QuickBooks version in the "Specific local ports" field.
Click "Next" after entering the port number.
Choose "Allow the connection" and click "Next."
If prompted, make sure to mark all profiles and then click "Next."
Create and name the rule according to your preference.
Finally, click "Finish" to complete the process.
By following these steps, you will allow QuickBooks through the Windows Firewall using port exceptions, potentially resolving the intuit error Event Id 4. How can I manually update QuickBooks while resolving the QuickBooks error event ID issues.
Open the Help menu in QuickBooks.
Select QuickBooks Update and click on the Update Now tab.
Choose the "Get Updates" option to start downloading.
After the download is complete, restart QuickBooks.
Accept all the terms and conditions.
With these steps, you should be all set and the error should be resolved.
Related Posts: