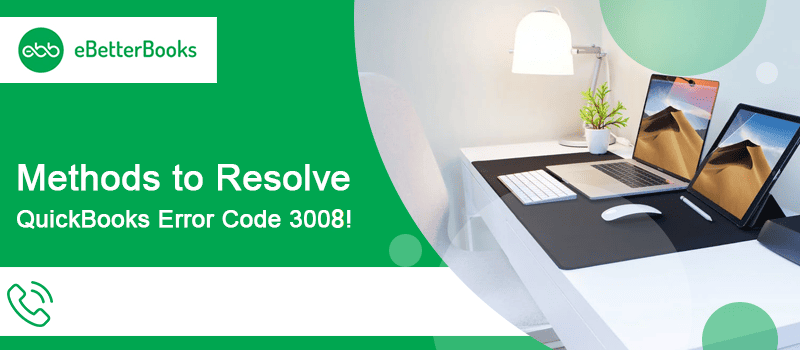 How to Fix QuickBooks Error 3008? (A Brief Guide)
Learn the easiest ways to resolve QuickBooks Error 3008 via this post.
QuickBooks is a popular accounting software system for small and mid-sized businesses. It's an ideal way to keep business finances organized and accurate even if you have little knowledge about accounting. However, while installing QuickBooks, you must check the correct method of QuickBooks installation. Many times, users don't download QuickBooks correctly which ends up in popping up the QuickBooks Error Code 3008.
Error code 3008 also arises due to an issue with an invalid certificate or a non-trustworthy certificate.
The following post comprises causes, symptoms, and solutions to get rid of QuickBooks Error 3008. Kindly, read the whole article to avoid other technical glitches.
Causes for QuickBooks Error Code 3008
When the malware or virus infects the whole system, QuickBooks error code 3008 takes place.
If the license certificate gets affected by a malware attack, this issue might pop up on the screen.
What are the indications for QuickBooks Error 3008?
QuickBooks Error Code 3008 mainly occurs due to an unknown malware attack. It corrupts the entire system and destroys your licensed certificate needed in QuickBooks.
However, software repairing tools like QuickBooks File Doctor won't help fix the 'Unable to run QuickBooks error 300.' Then, you have to buy the licensed software that will help us figure out how to work in QuickBooks.
Other than this, users won't get easy access to their documents like company files. They might also end up losing their documents if the issue is not resolved on time.
How do I get rid of QuickBooks startup error 3008?
Here, we are writing down all the possible solutions to resolve error 3008. You need to follow these solutions respectively to fix the same.
Solution 1: Uncheck the Use Proxy
Firstly, you need to unmark the use proxy from the IE settings.
After that, choose the Gear icon on the internet explorer window.
Go to the Internet Options > Connection tab.
Now, select LAN settings and uncheck the use proxy option.
Choose the Ok tan and access QuickBooks sync manager.
Next, verify the proxy settings and mark the sign on the proxy server.
Finally, look for malware in the secured network.
Solution 2: Third-Party Apps
Users might change to third-party apps that may lead to showing QuickBooks Desktop error 3008. QuickBooks doesn't advise its users to opt for third-party apps. However, if the issue is appearing again and again, then such an option might help you fix the 'can't open QuickBooks error.'
Solution 3: Take the Assistance of Professionals
If you are still experiencing errors even after applying these solutions, consult one of our professionals. You are free to take their assistance in resolving QuickBooks startup error 3008.
Final Words!
We hope this article can assist you while resolving QuickBooks Error Code 3008. If the above-shown solutions did not fix your problems, it's best to get technical assistance from a professional. They will guide you in the right direction while dealing with error 3008.
Get in contact with our accounting experts at 1-802-778-9005 for technical assistance. They will help you to troubleshoot QuickBooks errors efficiently
Related Posts: