Users face "QuickBooks Error 193" when they open/use QB Desktop in multi-user mode. Also, they experience it while starting QuickBooks database server manager.
Understand how to resolve the "QuickBooks POS Error 193:0xc1" that occurs when a QB user tries to start the QuickBooksDB27 service. You will see this QuickBooks error 193 message:
| | |
| --- | --- |
| Error Message | Error 193: 0xc1, Unable to start the service error. |
| Error Message | QuickBooks error 193:0xc1: Services – Windows could not start the QuickBooksDBXX service on Local Computer. |
What is QuickBooks Error Code 193?
The issue when a user cannot access QuickBooks desktop in multi-user mode is QB error code 193. It doesn't let you access programs and features of the accounting software. The user will also come across this issue when trying to access the QuickBooks database server manager.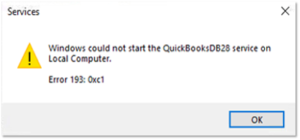 Call Us Now For Quick Solutions
Causes Behind Error 193:0xc1 in QuickBooks Desktop
QuickBooks Error 193 is typically caused by Corrupted or damaged .qbt files in your database, this issues related to the Microsoft .NET Framework, a software framework that QuickBooks and many other Windows applications depend on to function properly.
Here are some specific causes of QuickBooks Error 193:
Corrupted .NET Framework Installation: If the installation of the .NET Framework on your computer is corrupted or incomplete, it can lead to Error 193 when QuickBooks tries to access and utilize it.
Conflicting .NET Framework Versions: QuickBooks requires specific versions of the .NET Framework. If multiple versions are installed or if there are version conflicts, Error 193 can occur.
Missing .NET Framework Components: QuickBooks relies on various components of the .NET Framework. If any of these components are missing, it can result in the error.
Corrupted QuickBooks Installation: If QuickBooks itself is not installed correctly or if its installation files are damaged, it can trigger Error 193 during startup or operation.
Third-Party Software Interference: Other software installed on your computer, especially security software or software that interacts deeply with the operating system, can interfere with the .NET Framework and cause the error.
Windows Registry Issues: Problems with the Windows registry, such as invalid or corrupted entries related to the .NET Framework or QuickBooks, can contribute to Error 193.
Windows Updates: Outdated or missing Windows updates can impact the compatibility of the .NET Framework and lead to errors.
User Account Permissions: Insufficient administrative privileges for the user account attempting to run QuickBooks can prevent proper interaction with the .NET Framework and trigger the error.
9 Best QuickBooks Error 193 Symptoms to Know
QuickBooks Error 193 manifests through various symptoms that can indicate an issue with the Microsoft .NET Framework or the QuickBooks installation. Recognizing these symptoms can help you identify and address the error promptly.
Here are the common symptoms associated with QuickBooks Error 193:
Error Message Pop-ups: When launching QuickBooks or performing certain actions within the software, you may encounter error message pop-ups with the specific error code "Error 193" or related messages indicating a problem with the .NET Framework.
Crashes and Freezes: QuickBooks might crash or freeze shortly after being opened, preventing you from using the software effectively. These crashes could be accompanied by error messages.
Slow Performance: If QuickBooks experiences delays in responding to commands or navigating through the software, it could be a sign of an underlying issue, possibly including Error 193.
Windows Becomes Unresponsive: In severe cases, attempting to open QuickBooks can lead to Windows becoming unresponsive or sluggish, reflecting the conflict between QuickBooks and the .NET Framework.
Unsuccessful Installation: If you're attempting to install QuickBooks and encounter Error 193 during the installation process, it indicates an issue with the required components, such as the .NET Framework.
Runtime Errors: Runtime errors or abnormal program terminations might occur when using QuickBooks, indicating a problem with the interaction between the software and the .NET Framework.
Inability to Update QuickBooks: When trying to update QuickBooks to a newer version, Error 193 might prevent the update from completing successfully.
Event Viewer Logs: In the Windows Event Viewer, you might find logs related to QuickBooks or the .NET Framework that indicate errors, crashes, or failed processes.
Loss of Data or Functionality: In some cases, the presence of QuickBooks Error 193 might lead to data corruption or loss of certain features within the software.
How to Fix QuickBooks Error Code 193?
➤Solution 1: Perform a clean install of QuickBooks Desktop.
➤Solution 2: Windows 10 / Server 2016 version 1803 Update
➤Solution 3: Scanning your PC for viruses.
➤Solution 4: By Deleting .qbt Files in Headquarters and Remote Store
➤Solution 5: Check Mailbag After Deleting Customers
➤Solution 6: Reinstall QuickBooks Desktop
Follow the below solution to fix QuickBooks error 193:0xc1, such as using the QuickBooks Install Diagnostic Tool, repairing the .NET Framework, checking for Windows updates, and verifying user account privileges.
Solution 1: Clean installation of QuickBooks Desktop
This is the most basic method to fix the QuickBooks error code 193. Here is how you can perform:
Go to Start.
Select the Control Panel option.
Open it, and click the Programs and Features button. Then, uninstall the program.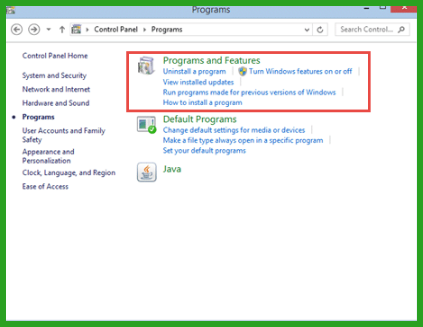 Check the installed programs list & choose QuickBooks Desktop.

Uninstalled the QuickBooks Desktop, reinstall the program.
Solution 2: Windows 10 / Server 2016 version 1803 Update
In case the user has Windows 10 and 2013 version in their system.
Choose customer from the list, and then click the shift tab.
In case you have version 9, then press CTRL + A. This will lead you to customers.
Then, move to file menu in the headquarter server.
To validate the mailbag in the store, choose utilities tab and then resend the same.
Solution 3: Scanning the PC for any Viruses
Users are advised to perform a complete virus scan on their systems using security software, such as an antivirus program. This procedure can also help in resolving the QuickBooks error 193:0xc1. To do this, users should set up and initiate their antivirus program to check for any potential virus intrusions on their computer.
Solution 4: By Deleting .qbt Files in Headquarters and Remote Store
To fix QuickBooks error 193, start by removing .qbt files from both the remote store and headquarters.
Step 1: Delete files from the remote store
To find files in remote store, type .QBT in the search box.
It will highlight all the files with location. Delete these files.
After that, empty the recycle bin.
Step 2: Deleting the files from headquarters.
Follow this path on the windows: OS: C:Program Data IntuitQuickBooks Point of sale x.x/STex.
Look for the files with QBT extension and delete all of them from the folder.
Step 3: Generate new remote files
Now, select company operations and files. Then, click on the option of create new company.
Then, type the company name, and select remote store. After that, fill the store number.
At last, send a mailbag (resend) from headquarters to the remote store.
Call Us Now For Quick Solutions
Solution 5: Check Mailbag After Deleting Customers
The best way to troubleshoot QuickBooks error 193 is by deleting these customers from customer list.
Firstly, open the desktop app and find reports.
Check customer lists.
Select the customers twice, check their details, and open these details.
Now, click on all options and tap the I want to option. Click the checkbox of delete the customer.
Now, select the files, click utilities & resend.
At last, check the store's mailbag.
Solution 6: Reinstall QuickBooks Desktop
The last option is to reinstall QuickBooks. Reinstalling ensures that your QuickBooks Desktop application is free of any issues that might trigger error 193.
Always remember to back up your company data before uninstalling QuickBooks Desktop.
Here's how to do it:
Open the Control Panel from the Start menu.
Choose the "Add/Remove Programs" or "Uninstall a Program" option.
Locate QuickBooks in the list of programs, double-click it, and select the option to completely remove it from your system.
Download the correct version of QuickBooks Desktop and run the installer file to start the installation process. When prompted, enter your product registration information to activate QuickBooks Desktop.
Winding-up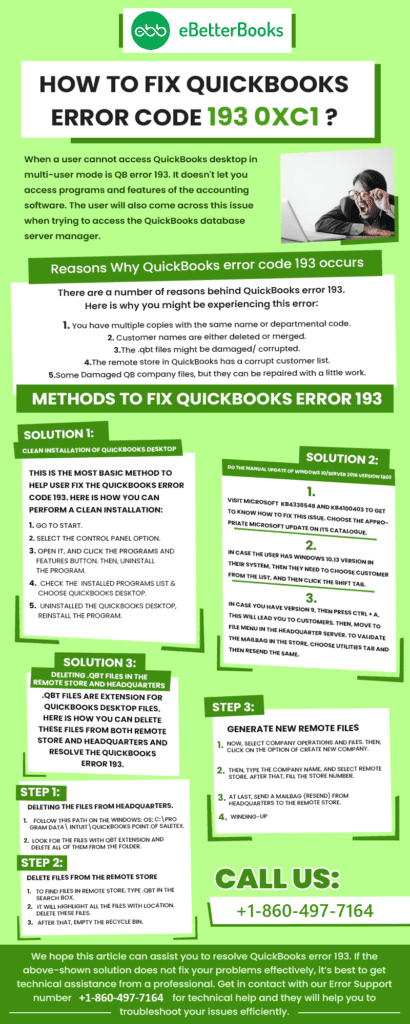 QuickBooks error code 193- Infographic
FAQs
How to Correct connection error in QuickBooks?
The steps below can be followed by the user to attempt to resolve the issue:
Click on the Reload button or use the keyboard shortcut F5 (or Command + R for Mac users) to refresh the page and download the entire page again.
If the problem continues, close and restart your browser, then proceed to log in again to QuickBooks Online.
How to correct QuickBooks error 193?
This error usually occurs due to one of the following reasons: an outdated driver, a corrupted system file, or compatibility issues with NordVPN. To resolve this error, you can attempt the following steps:
Run the Hardware and Devices Troubleshooter.
Perform a System File Checker scan.
Uninstall NordVPN (if it is installed)
How to fix windows firewall is blocking in QuickBooks?
If the QuickBooks File Doctor was unable to resolve your firewall issue, you can proceed with the manual setup as follows:
Add a firewall port exception for QuickBooks.
Create Windows firewall exceptions for QuickBooks.
Review your antivirus or firewall settings.
Add an exception for QuickBooks ports in your antivirus or firewall.
Restart your computer.
Related Posts: