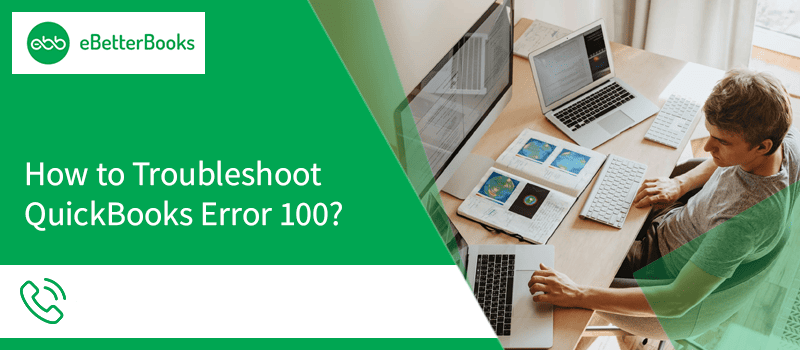 How to Troubleshoot QuickBooks Error 100?
QuickBooks Error 100 relates to the Point of Sale application. QuickBooks Point of Sales application automatically syncs sales and payment information to its Desktop application. Therefore, let's learn different ways of fixing this error. This will help avoid such errors in future.
What is QuickBooks Error code 100?
We all know that QuickBooks Desktop Point of Sale (QB POS) is software that different stores use while selling different goods and services. After all, opening the QuickBooks saves a lot of time for the merchant by automatically syncing its data with the Desktop software.
However, it may sometimes show errors and restrict user access. One of these error codes is QuickBooks POS error code 100. You will see this error message:
"Error 100 database server not found "08w01".
Cause Behind QuickBooks Error 100
System resources are low. There is a lack of features in your system required to run the QuickBooks POS.
Point of Sales database Manager isn't running, as there is a technical issue with the service.
Improper installation of Microsoft.Net Framework.
Points to consider before troubleshooting QuickBooks Point Of Sale Server Error 100
Keep the application up-to-date with its latest version.
Reinstall the .Net framework on the system.
The system must meet basic requirements to make the application work.
Preferably use an administrator account to login into Windows.
Exit the app, reboot the system, and try again.
If these quick fixes don't work, then proceed towards solutions.
QuickBooks error 100: Solution
There are many ways to correct Quickbooks error 100. It may occur due to network connection issues.
You may also need to update QuickBooks. At times, the error persists.
To change that, resolve simple internet connection issues. Sometimes, when you open the company file, it may be damaged or corrupted. Here are some methods to resolve this error.
Method 1: Restarting the QBPOS Database Manager
When the error dialogue box shows, click on OK
Reboot your system
Try to open the Point of Sales application
If the error continues to be there then there is a different process for different OS versions of windows.
Windows XP: Click start–>Run
Windows 7: Go to Start–>All Programs–>Accessories–>Run
Type services.MSC in the field–>OK
Click QBPOS Database Manager vXX–>Start ( XXXX is the version of QBPOS currently used)
When start is inaccessible–>Restart.
Method 2: Updating the POS Updates
Make sure you have all QuickBooks Desktop POS updates installed. To install these updates manually:
Open the software
Click–> Product update Page
After that, choose Point of Sales as the product
Follow the guided path to complete the manual update process.
Reboot the system.
Rename the Intuit Entitlement Client Folder.
Method 3: Re-install the .NET framework
If you've tried uninstalling the POS software and still encountered the 08W01 Quickbooks Point of sale error, then you can try uninstalling the .NET framework. Therefore, reinstall both the components. To remove the .NET framework, try these steps:
Go to the Windows search bar–>Control Panel
In the panel –> Uninstall a program.
Search –>Microsoft .NET Framework 4.0 and 4.5
Press and hold the right-click, and uninstall it.
Follow the rest of the on-screen instructions.
With this action, you have removed it from your system. Now install the .NET 4.5 framework from the Microsoft store (4.0 client and extended).
Method 4: Create Windows User Account
You have to create a new account with administrator rights. Here is how you'll do it:
Windows-> Start-> User Accounts (Search Bar)->Manage User Accounts -> Manage another account.
Now click the Create a new account button.
After that, rename this account.
Go to the administrator as the User Type.
At last, log off the windows account.
Call Our Quickbooks Provisor Experts Now
Method 5: Uninstall QuickBooks Desktop POS
Another way to fix QuickBooks Error 100 is by reinstalling QuickBooks Desktop POS software. However, make sure to take a back of your data before uninstalling the POS software. Keep essential files with you and close the rest of the programs.
After the uninstallation, rename these files/ folders:
QuickBooks Point of Sale XX folder.
QBPOSDBSrvUser folder
QuickBooks Point of Sale XX folder
After renaming all these folders and files, remove QBPOSDBSrvUser windows login. Here is how you can do that:
Windows+R–>User Accounts ->Manage User Accounts ->Manage another account –>QBPOSDBSrvUser–>Delete the account–> Yes
When you've gone through this process, restart the device, and reinstall the software.
After you've created and logged out of the user account, log in again. Then, open the POS and check if QuickBooks Error 100 persists or not.
Method 6: Restart QBPOSShell
If you've tried closing and restarting QBPOSShell and found no success with QBPOSShell, then you can troubleshoot this error. For this:
Task Manager-> Processor-> Image Name-> Right-click QBPOSShell.exe file->End process-> Close Task Manager
This way, it will stop the POS software from running in the background. Then you can relaunch Point of Sale software.
In case of multiple QBPOSShell services, follow these steps:
Right-click the Point of Sale icon on the desktop.
Select Troubleshoot compatibility option.
After that, click Try recommendation settings
Follow the on-screen instructions.
Now reboot the device and relaunch the software
Conclusion
We hope this article helps you in resolving the error. If the above-shown solution does not fix your problems effectively, it's best to get technical assistance from a professional. Get in contact with eBetterBooks Error Support at 1-802-778-9005 for technical help and they will help you to troubleshoot your issues efficiently.
Related Posts:
QuickBooks Database Server Manager Not Running on the Computer – [Trouble-Free Solutions]
Quickbooks Tool Hub: Download and Install to Fix QB Issues