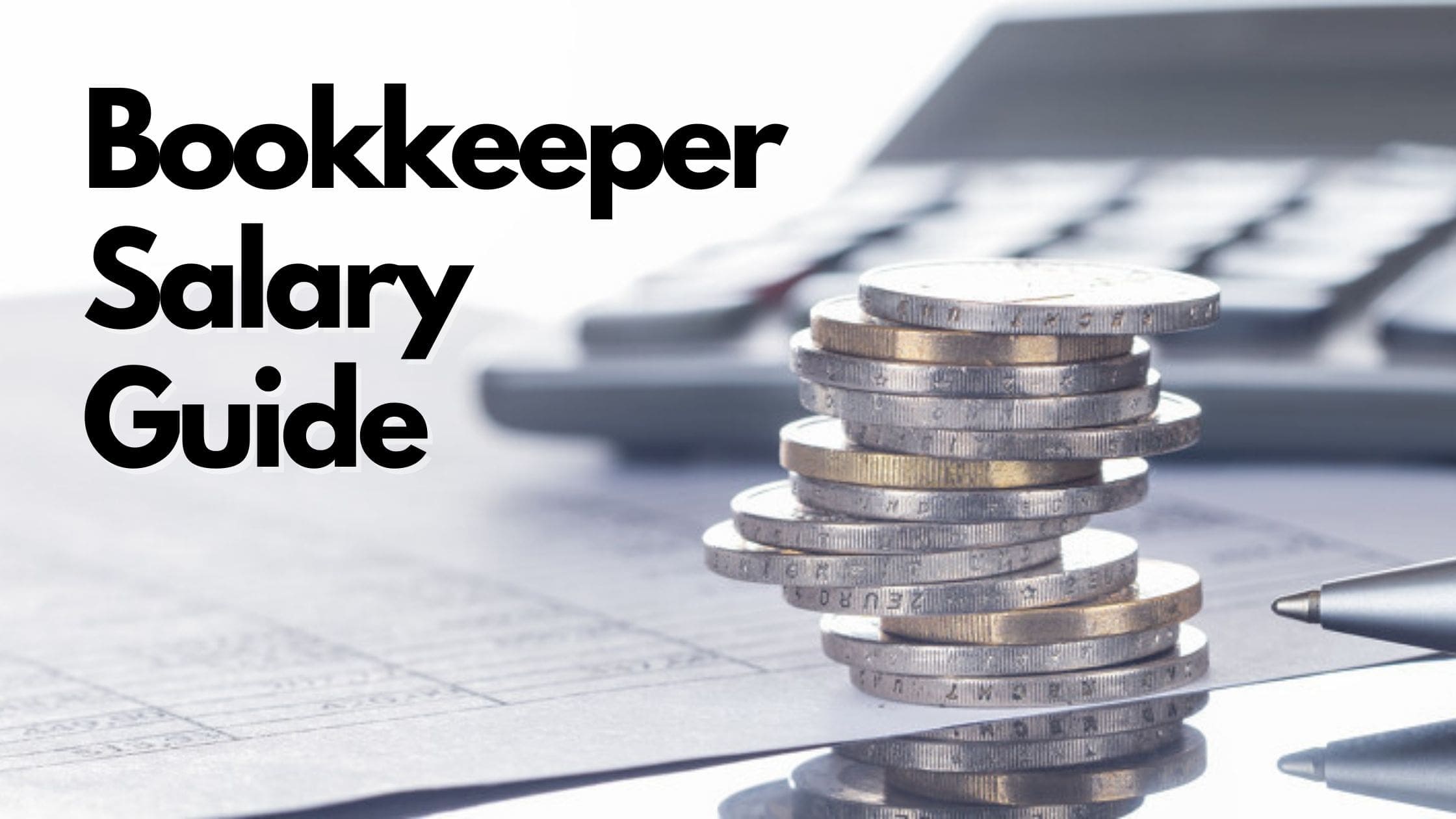 A Definitive Bookkeeper Salary Guide 
Managing books is one of the most crucial tasks in a business. It depicts a company's overall health and identifies where a business stands, irrespective of its size or industry. And expecting the owner to do everything all by himself is not fair. Not everyone is into accounts. Therefore, keeping a bookkeeper is a must. Even if you are optimizing online bookkeeping software, you still need a bookkeeper to review the reports. 
But a question that must be popping into your head is what a bookkeeper salary is?
This article will discuss how a skilled bookkeeper can keep you from fines, fraud, or other compliance issues. If you need to employ a bookkeeper, we will explain everything that a bookkeeper can do and how much they charge.
What Are The Responsibilities Of A Bookkeeper?
Bookkeepers are specialists in handling daily financial transactions and other related documentation. Some clerical jobs also lie under bookkeeping, and there are differences between accounting and bookkeeping. Hence they take care of that as well.
Bookkeepers administer the daily financial transactions and the accountant processes that information to create economic models and give expert suggestions to enhance the company's growth and maximize profits. The account decides the next most appropriate move in favor of the firm's growth.
The Bookkeeper concentrates on the day-to-day financial transactions where the accountant is responsible for its long-term financial strategies. 
The tasks given below are the ones done by the Bookkeeper on an everyday basis:
To withhold taxes and payroll.
Preparation Of the monthly financial statements.
Managing the past due accounts.
Recording everyday expenses and billing payments.
To reorder the forms of income.
To balance out the bank accounts.
To deposit/ other transaction confirmation. 
You will come across several factors affecting the bookkeeper salary when you desire to hire one. 
Before hiring a bookkeeper, ask yourself first:
Why Do You Need A Bookkeeper And For How Long?
First of all, the employer needs to be clear about his requirements and why he is hiring a bookkeeper, impacting the Bookkeeper's salary. 
A bookkeeper can administer several financial aspects of your business by creating financial reports, managing accounts payables, and receivables, and administering payrolls. List down all the activities you wish your Bookkeeper to carry out and also do mention how frequently.
In the next part, you need to figure out for how long you will need their services? Is it going to be ongoing or sporadic projects? Bookkeeper rates rely on the type of project you are hiring for. For occasional projects, a bookkeeper charges differently, and for daily tasks, there is a different bookkeeper price.
How Experienced You Want Your Bookkeeper To Be?
The Bookkeeper and the accountant may undergo some clashes regarding their expertise, skills, certification, and on-the-job experience. However, if you are looking for a highly experienced bookkeeper with better skills, it could cost you extra. 
A well trained, specialized, and experienced Bookkeeper with an advanced degree will impact the Bookkeeper's salary. 
The top three certifications preferred by a good bookkeeper are:
Certified Bookkeeper (CB) from the American Institute of Professional Bookkeeper (AIBP)
Certified Public Bookkeeper (CPB) from the National Association of Certified Public Bookkeepers (CPB)
QuickBooks ProAdvisors from Intuit (the makers of QuickBooks)C 
Some bookkeepers possess training in a specific industry yet, could have also experienced each industry's shades. The bookkeepers with experience in the job sectors such as healthcare, law, NGOs, etc., can turn out to be a great asset to your business, but it impacts the bookkeeper fees.
These are the general bookkeeper salaries and bookkeeper rates:
| | |
| --- | --- |
| Bookkeeper type | Bookkeeper rates per hour |
| Bookkeeper (data entry and excel ) | $10-35 |
| Senior Bookkeeper (with some accounting skills) | $40-75 |
| Bookkeeper and accountant | $20-150 |
Does Your Business Face Complexities In Your Business?
Contemplate the financial and tax scenarios in your business. Consider if you have a complex business structure like various locations in different states or multiple vendors or contractors. A highly experienced and well-skilled bookkeeper can manage your accounts in such cases. The greater the experience and the expertise are, the greater the bookkeeper salary. 
Furthermore, a bookkeeper with expertise in the tools and software your company is already utilizing will charge more. In case you have decided to shift to new technology or software, your Bookkeeper might take some of his time to get used to it and grab the speed, and you might also have to raise the bookkeeper rates.
Alongside the factors mentioned in the above paragraphs, the state in which you are hiring the Bookkeeper can impact the Bookkeeper's salary. For example, on one scale, the bookkeeper charges are higher in Alaska; the average bookkeeper salary there is $48,640 per annum, and $23 is the hourly bookkeeper rates,
whereas on the other end of the scale, in South Dakota, the average bookkeeper salary is $33,970 per annum and average hourly bookkeeper rates are $16.33, as per the Occupational Employment Statistics with the U.S. Bureau of LabStatistics.
Bookkeeper Salary State By State
State
Salary (mean)
Hourly (mean)

Alabama

$37,250

$17.91

Alaska

$48,640

$23.39

Arizona

$40,930

$19.68

Arkansas

$36,310

$17.46

California

$47,750

$22.96

Colorado

$42,830

$20.59

Connecticut

$47,890

$23.02

Delaware

$44,760

$21.52

Florida

$40,220

$19.34

Georgia

$40,330

$19.39

Hawaii

$41,620

$20.01

Idaho

$38,470

$18.50

Illin

o

is

$42,520

$20.44

Indiana

$38,300

$18.41

Iowa

$38,900

$18.70

Kansas

$35,880

$17.25

Kentucky

$37,950

$18.25

Louisiana

$37,180

$17.88

Maine

$39,190

$18.84

Maryland

$45,450

$21.85

Massachusetts

$47,020

$22.61

Michigan

$39,130

$18.81

Minnesota

$44,210

$21.25

Mississippi

$38,130

$18.33

Missouri

$38,340

$18.43

Montana

$36,310

$17.46

Nebraska

$37,850

$18.20

Nev

a

da

$40,100

$19.28

New Hampshire

$42,170

$20.27

New Jersey

$46,860

$22.53

New Mexico

$37,600

$18.08

New York

$45,590

$21.92

North Carolina

$39,590

$19.03

North Dakota

$38,220

$18.38

Ohio

$39,830

$19.15

Oklahoma

$39,010

$18.76

Oregon

$41,840

$20.11

Pennsylvania

$40,660

$19.55

Rhode Island

$44,120

$21.21

South Carolina

$36,860

$17.72

South Dakota

$33,970

$16.33

Tennessee

$40,380

$19.41

Texas

$41,390

$19.90

Utah

$39,170

$18.83

Vermont

$42,320

$20.35

Virginia

$43,140

$20.74

Washington

$45,600

$21.92

West Virginia

$34,550

$16.61

Wisconsin

$37,910

$18.23

Wyoming

$38,870

$18.69
Several factors are impacting a bookkeeper salary and what it takes to get one to work for you. It depends upon the jobs you want to hand them over and your budget as per which you can afford bookkeeper fees. 
Suppose you still are unable to discover the most appropriate bookkeeping solution for you. In that case, you can consider dialing +1-860-499-4393 and get in touch with the eBetterBooks experts who are available at your service 24/7x365.