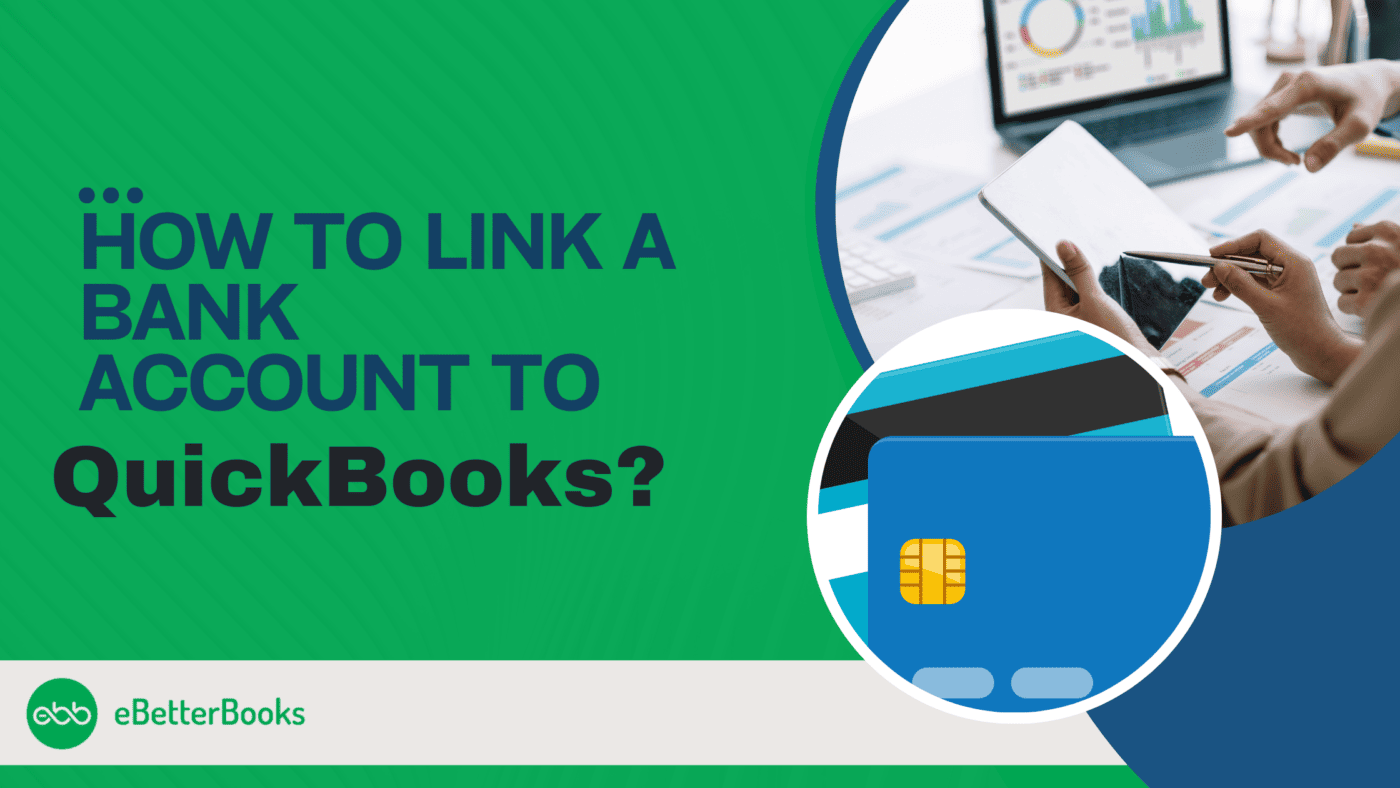 How to Link a Bank Account to QuickBooks?
Do you want to learn how to link bank account to QuickBooks? You're lucky, then! Thanks to our extensive blog, the procedure will be simple, quick, and clear.
You may manage your finances more effectively when you link bank account to QuickBooks. You'll be able to smoothly link bank account to QuickBooks in no time with our step-by-step instructions and useful advice. Say bye-bye to manual data entry and hello to automatic updates and streamlined financial management. Our blog will give you all the knowledge you need to effectively link bank account to QuickBooks, whether you're a beginner or an experienced QuickBooks user. Get ready to simplify your financial life with QuickBooks!
Link Bank Account to QuickBooks- Significance
If you link bank account to QuickBooks, you create a bridge connecting your bank with the accounting program. This bridge eliminates the need for manual entry of your bank transactions because QuickBooks can automatically download them for you. By establishing this link, you save yourself the hassle and time-consuming task of entering each transaction manually.
QuickBooks becomes the intermediary that retrieves your bank transactions and seamlessly integrates them into your financial records. Say bye to the tedious manual data entry process and let QuickBooks do the work for you. When users link bank account to QuickBooks, you simplify and streamline your financial management, allowing you to focus on what matters most – running your business effectively.
After your bank account is connected, you may immediately classify and add those transactions into QuickBooks. The software does most of the work for you by automatically downloading and categorizing your transactions.
Imagine having a personal assistant that retrieves and organizes your bank data for you. All you need to do is examine and approve the transactions, and QuickBooks handle everything else.
Methods to Link Intuit QuickBooks Desktop to Bank Account:
There are two principal methods you can choose from when it comes to connecting your bank account or credit card to Intuit QuickBooks desktop.
The first method uses QuickBooks Online banking area. With this choice, you can use the software's financial functions and immediately link your bank account to QuickBooks.
Through your chart of accounts
Steps to Connect QuickBooks with Your Bank Account or Credit Card Using the Banking Section:
Log into your Intuit QuickBooks desktop program.
Go to 'Add Account' in the Banking section of the left menu, then search.
Choose your financial institution from the list when syncing QuickBooks with your bank account.
Enter your username and password for your institution's website and click "Continue."
When completing your bank's security verification, choose "Securely Connect."
Choose your bank or credit card from the "Account type" drop-down box after selecting the bank logo. To create one, click +Add new.
You can get the last 90 days' transactions from QuickBooks by choosing "Connect." To connect a bank account to a QuickBooks desktop, follow these steps.
The second method entails connecting your bank account via the chart of accounts. You may reconcile transactions and maintain the consistency of your financial records by adding your bank account as an account in the chart. Both methods provide practical means of integrating your banking activity with QuickBooks Online.
Methods to Link Existing Bank Accounts via the Chart of Accounts:
Open QuickBooks and click the gear button in the top right corner.
Select the bank you want to connect to in the action column after clicking Chart of Accounts.
From the Account History (or View Register) drop-down, click Connect Bank.
Follow the steps to complete the bank linking process.
You can update the transaction download any time after connecting to the bank.
Steps to Add a Bank Account/Credit Card in QuickBooks Online
After learning how to link bank accounts to QuickBooks Desktop, let's move on to learning how to link bank accounts to QuickBooks Online.
Step 1: Connect bank/ credit card account:
Check out the Banking tab.
Click the Connect account button on the landing page if this is your first time configuring a QuickBooks connection to a bank account. If the account has already been created, select Link account.
Find your bank and establish connections with them and the smaller credit unions. You can manually upload the transactions if there isn't a bank connection for QuickBooks.
To log onto your banking website, select Continue and enter your username and password.
Complete the remaining security tests and finish the connection process. It could take some time to connect your bank account to QuickBooks online.
Select the savings, credit card, and other accounts you want to link. From the chart of accounts in QuickBooks, choose the appropriate account type.
Now, download any previous day's transactions that you like. Banks typically grant 90 days, but some may even offer 24 months.
To link a bank account in QuickBooks Online, tap Connect.
Step 2: Download the most recent transactions:
The next step is downloading your transactions after connecting your bank account to QuickBooks Online. Once you connect your bank account and update your system, QuickBooks will automatically take care of this process.
Follow these easy steps to download your transactions:
Visit QuickBooks Online's Banking section.
Find the Update option and select it.
You can effortlessly manage your money with the help of QuickBooks by having it obtain and update your most recent transactions with just a few clicks.
Step 3: Arrange the downloads into categories:
Examining and categorizing your transactions after downloading them into QuickBooks is crucial to ensure they are classified correctly. Linking your bank account in QuickBooks Online requires you to complete this step.
Frequently Asked Questions (FAQs):
This is a commonly used method. If you have access to bank feeds, you can set them up using the following steps:
Step 1: Open QuickBooks Online. Then, go to the Banking tab and click on the Add Account option.
Step 2: On the next screen, select the Direct Feed option. This will open the Direct Feed page. Enter the name of your bank and follow the on-screen instructions provided.
The above-described procedures make it simple to link your bank account to QuickBooks. But don't worry if you make mistakes or run into problems while the process continues. Call 1-802-778-9005 to get in touch with our accounting helpline. Our professionals will be on hand to help you and respond to your questions as quickly as possible. Why is important to link bank account to QuickBooks?
Numerous advantages come with connecting your bank account to QuickBooks, including automatic transaction syncing, real-time financial insights, easy reconciliation, effective spending monitoring, and expedited tax preparation. It helps you keep organized, saves time, and delivers accurate financial information. What should I do if I encounter problems when I want to link my bank account to QuickBooks?
Don't worry if you run into any issues or make mistakes when trying to link bank account to QuickBooks. For assistance, call our accounting helpline at 1-802-778-9005. Our experts are here to assist you and respond to your inquiries as soon as they can. Can multiple banks be connected to QuickBooks?
Yes, QuickBooks allows you to link several bank accounts. You may connect and manage all your business accounts in QuickBooks, whether you have separate accounts for your personal and business finances or several. This makes it possible to see all your financial transactions in one place. Can I remove or unlink a bank account from QuickBooks?
Yes, you can unlink or remove a bank account from QuickBooks. You can manage your connected accounts in QuickBooks' banking section and decide whether to disconnect or eliminate any unnecessary bank accounts. Before closing any accounts, reviewing and backing up your financial data to prevent data loss is advised. Will linking my bank account affect the security or login information for my online banking?
Your online banking login information and your bank account's security are not affected by linking your bank account to QuickBooks. Your financial data is safeguarded by QuickBooks using industry-standard security methods, and secure connections are used to maintain the privacy of your data. If I upgrade to a new version of QuickBooks, do I have to link my bank account again?
You should re-link your bank account if you upgrade to a new version of QuickBooks. Although the procedure is normally simple, you can use the identical methods from the previous version to link to your bank account in the new one. What should I do if the correct account type doesn't appear in the drop-down?
To add a new bank or credit card account to your chart of accounts, follow these steps:For new bank accounts:
Click on "Add New."
In the Account Type drop-down, select "Cash and Cash Equivalents."
Choose either "Savings" or "Bank" in the detail type.
Give the account a name, then click "Save and Close."
For new credit card accounts:
Click on "Add New."
From the Account Type drop-down, choose "Credit Card" account type.
Name the account, then click "Save and Close."
Step 4: Direct Connection of Feeds
Related Post: Fix QuickBooks Banking Error 9999 – Online Error Code
QuickBooks Unable to Connect with HSBC Bank
Divya Sharma
Divya Sharma is a skilled content writer with a notable proficiency in the Spanish language. Demonstrating her expertise in SEO, content creation, and language skills, she has made significant contributions across diverse industries, including travel and fintech. Her passion for language and culture drives her commitment to providing accurate and captivating translations that deeply resonate with the target audience. Divya derives immense pleasure from immersing herself in the world of books and movies, as they offer a gateway to explore diverse realms and perspectives.