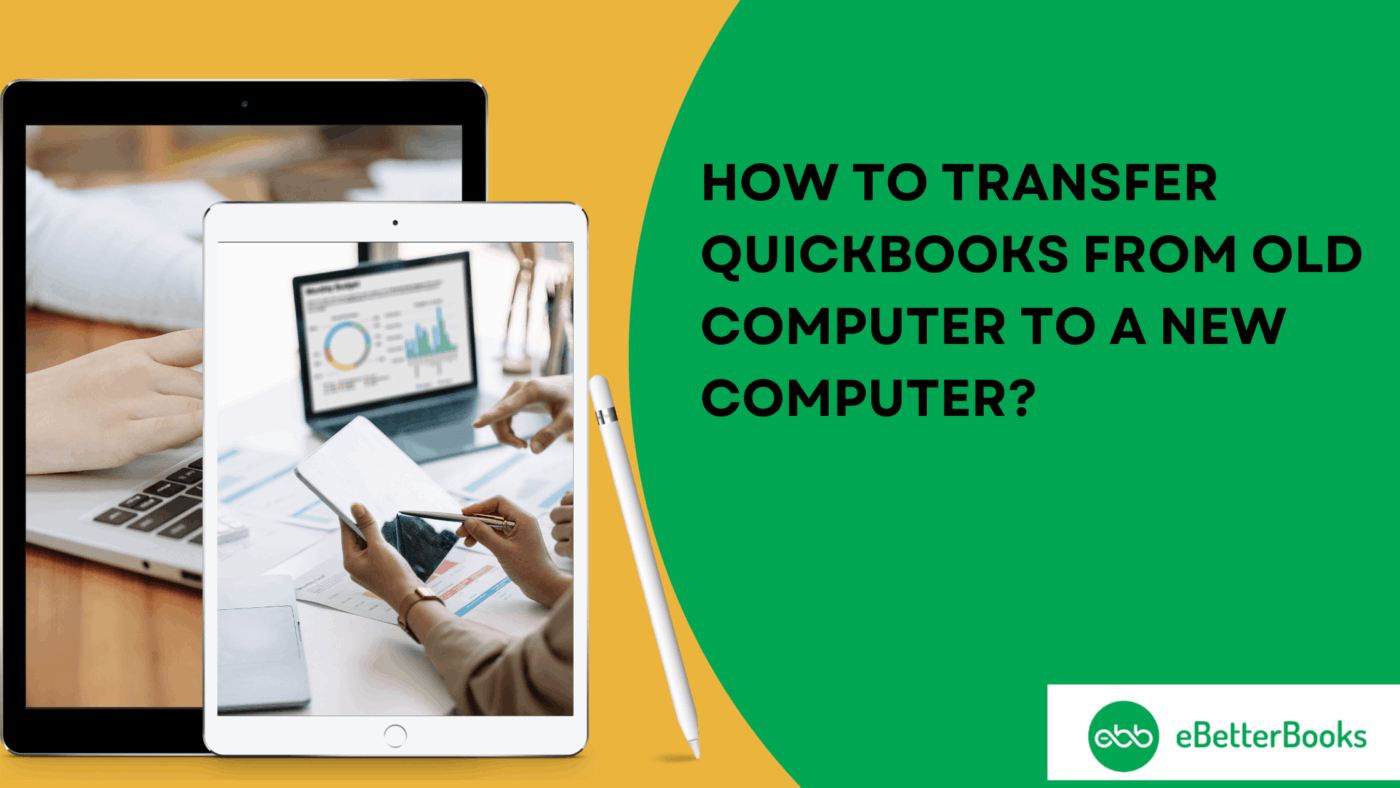 How to Transfer QuickBooks From Old Computer to a New Computer?
Do you need a simple and hassle-free solution to transfer your QuickBooks file to a new computer? In that case, you are in the right place. You should consider relocating your QuickBooks company file for several reasons, including performance concerns with your existing machine or switching to a new desktop. This article will walk you through a short and simple process that guarantees a problem-free transfer of your company file to a new computer.
By following our step-by-step instructions, you may get comprehensive advice on correctly moving your data from the old QuickBooks to the new one. You can confidently transfer QuickBooks file and carry on with your financial activities on your new computer by following the methods provided in this article. Bid adieu to the frustration of manually entering data or beginning a fresh file from scratch. Instead, seamlessly transfer your existing data to save time and effort.
Join us as we guide you through the procedure and address the frequently asked topic of how to move data from an older version of QuickBooks to a newer one. Let's ensure your move to a new computer goes well and that your QuickBooks data isn't lost while your business continues to operate normally.
What does it mean to transfer QuickBooks file to a new computer?
Your QuickBooks files must be moved from one computer to another to transfer QuickBooks file to a new computer. Depending on the specifics of each case, many explanations may be given for this move. To avoid any data loss, it is essential to guarantee a smooth workflow. Certain measures must be taken for each process, whether you need to transfer files between computers on the same network or to an individual computer. You may need to relocate your QuickBooks company files for several reasons, including problem-solving or moving your accounting data to a new computer. Whatever the cause, you must look for guidelines on moving a QuickBooks company file and completing the process.
Steps to Take Before Transferring the QuickBooks Company File
Before transferring your data to a new computer, following a few basic rules is important. Before beginning the company file migration, please make sure that you have met the following requirements:
Ensure that the version of QuickBooks Desktop installed on your new computer matches the version installed on your previous computer.
Transfer your QuickBooks software's license and registration data from your old computer to the new one.
Change the File's name on the old device to prevent accidentally transferring the incorrect File.
If you use QuickBooks for payroll, update the payroll tax tables before moving QuickBooks to the new computer.
Make it a top priority to back up your QuickBooks company file and any other important QuickBooks data.
Steps to Transfer Your Company File to Another Computer:
Follow the steps for a smooth and successful transition when you transfer QuickBooks file to a new computer:
Step 1: Create a backup on the old computer and restore it on the new one is step one:
First, install QuickBooks Desktop on the new computer. Your product license won't be affected by this installation process.
If QuickBooks is currently set to multi-user mode, open it on the new computer and change it to single-user mode.
Make a copy of your QuickBooks company file.
To prevent overwriting existing files and simplify identification, the backup file must have a distinct name.
You should save the backup file to a simple location, like an external hard disk or USB storage device. You can also share the File with the new computer if connected to the same network.
Transfer the company's data backup to the external storage device.
Plug the external storage device into the new computer after safely unplugging it from the old one.
Open QuickBooks on the new system and use the File menu's Open or Restore Company option to restore the backup.
After learning to copy a QuickBooks company file to another computer, you'll need to get the most recent tax tables if you use payroll.
Step 2: Transfer all QuickBooks data to a different computer:
Press Ctrl + 1 on your keyboard to start the QuickBooks Desktop application on your current computer.
Navigate to the QuickBooks data folder location using Windows File Manager or Explorer.
Click the QuickBooks folder to select it all, then use the keyboard shortcuts Ctrl + C to copy it.
Paste the QuickBooks folder onto an external drive, such as a USB drive connected to your present computer.
Connect the external drive to the new system after disconnecting it from the old one.
On the new computer, launch Windows File Manager and copy the QuickBooks folder from the external drive.
Copy the QuickBooks folder and paste it on the new computer's desktop.
Launch the QuickBooks program on the new computer and select an existing company file to open.
To open a company file, go to the new QuickBooks folder on your desktop and choose it.
Step 3: Restore QuickBooks Data using IDP:
Check whether your Intuit Data Protect package supports the backup of your entire PC. If it does, you can use this feature to migrate your data smoothly.
Make a backup of your QuickBooks data on your outdated PC using QuickBooks' backup feature. This will create a backup file comprising all of your business's files, transactions, and settings.
Log into your Intuit Data Protect (IDP) account on your old computer and transfer the backup file to the IDP's online backup storage. As a result, your data will be securely stored on the cloud.
Use the same login information from your previous computer to access your Intuit Data Protect (IDP) account on the new one. To restore the backup file to the new computer, find it in your uploaded backup folder.
You must know the files transferred and recovered through IDP when learning how to transfer a company file to a QuickBooks desktop.
There are many different kinds of files connected to your QuickBooks data under the QB data folder. Here are a few examples:
Business Planner (.bpw) files (in QuickBooks Desktop Premier and Enterprise only): files are used to establish business plans inside the QuickBooks Desktop Premier and Enterprise editions.
Transaction log (.tlg) files: QuickBooks creates transaction log files to track the modifications made to your company file. These files are employed in the process of data recovery.
Network data files (.nd): These are produced using QuickBooks in a multi-user setting. For other users who access the File on the network, these files contain information on the location and configuration of the corporate File.
Logos and image files: QuickBooks enables you to add logos and images to forms and reports. You can keep these files in the QB data folder for convenient access and incorporation into your business's paperwork.
Loan Manager (.lmr) files: It may produce if you use QuickBooks' Loan Manager tool.lmr files that include data on loans and loan payments.
Cash Flow Projector (.cfp) files: You can generate projected cash flow statements using QuickBooks's Cash Flow Projector function. The information and settings for these projections are kept in the related.cfp files.
Other files and add-ons may be discovered in numerous locations within QuickBooks, in addition to those found in the QB data folder. Here are a few illustrations:
QuickBooks Statement Writer
QuickBooks letters and templates
Fixed Asset Manager
Spell checker
Printer settings
Step 4: Change the location of the company file on the same computer:
Start by creating a backup of your company file by doing as follows:
Select File from the QuickBooks Desktop menu. Go into single-user mode.
Then, select Back Up Company from the same tab.
Select Create Local Backup after that.
Select Local Backup in the following box, then click Next.
When the Local Backup-only section displays, search for a specific location to save the backup file. Select OK.
Hit Save it Now and Next. You may also schedule automatic backups by choosing Save it Now and scheduling future backups.
When the backup file is finished being produced, save it with a distinct name for easy identification and to avoid unintentional overwriting.
The backup file should be saved in an accessible area as the next step in learning how to transfer data between QuickBooks. If your computer is connected to a network, you should keep the File locally rather than on the network.
To restore the backup to the new folder or location with a distinctive filename, proceed as before.
you also need to use the new File as the primary company file after restoring the backup. It is a good idea to rename the previous company file and add .old to its name to secure your data and recognize when it is no longer necessary.
Learn how to transfer custom templates and non-backing forms
There must be a data backup from add-ons like Loan Manager by QuickBooks. Therefore, you must learn to independently transfer a QuickBooks company file to another computer if this information is required. The following are the steps:
Open the Start menu on the computer where you restored the backup file.
Open File Explorer now, and look for the folder "Restored_[Your CompanyName]_Files."
Find the files that you want to transfer to the folder. Now, copy and paste the files to the places noted in the following table:
Step 5- Transfer QuickBooks from one computer to another using Migrator Tool
Try the Migrator Tool if you need help understanding how to transfer QuickBooks file to a new computer. Everything will go smoothly if you utilize QuickBooks Desktop in single-user mode and not via a network. The Migrator Tool can assist you in moving QB Desktop and up to three other company files to a new computer when you utilize the US version of QuickBooks Desktop 2018 or newer as a single user.
Manual Procedure to Transfer QuickBooks Desktop from Old Computer to a New Computer
How does the Migrator Tool work?
Connect the USB drive to the outdated Migrator machine.
Copy your QuickBooks data right away, and then create a one-time password.
After that, connect the same USB to the Launcher, a new computer.
Once you enter the one-time password, QuickBooks will download, install, and activate.
Internet Connection: The new computer should have a working internet connection.
Sufficient Pen Drive Space: Make sure the pen drive you're using has a good amount of empty space. Usually, you'll need around 150-200 MB of free space.
The migration tool copies all the necessary data to run QuickBooks Desktop, including:
Version and other QB Desktop details
Recent company files (up to 3) along with supporting documents
All other associated files, custom templates, and forms
QuickBooks templates and letters
Local attachments
Memorized reports
Spell checker settings
Printer settings
Financial Statement Designer data
Layout designer settings
Business planner files (.bpw)
Cash flow data
Statement writer information
QuickBooks Loan Manager data (.lmr)
Advanced reports (for QuickBooks Enterprise)
This ensures that your QuickBooks experience remains consistent on the new computer.
What isn't copied using the migration tool when transferring QuickBooks from the old to the new computer?
Multi-user setup configuration.
Payroll or payment services setup in QuickBooks, as per Intuit's data protection policy.
Intuit Data Protect should be uninstalled from the old PC and reinstalled on the new PC.
Company files that haven't been recently opened won't be copied.
Manual backups created by the user won't be copied.
Requirements for the Migration Tool to Transfer QuickBooks to a New Computer
Below given are the steps to use migratory tool:
On the Old Computer:
Open QuickBooks and access the 'File' menu from the menu bar.
Choose 'Utilities'.
Locate the option 'Move QuickBooks to Another Computer' and click on it.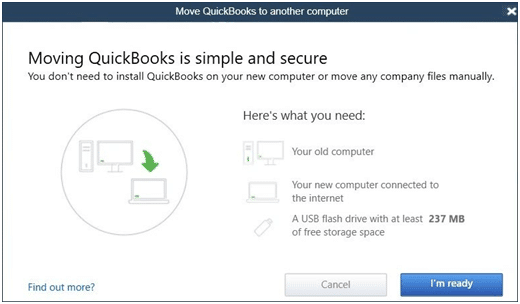 After that, click on 'I am Ready' and create a one-time password.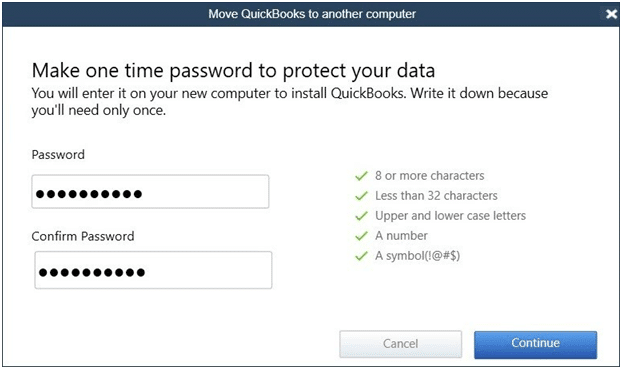 Select 'pen drive' to use.
Please wait while the files are being copied.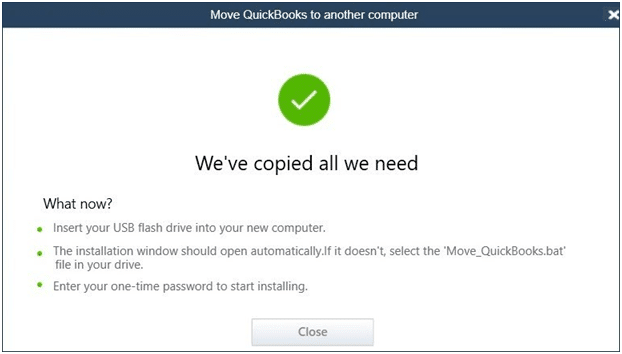 On the New Computer:
Insert the pen drive.
Locate the 'Move_QuickBooks.bat' file on the pen drive and run it.
Enter the password you created earlier.
Click on 'Let's go'.
The migrator tool will now perform its tasks."
Data that gets copied using the migration tool when moving QuickBooks to a new PC:
Users can manually transfer QuickBooks from an old computer to a new computer. Follow these below steps:
Step : Create a Backup of Company Files and QuickBooks License
The first step is to a backup of your company files and QuickBooks product license on an external storage device.
Next, install the latest or current version of QuickBooks on the new computer.
Download and restore the backup file to the new system.
Once the backup is restored, uninstall the QuickBooks software from the old computer.
Step : Restore the Backup of Company Files on the New System
Install QuickBooks on the new computer.
Insert the storage device containing the backup.
Open QuickBooks and go to the 'File' menu.
Choose 'Open and Restore Company.'
Click on 'Restore a Backup Copy' and then click 'Next.'
Select the 'Local Backup' option and navigate to the backup file created on the old system.
Choose a location on the new system to save the restored backup and click 'Save.'
These steps will help you manually transfer QuickBooks Desktop from the old computer to the new one.
The information provided here satisfactorily answers your question about how to transfer QuickBooks file to a new computer.
FAQs
Can I transfer QuickBooks from one computer to another?
To transfer QuickBooks from one computer to another, follow these steps:
Open QuickBooks and navigate to the File menu.
Select Utilities and then choose Move QuickBooks to another computer.
Click on "I'm Ready" and create a one-time password.
Follow the instructions to select a USB flash drive for the transfer.
Wait for the files to be copied to the flash drive.
Can I install QuickBooks on multiple computers?
Yes, with a standard QuickBooks Pro license, you can install the product on up to three computers. QuickBooks Pro also includes a multi-company feature. However, it's important to note that each user will require their own license. If no one will be accessing QuickBooks on the server itself, the server does not count as a user. How do I activate QuickBooks on a new computer?
To activate QuickBooks on a new computer, follow these steps:
Locate and click on the downloaded QuickBooks executable file (QuickBooks.exe).
Follow the onscreen instructions and accept the license agreement by clicking Next.
Enter the product and license number, then click Next.
Open QuickBooks and activate it by selecting "Activate QuickBooks Desktop" from the Help menu.
Follow the onscreen steps to verify your information and complete the activation process.
Related Posts:
How to Migrate Data from FreshBooks to QuickBooks?
Fix QuickBooks Error 80070057 (The Parameter is incorrect)
How to Troubleshoot QuickBooks Error 100?
Divya Sharma
Divya Sharma is a skilled content writer with a notable proficiency in the Spanish language. Demonstrating her expertise in SEO, content creation, and language skills, she has made significant contributions across diverse industries, including travel and fintech. Her passion for language and culture drives her commitment to providing accurate and captivating translations that deeply resonate with the target audience. Divya derives immense pleasure from immersing herself in the world of books and movies, as they offer a gateway to explore diverse realms and perspectives.