AccountEdge to QuickBooks Conversion
Switch from AccountEdge to QuickBooks (Desktop or Online) effortlessly with eBetterBooks Data Conversion Services. Get a dedicated expert with industry knowledge, training services, regular follow-ups and much more.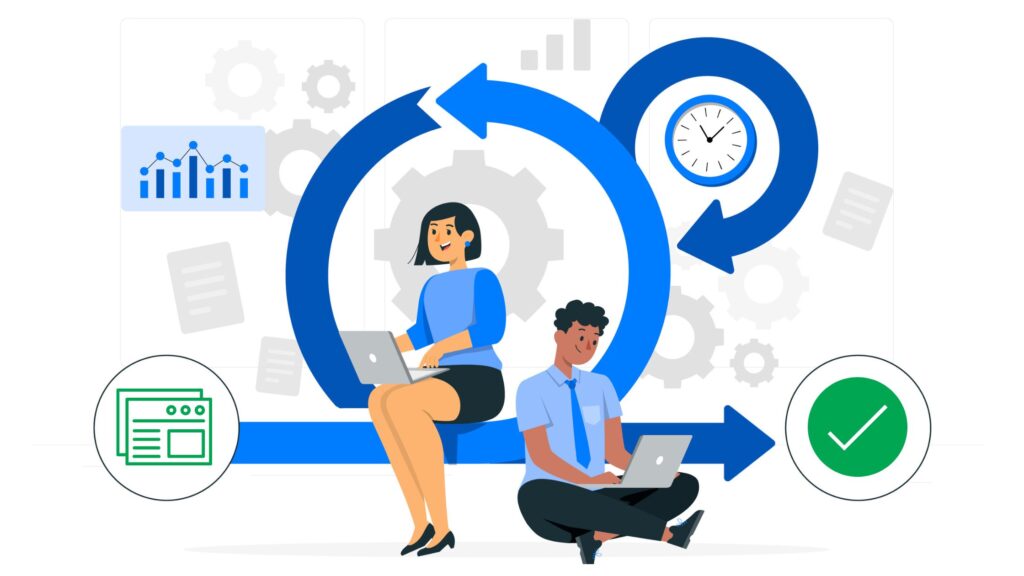 eBetterBooks Data Conversion services migrates your financial data from AccountEdge to QuickBooka. Also migrate your data within different versions of QuickBooks Premier/ Pro/ Enterprise.
If your current accounting system is not compatible with QuickBooks, no worries! Connect with our expert team at: 1-802-778-9005
Dedicated QuickBooks data conversion professionals who will understand your problem, identify which QuickBooks Products you want.

Experts will collaborate with you to create a phased conversion plan ensuring data security and privacy.

We hire full-time programmers to supervise exporting, cleaning, and importing your historical data.




After the conversion, your team will get proper training on the new system.

Get help framing-up effective procedures that allow you to make the most of your new system.



Why Convert Accountedge to QuickBooks?
While converting from Accountedge to QuickBooks, there are some differences the users will notice, such as financial management, fixed asset management, and workflow management. QuickBooks is a full-fledged accounting and bookkeeping software that offers wide integration with other software and multi-user mode features from invoicing to reporting and much more.
Checklist: Switching from AccountEdge to QuickBooks
Analyze and match your needs with QuickBooks Online features. 
QB Online version has limited features, while  the software has some advanced features like Complex Sales Ordering, Batch Transaction Processing, Advanced Inventory, or the Average Cost for Inventory etc.
Follow strict character limitations in QuickBooks Online. So in case your files don't adhere to the QuickBooks Online naming standards, immediately rename them.
Use  QuickBooks Desktop version 2016 or later before converting your company file. Download the most recent version and update your information for previous versions.
However, if you don't know which QuickBooks Desktop version you are currently working on, open QB Desktop and hold down F2 or Ctrl + 1 keys on your keyboard. You will be directed to the Product Information Window. Herein, select Update Now from the Help menu to update QuickBooks Desktop to the newest version.
Verify that you run your payroll data and reports in advance, as the payroll data may or may not convert automatically.
Once you create a QB Online account, then from the date of creation of the account, you have 60 days to avail of "database conversion services" to convert your files from your desktop. In case you won't be able to convert within the first 60 days, you'll have to close the QB Online account you made and create a new one.
You must fix any errors in your QB Desktop inventory before proceeding further with QuickBooks data conversion. It will prevent you from data loss.
AccountEdge and QBO each have their own set of accounts. When moving to QBO, you'll need to make a new set of accounts that matches your old ones from AccountEdge.
 Switching over customers and vendors is usually simple. All you have to do is ensure that the contact details match in both programs.
Benefits of Converting From AccountEdge to QuickBooks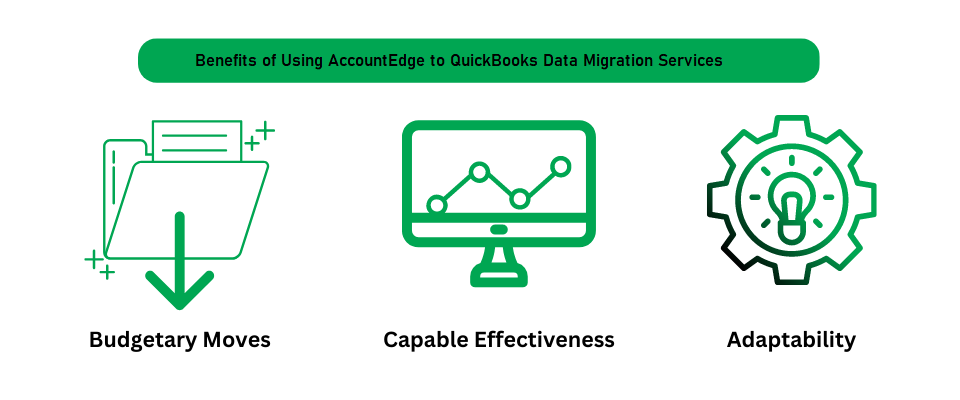 System Requirements for a Successful Data Migration
Minimum System Requirements for Migrating AccountEdge data to QuickBooks: AccountEdge to QuickBooks Data Conversion
How It Works? - AccountEdge to QuickBooks Conversion Servicesc
The process is very simple. Just send us a backup of your AccountEdge data file, and we'll handle the conversion to the necessary QuickBooks version. Once it's done, we'll send you the comparative reports for your review.

There you have it! You're now ready to make the most of your QuickBooks account with all your data seamlessly converted.

Rest assured, we stand by the quality of our conversion service!

Why go through the hassle of manual conversion when you can opt for our easy and cost-effective solution? Our team of professional accountants are here to assist you every step of the way.
With AccountEdge to Quickbooks Data Migration: Do More!
AccountEdge to QuickBooks Data Conversion allows you to easily create and customize invoices and other sales documents.
Connect other users to the QuickBooks Online account and give them controlled access.
It is compatible with Mac and Windows environments, making it easy-to-use software.
You can start working right away with QB Data Conversion; it does not have a steep learning curve.
Transform your AccountEdge lists and balances, along with outstanding invoices and bills, into QuickBooks format effortlessly.​
We'll transfer all your important lists, including customers, vendors, employees, accounts, items, shipping methods, customer messages, payment terms, categories, and jobs.

We won't forget your inventory quantities and values; those will be transferred too in QuickBooks format.

Outstanding invoices, unpaid bills, and unused credits won't be left behind either, ensuring you won't miss receiving a payment or overlook a bill.

We also take care of non-posting transactions like estimates, purchase orders, and sales orders.

And to maintain consistency, we create journal entries for each fiscal year end to keep your balance sheet and profit and loss statement in QuickBooks the same as they were in your AccountEdge file.
When you request our lists and balances conversion service, we'll set up a file upload account for you automatically. You can then use this account to securely upload your file to our server. For a quicker upload experience, we suggest compressing your file using WinZip or WinRar, as smaller files upload faster.
The conversion process typically takes between one to two days, with the exact duration depending on the size of your file. We'll convert your data and send it back to you using the same upload account.
Migrate AccountEdge to QuickBooks: Convert your complete transaction history seamlessly
In addition to the lists and balances conversion mentioned earlier, we also offer the option to transfer your full transaction history, extending back to the last purge date:
We'll migrate all your lists as mentioned below.

Inventory quantities and values will be transferred.

Your complete transaction history, stretching back to the last purge date, will be moved over, along with as much transaction data as possible from before that date.

We'll adjust account balances in AccountEdge before the last purge date to ensure accuracy.

If needed, we can also include other data such as custom fields and custom lists.
For a no-obligation quote on a full history or custom conversion, please use our free evaluation form to submit your file for review.
Lists and Transactions We Transfer
| | |
| --- | --- |
| | |
| | |
| | |
| | |
| | |
| | |
| | |
| | |
| | Paychecks (as Journal Entries) |
| | |
| | |
| | |
| | |
| | |
| | |
Transfer AccountEdge data to QuickBooks Online and Desktop using various software versions.
Software Version Can be Converted to =>
| | |
| --- | --- |
| AccountEdge & AccountEdge Pluse 2019 -2021 > | Complete to QuickBooks Online/Desktop |
| AccountEdge & AccountEdge Pluse 2018 >> | Complete to QuickBooks Online/Desktop |
| AccountEdge & AccountEdge Pluse 2017 >> | |
| AccountEdge & AccountEdge Pluse 2016 >> | Complete to QuickBooks Online/Desktop |
| AccountEdge & AccountEdge Pluse 2015 >> | |
| AccountEdge & AccountEdge Pluse 2014 >> | |
| AccountEdge & AccountEdge Pluse 2013 >> | |
| AccountEdge & AccountEdge Pluse 2012 >> | |
| AccountEdge & AccountEdge Pluse 2011 >> | |
| AccountEdge & AccountEdge Pluse 2010 >> | |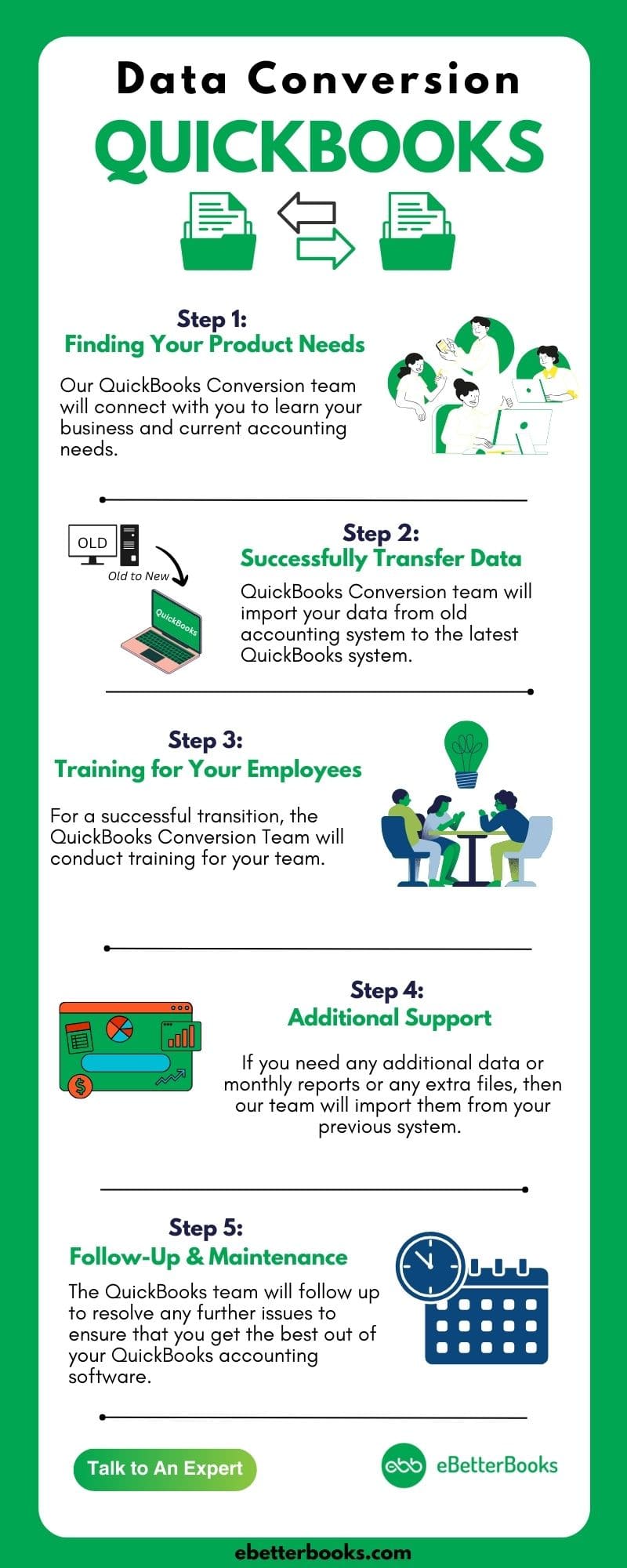 QuickBooks Data Conversion from Various Accounting Software​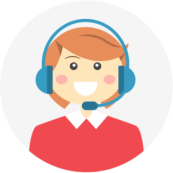 AccountEdge to QuickBooks Data Conversion services must be flawless and exceptionally secure to ensure a trouble-free experience for users. If you encounter any difficulties during this process, get in touch with the QB experts at 1-802-778-9005 for prompt assistance and resolution.
eBetterBooks for Faster AccountEdge to QuickBooks Data Migration
You can speed up the time for AccountEdge to QuickBooks Data conversion, reduce time spent working on two systems at once.
Get you staff trained, including the leadership. Know how to use the 150+ out-of-the-box reports and generate custom reports.
We have an ongoing support team to troubleshoot issues and confirm your business growth with QuickBooks.
Keep your Historical Data
Comfortably and accurately migrate your historical data to the QuickBooks system.
Extend and Customize QuickBooks
We employ experienced programmers who can leverage the QuickBooks API to build modules and add-ons.
Better System Configuration
We ensure that your system is configured properly, all tables and databases are working, and your bank accounts are linked with one another.
QuickBooks or ERP, get Customized Solution from eBetterBooks
Experts at eBetterBooks specialize in tailoring QuickBooks and ERP systems to meet the specific requirements of each industry, whether you own a small retail store, manage an international manufacturing business, a residential construction company, a law firm, etc. Our several years of experience helps to adapt the software to your needs. We provide the assistance in following sectors:
✔️Accounting & Finance
✔️Agriculture
✔️Advertising & Marketing
✔️Biotech & Pharmaceuticals
✔️Computer Software
✔️Construction & Contracting
✔️Computer / IT Services
✔️Distribution & Wholesale
✔️Education
✔️eCommerce
✔️Engineering
✔️Energy / Utilities
✔️Government
✔️General Business
✔️Healthcare / Medical
✔️Health & Beauty
✔️Insurance
✔️Logistics / Transportation
✔️Legal
✔️Media / Publishing
✔️Manufacturing
✔️Nonprofit
✔️Professional Services
✔️Restaurant / Hospitality
✔️Retail
✔️Real Estate
✔️Telecommunications
Frequently Asked Questions (FAQs)
If you are looking for affordable accounting services in USA, just get in touch with us at +1-802-778-9005 or drop us an email at [email protected] to connect with our accounting experts.