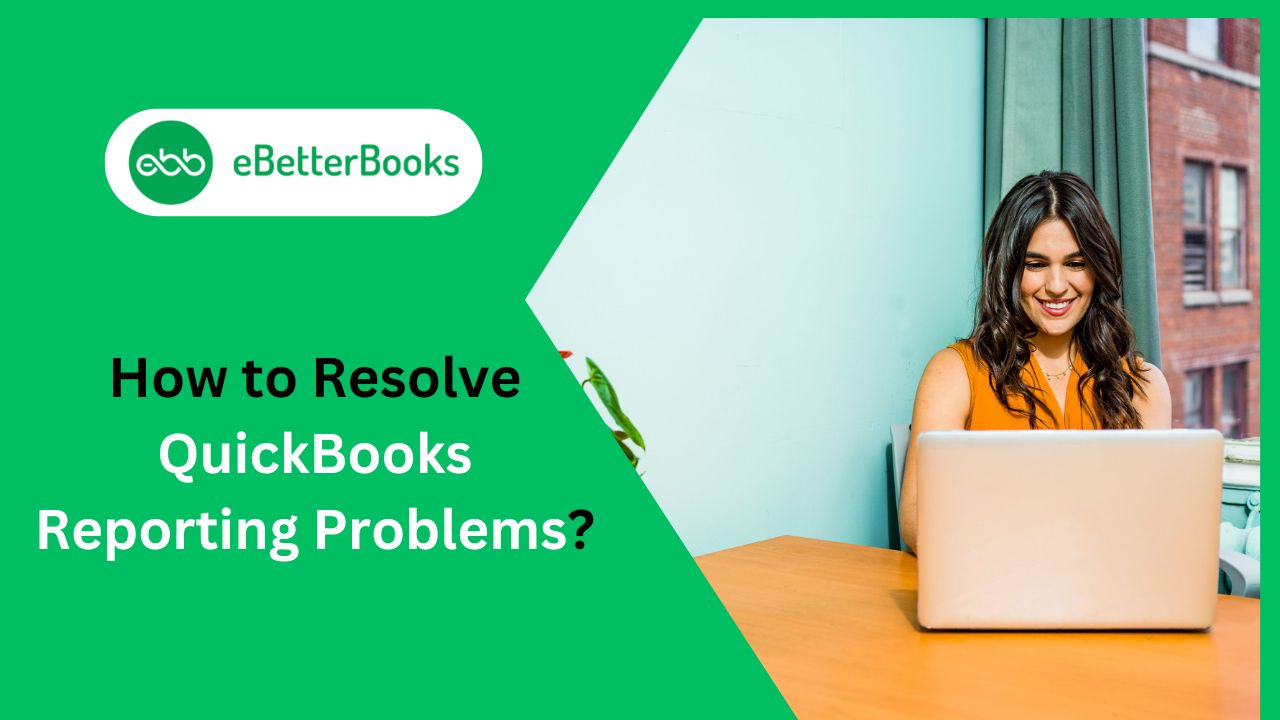 How to Resolve QuickBooks Reporting Problems?
No matter the size of the company, QuickBooks has high demand. It is an important software for increasing profitability and supporting strategic choice-making. The software's design is complex, making it difficult to maintain optimal performance, particularly its reporting features.
Problems with QuickBooks Reporting may prevent this effectiveness. Optimization becomes crucial, yet for occasional users, troubleshooting challenges might occur. Reports play many different functions and are an essential part.
Precise resolution measures are required if this functionality fails. This post offers thorough insights to go further into QuickBooks reporting complexities.
Error Causes
Solutions
Inaccurate results and difficulty making decisions might result from infrequent report creation.
Frequently produce reports while improving and recalling them to provide accurate and timely insights.
The efficiency of reporting might need to improve while managing many reports.
Use QuickBooks multiple
ocessing features to provide streamlined and customized report printing.
Time and resources can be wasted by producing irrelevant or valuable reports.
Before creating reports, carefully analyze and evaluate the data to ensure it is accurate and helpful.
It might not be easy to share reports safely while maintaining confidentiality.
Use QuickBooks' encryption capability to send reports securely through email while limiting access to authorized users.
Ineffective remembering and optimization processes might hamper the software's ability to generate reports.
To increase the effectiveness of the reporting provided by the program, frequently memorize and optimize reports, getting help when necessary.
What Causes QuickBooks Reporting Problems?
For the QuickBooks Software to support accurate and trustworthy reporting, the following reasons must be recognized and addressed:
Data Inaccuracy: Input inaccurate or mistaken data can provide deceptive reports, damaging the generated report's overall accuracy and dependability.
Software restrictions: QuickBooks may have built-in restrictions on reporting features or capabilities, limiting the degree of sophistication or the kinds of reports that may be produced.
Improper Customization: Reports that must be properly tailored to meet particular company needs may contain too much or too little information, reducing their usefulness or significance.
Outdated Software: Using an older version of QuickBooks might cause compatibility problems that make it difficult to generate and read reports without difficulty.
Inadequate Data Entry Standards: Lack of Standardized Data Entry Procedures can lead to inconsistent or untidy data, adversely affecting the quality and usability of reports.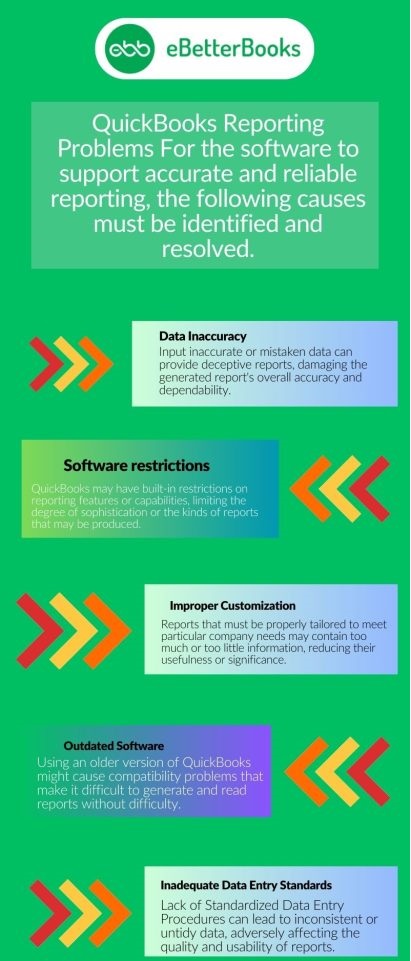 Common Challenges in QuickBooks Reporting
Popular accounting program QuickBooks provides comprehensive reporting features essential for making wise company choices. However, it has its share of difficulties, particularly regarding reporting, like any software. Let's see the common challenges users face when generating reports using QuickBooks.
Inaccurate Outcomes Due to Infrequent Reporting
In QuickBooks, regular report generation is essential. Decision-making may be impacted by inconsistent updates, which can skew results. An organization's financial path may be guided by timely, reliable reports, which ensure that insights are applicable and support strategic decisions.
Difficulty in Efficient Report Management
Operations must be managed effectively to be simplified. Productivity needs to be improved because of difficulties accessing and arranging reports. QuickBooks users require seamless categorization and retrieval tools to quickly evaluate data, enable educated decisions, and ultimately push corporate growth through informed strategies.
Visit here: Financial Reporting Services
Lack of Useful and Relevant Reports
Poor or unnecessary reports make it difficult to make well-informed decisions. QuickBooks users could struggle to find custom reports that suit their company's requirements perfectly. Relevant reports provide practical insights that are in line with specific objectives.
Concerns Regarding Report Security and Confidentiality
The security of reports must be guaranteed. Inadequate security measures put critical corporate data at risk of illegal access. Users of QuickBooks must set up tight security procedures, limiting access to only authorized individuals. Maintaining a report confidentially ensures organizational integrity and adherence to privacy requirements.
Inefficient Handling of Report Recollection
Using QuickBooks' report recall feature improperly might lead to bottlenecks. Making judgments based on data as quickly as possible requires streamlining the process of gaining access to previous reports. Effective report retrieval guarantees timely insights, allowing firms to react and strategize based on previous trends and financial patterns, thus improving operational efficiency.
Tips to Resolve QuickBooks Reporting Problems
When a reporting issue arises, you receive findings for a predetermined date range, which may be today, tomorrow, or a recent pay period.
When that happens, you can use the advice shown below to resolve this issue:
Regularly Generate Reports
You must produce many reports weekly if you intend to utilize the QuickBooks program and want to produce reliable reports. The use of this technique will ensure accurate outcomes. Additionally, the Intuit program QuickBooks offers a function that streamlines reporting when many reports are created simultaneously.
A function called Process Multiple Reports enables a user to print the reports following their needs. This function enables you to direct the printing of the reports for a particular day or time frame.
Here is how it works:
Access the Memorized Report List by going to Reports > Memorized Reports.
Choose a different group from the pop-up list.
Give your reports a name after that, and then click OK.
Make Sure the Reports are Useful
The user must take great care to confirm that the information disclosed and inputs provided are accurate before generating the reports. Checking the report's usefulness is also necessary. Many times, reports are rejected because of their usefulness. This will help you in avoiding undesirable outcomes and undoubtedly improve the software's effectiveness.
See also: QuickBooks Time Login Issue
A professional or businessperson knows that sharing reports with others should be done securely. Due to the reports' high level of confidentiality, this is done. A person needs authority to be permitted to access the reports. You'll be happy to learn that QuickBooks has a function that enables you to email encrypted reports to other people.
It is required to memorize the reports in addition to producing a lot of reports. To increase the effectiveness of the software's reporting capability, you should also optimize the reports regularly. Contact our staff at +1-802-778-9005 if you run into any issues doing that, and we'll provide you with a fantastic, efficient answer.
Best Practices for Effective Reporting in QuickBooks
Regular Monitoring and Generation:
Maintain current insights into financial data and corporate performance by consistently generating reports, enabling timely and informed decision-making based on the accurate and up-to-date information.
Customization:
Customize reports to align with specific company requirements, spotlight key information essential for well-informed decision-making, and enhance the reporting process's value and relevance.
Accuracy and Verification:
To maintain the accuracy and integrity of reporting, give comprehensive validation of all inputs and data a top priority. Double-checking meticulously allows for detecting and correcting potential mistakes, resulting in the accurate and reliable presentation of the material.
This careful approach is essential in preventing false information that can negatively affect decision-makers and supporting intelligent and sensible decisions inside the firm.
Regular Review and Analysis:
Utilize routine reviews and thoughtful examination of produced reports to find relevant information. This method reveals patterns, chances, and prospective locations for improvement and growth. You may make well-informed decisions by frequently reviewing the reports to obtain a deeper grasp of the business environment. It encourages a proactive mindset, ensuring the company continuously changes and improves strategies, eventually resulting in development and success.
Clear Communication and Distribution:
Clearly and relevantly communicate insights gathered from reports to stakeholders. Distribution of reports on time and according to plan guarantees that everyone involved is aware immediately and has time to act on the advice given. Collaboration is improved, and informed decision-making is facilitated throughout the company with effective communication of results.
Read this blog: QuickBooks Online Login Problems On Google Chrome
In conclusion, QuickBooks is an important tool for companies of all sizes, providing comprehensive reporting features essential for successful financial decision-making. However, the best use of it might need to be improved by issues like infrequent report development, ineffective administration, and security and relevance worries.
Regular report development, efficient report administration, customization, security precautions, and correct handling of report recall are essential for overcoming these obstacles. Businesses can unlock the full potential of QuickBooks by following best practices, maximizing report usage, and assuring accurate insights, well-informed plans, and, ultimately, a route to long-term success and prosperity.
Hopefully, the above-given information is useful for you. But if you still facing any kind of issues with your software and need professional assistance, regarding accounting, bookkeeping & accounting software-related issues then feel free to get in touch with us at +1-802-778-9005, or you can mail to us at: [email protected]
Frequently Asked Questions
What are the Two Primary Reports of QuickBooks?
In QuickBooks, summary and detail reports are the two basic types of reports. In summary reports, you may get summary data on clients, sales, spending, and more. The detailed reports, however, provide comprehensive study data.
What Does QuickBooks Reporting Mean?
In QuickBooks, a report is a collection of commands the application follows to show data from your company file. The QuickBooks Reports menu provides access to all accessible reports. This article is one in a series that introduces the fundamentals of QuickBooks Desktop reports 01-Dec-2022.
How Can I Handle Issues with the Confidentiality and Security of Reports in QuickBooks?
Implement stringent security measures, allowing only authorized users to access reports in QuickBooks to protect their security and confidentiality. Additionally, QuickBooks can securely transmit encrypted reports, protecting important company information from illegal access and upholding privacy standards, ensuring organizational integrity.
Visit here: QuickBooks Export to Excel Issues