The QuickBooks Error 404 is a runtime error that may occur due to various reasons. Hence, in this article, we will learn what QuickBooks Error Code 404 is and how to fix this error.
Intuit released QuickBooks accounting software that could bridge the gap between accounting and business owners. Therefore, this software is popular among all SMEs for their accounting needs. However, it has lots of bugs, also known as QuickBooks Error. This article is on one such error: QuickBooks Update Error 404.
What is QuickBooks Error Code 404?
QuickBooks Error Code 404 is related to the inaccessibility of the network. Therefore, the software cannot connect with the Intuit server. However, it may also occur when the software isn't properly installed. Hence, we have given a detailed explanation of QuickBooks Update Error 404 below. Similar errors are listed below for your references.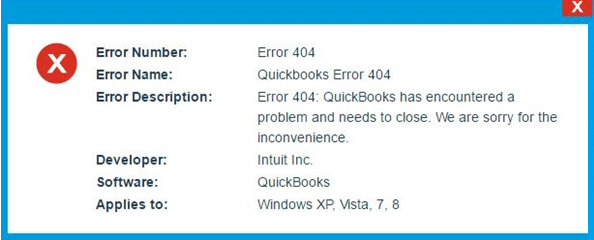 Service messages error# 404
Intuit Error 404
QuickBooks Error 404 pages not found
QuickBooks update error 404
QB Runtime Errors 404
What are the Signs of QuickBooks Error 404?
Users will find the following symptoms indicating that they are facing QuickBooks Error Code 404.
The error message pops on the screen and crashes the active window.
Also, Windows OS responds slowly to inputs.
The system responds slowly, leading to QuickBooks Update Error 404.
What are the Main Reasons of QuickBooks Error Code 404?
QuickBooks Error 404 occurs when QuickBooks isn't installed properly, or when a change or update messes up some QuickBooks files.
Here are some common causes of QuickBooks Error 404:
Broken Link or Page: If the web page or link you are trying to access within QuickBooks is no longer available or has been moved, you may encounter Error 404.
Internet Connectivity Issues: Poor or intermittent internet connectivity can prevent QuickBooks from establishing a connection with the Intuit servers, resulting in a 404 error.
Deleted QuickBooks Files: If essential QuickBooks files have been accidentally or intentionally deleted, it can lead to incomplete or incorrect web page retrieval, causing Error 404.
Corrupted Windows Registry: Issues within the Windows registry related to QuickBooks or its components can lead to error messages, including Error 404.
Misconfigured Web Browsers: Sometimes, web browser settings or configurations can prevent the proper loading of web pages within QuickBooks, resulting in a 404 error.
Firewall or Security Software: Overly strict firewall or security software settings can block QuickBooks from establishing a connection with the Intuit servers, causing the error.
Multiple Instances of QuickBooks: Running multiple instances of QuickBooks simultaneously can cause conflicts in accessing the required web pages, leading to Error 404.
Incomplete QuickBooks Installation: If QuickBooks was not installed correctly or some installation files are missing, it can lead to various errors, including Error 404.
Software Conflicts: Conflicts with other software applications running on your system can interfere with QuickBooks' ability to establish a connection with the necessary servers.
Server Downtime: Sometimes, the Intuit servers might be temporarily down for maintenance or other reasons, leading to Error 404 when QuickBooks attempts to connect.
How to Fix QuickBooks Error 404: (Possible Solutions)
➤ Scan your computer for viruses.
➤ Get rid of unnecessary files and temporary data.
➤ Update or repair QuickBooks.
➤ Adjust your internet settings.
➤ Check your internet speed.
➤ Make changes to your computer settings if needed.
QuickBooks Error Code 404 can be resolved with these solutions:
Solution 1: Scanning the system for viruses
Sometimes, QuickBooks errors can occur because of viruses. You can fix this by scanning your system for viruses and removing infected files.
Solution 2: Check The Network Connection
The major reason behind this error is the lack of active connection. Hence, the user must check connectivity to remove error 404.
Open the default browser, and browse frequently opened websites.
If the URLs are inaccessible, then the user must refresh the internet settings.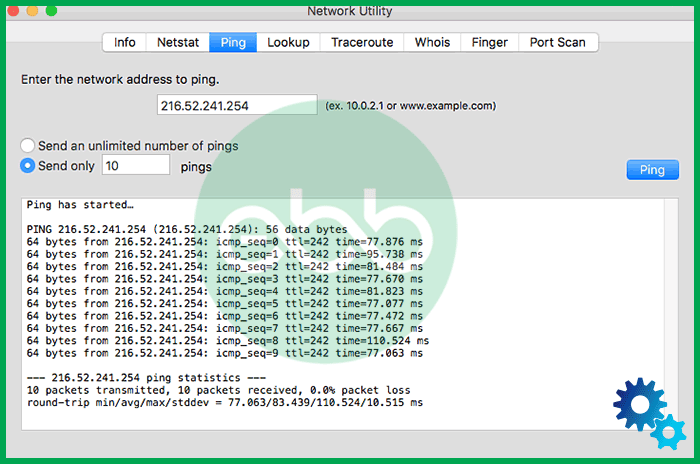 If the user is getting prompts like " no internet connection", they must turn off and turn on their router.
Finally, restart the system to check and repeatedly try these methods.
When none of it helps, contact the service provider. After resolving the issue, try opening the QB Desktop again.
Solution 3: Update And Repair QB Desktop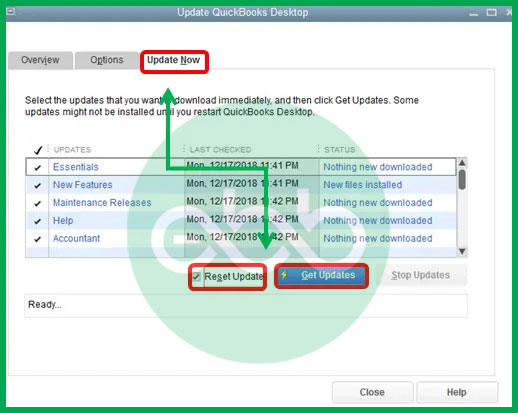 Firstly, open QuickBooks–> Help menu–> Update QuickBooks Desktop.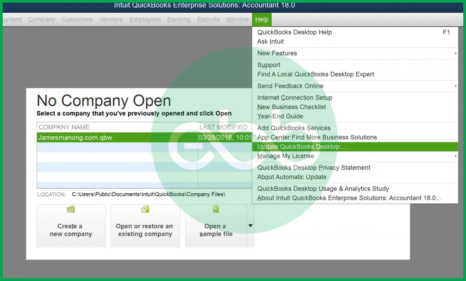 Open the company file and perform these tasks.
To repair the application, press the Windows+R keys together.
When the run dialogue box opens, type Appwiz.CPL and press enter.
Among the list of installed programs, choose QuickBooks, and click the repair option.
Verify if the QuickBooks Error Code 404 is resolved or not.
Solution 4: Change The Settings For The Internet
Initially, go to internet explorer–> tools and internet options.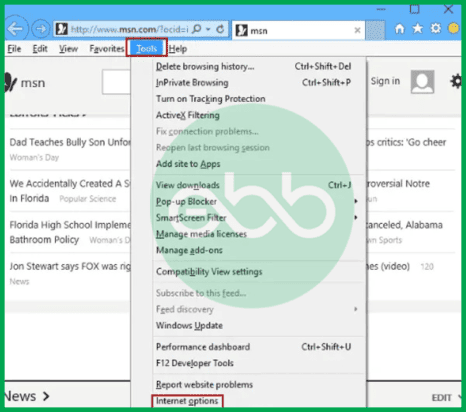 Check the security tab–> Trusted Sites.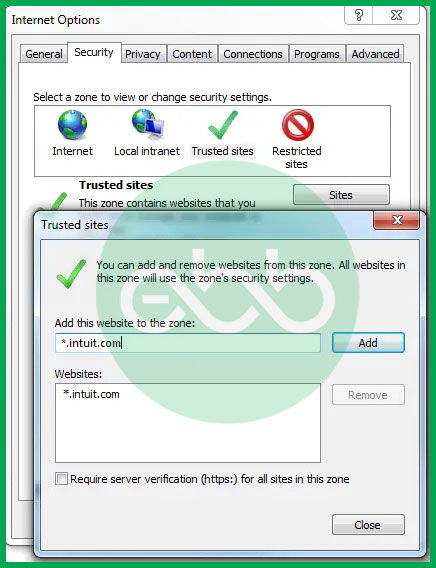 Here, add the official website of QuickBooks and intuit as trusted websites. After that, close the tab by pressing OK.
At last, log out from the company file and close the application
Finally, reopen the software and company file. Start working where you left to check if the error reappears or not.
Solution 5: Using The Selective Startup
Boost the performance of the application and resolve error 404 at the same time.
Firstly, sign out of the company files and close the software.
Update the windows and restart the system.
Open the internet explorer–> Tools Menu–> Internet Settings–> Advanced.
Browse to the end of the page and check these two options: TLS 1.0 and TLS 2.0.
After that, close the background programs and open the run dialogue box.
Type MSConfig. After that, press OK.
In the system configuration window, click General.
Go to the startup menu, click the selective startup.
Finally, restart the system and open QuickBooks software to check if the QuickBooks Error Code 404 is resolved or not.
Conclusion
Frequently Asked Questions
What Error Messages Appear with QuickBooks Error Code 404?
QuickBooks Error Code 404 is associated with issues related to web pages not being found on the server. This error occurs when QuickBooks is unable to sync or connect with the Intuit server, usually when trying to update, install, or sync QuickBooks.
What is Error 404 Page Not Found in QuickBooks?
Error 404 "Page Not Found" in QuickBooks is an issue that occurs when you try to access a specific webpage or resource within the QuickBooks application, but the server is unable to locate the requested page. This error message indicates that the URL you're trying to access does not exist or cannot be found on the server. In simpler terms, it's like trying to open a door that doesn't lead to any room.
How Do I Find Page 404 Error?
To identify a 404 error page, follow these steps:
Check the URL: Look at the web address (URL) in your browser's address bar. A 404 error occurs when the URL points to a page that doesn't exist on the server.
Read the Error Message: If the web page is not found, the server will usually display a "404 Error" message. This message might say "404 – Page Not Found" or something similar.
Page Content: The 404 error page might look different from the regular website pages. It often includes a simple message explaining that the page you're looking for couldn't be found. Sometimes, it offers suggestions or links to other parts of the website.
Browser Display: Modern web browsers typically display a standardized 404 error page. It might have a basic design with the error message, a search bar, and links to the homepage or site map.
Website Branding: Many websites customize their 404 error pages to match their branding. So, the page might still have the website's logo, color scheme, and navigation menu.
Search Bar: Some 404 pages include a search bar, allowing you to search for the content you were looking for. This can be helpful if the page was moved or renamed.
Links to Popular Pages: Websites might also provide links to their most popular or frequently visited pages on the 404 error page.
Contact Information: Some websites provide contact information or customer support details on the 404 page, in case users need assistance finding what they were looking for.
Return to Homepage: Another common feature is a prominent link that allows users to return to the website's homepage.
Check the URL: Double-check the URL in the address bar for typos or errors. Sometimes a simple mistake in the URL can lead to a 404 error.