Error Code 1327 pops up during installation. Hence, it is an installation-related error that occurs when the QuickBooks Software or the drive is not accessible. QuickBooks is an ideal software for all those business owners who want user-friendly bookkeeping and accounting solutions. It helps them prepare many financial reports with speed and accuracy. However, like much other software, it has different bugs, known as QuickBooks error code 1327. Today, we will discuss in detail an installation-related error.
What Do We Mean by QuickBooks Error 1327?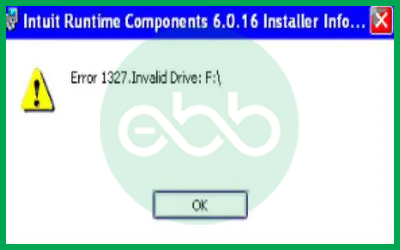 QuickBooks Error Code 1327 is related to the installation of the application. To elaborate, it is an issue that occurs when the user is installing QuickBooks on their system. Whenever the user sets the installation media and tries installing their application.
An error box appears with this warning message:
The drive is invalid.
Or
Invalid drive letter.
Background Details
Installed programs and their components stay within the system. We call these places the Drives. For instance, in Windows, all the system files and folders are sometimes kept within the C drive.
You can see this list of drives on your system by checking in My Computer or This PC. Drives are nothing but the partitions of the system's memory. It is more like dividing the area of a house into rooms.
Equipped with these background details, allow us to jump into the main points of the error currently.
Causes of QuickBooks Error Code 1327
QuickBooks Error Code 1327 typically occurs when the software is unable to locate or access a specific drive or directory during installation or while updating the program. This error can be frustrating, but it is important to understand its causes in order to effectively resolve it.
Here are some common causes of QuickBooks Error Code 1327:
Incorrect Drive Letter: One of the primary reasons for this error is when the drive letter associated with the installation or update location has been changed or is no longer accessible. This can occur due to changes in the system's drive configuration.
Missing or Corrupted Registry Entries: If the Windows registry contains incorrect or corrupted entries related to QuickBooks, it can lead to Error Code 1327. This can happen due to incomplete uninstallation of previous QuickBooks versions or other software conflicts.
Network Drive Issues: When QuickBooks is installed on a network drive and the connection to that drive is lost or unstable, it can trigger this error. Network interruptions or changes in network configurations can be contributing factors.
User Profile Problems: In some cases, user profile issues or permission restrictions may prevent QuickBooks from accessing the necessary drive or folder, leading to Error 1327.
Drive Mapping Errors: If the drive mapping for QuickBooks is not set up correctly, it can result in this error. Ensure that the mapped drive corresponds to the actual drive location.
System Changes: Changes made to the system, such as software updates, driver installations, or alterations in the directory structure, can affect QuickBooks' ability to locate the required drive.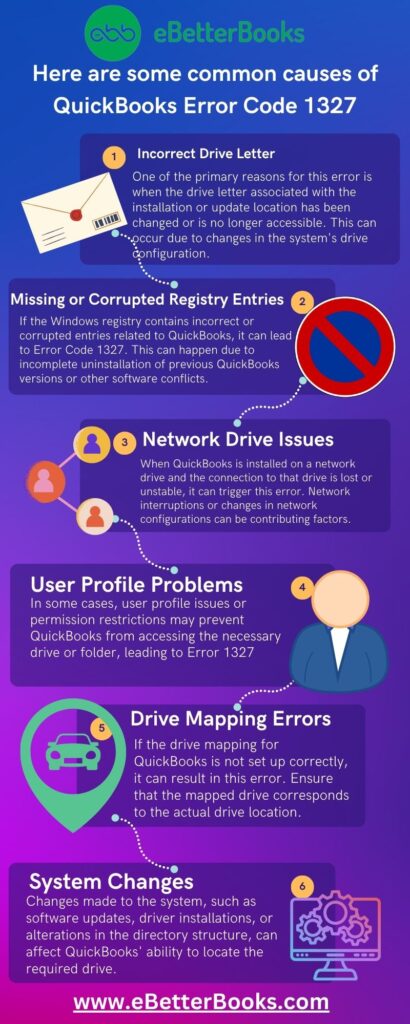 Fix QuickBooks Error C 1327: Solution
Guarantee Accurate Connection Of Storage Devices
Make sure that every one of the cables and other items is connected to the PC properly. Also, ensure that the USB or Flash devices that you are using to put in QuickBooks are perfectly connected and functioning.
Repair Microsoft .Net Framework
Methods to Repair the Microsoft .NET Framework

Firstly, go to Programs in the Control Panel.
After that, click the option of Turn Windows Features On/Off.
When asked, fill in all the credentials.
Next to Microsoft .NET Framework, there is a checkbox. Uncheck it and restart the pc.
Finally, open programs, and follow the same steps again. It means that the user has to check the box next to the NET framework again.
Below, we have mentioned steps to repair the registry settings.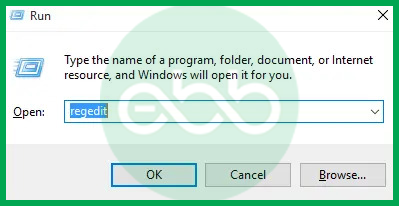 Firstly, back up the system registry.
After that, press Windows +R keys simultaneously. After that, type Regedit, and click the run option.
Follow this path: HKEY_CURRENT_USERSoftwareMicrosoftCurrentVersionExplorerShell Folders.
Look for the entries that list the drive letter. It must be mentioned in the error message.
Also, modify the wrong drive names to C drive.
Finally, save the settings. After that, restart the system and try reinstalling the application. Once the installation is complete, change the adjustments made to the registry back to its original form.
Wrapping Up!
Frequently Asked Questions!
What is QuickBooks Error 1327 Invalid Drive Payroll?
QuickBooks Error 1327 Invalid Drive Payroll occurs when the system encounters an issue with the designated drive letter for your Payroll application or related files. This error can disrupt the installation or functionality of Payroll software.
What are the Precautions to Take to Avoid QuickBooks Error Code C=1327?
To prevent QuickBooks Error Code C=1327, take the following precautions:
Software Updates: Keep QuickBooks updated with the latest patches and updates to resolve potential bugs.
Data Backups: Regularly backup your QuickBooks data to prevent data loss in case of errors.
Network Stability: Maintain a stable and secure network connection to prevent data corruption during transactions.
Proper Installation: Ensure correct QuickBooks installation and compatibility with your operating system.
Source Reliability: Download QuickBooks software and updates from official Intuit sources to avoid malware or corrupted files.
User Permissions: Assign appropriate user permissions within QuickBooks to prevent unauthorized changes.
Antivirus and Firewall: Configure antivirus and firewall settings to allow QuickBooks access and updates.
Registry Maintenance: Periodically clean and optimize your computer's registry to avoid conflicts that can lead to errors.
Hardware Care: Keep your computer hardware well-maintained, especially disk drives, to prevent related issues.
What is Error 1327 Drive Not Valid in QuickBooks?
Error 1327 "Drive Not Valid" in QuickBooks indicates an issue where the software can't find the specified drive location during installation or updates. This typically results from an inaccessible or changed drive letter. To resolve, check drive connections, update drive letters, or seek professional assistance.